At L.A.'s only cookbook shop, a former fine-dining chef draws chefs, home cooks and crowds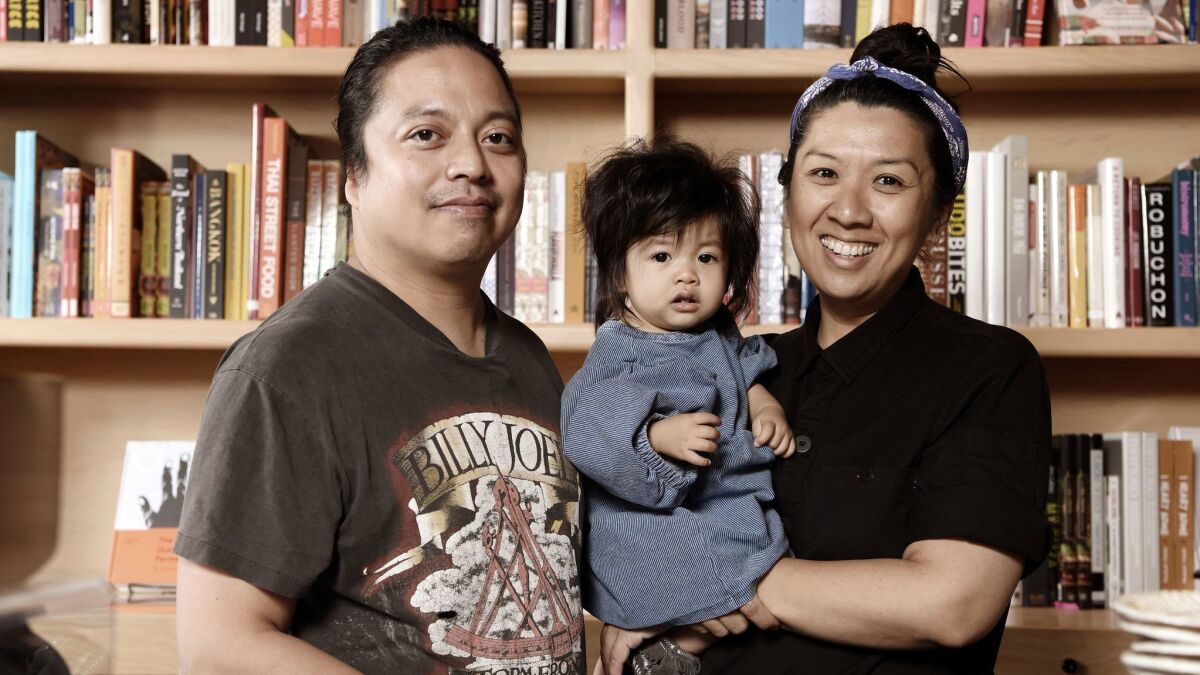 For people who love food and cooking, certain spaces are sanctuaries. We gravitate to cramped kitchen corners rather than dining room tables and to seats near a restaurant's stoves, as if drawn to the warmth of the fire. Aisles filled with cookbooks are another kind of oasis — quieter and cooler to the touch, with food filling pages instead of pots and plates. And a bookshop devoted entirely to cookbooks is a refuge of a very specific kind, a memory palace for a thousand meals.
The only cookbook shop in Los Angeles is in a space about the size of a one-car garage, on the first floor of Far East Plaza, an aged shopping center in Chinatown. Picnic tables fill the atrium, which is sometimes desolate, other times jammed with the hourslong line for Howlin' Ray's, the hot chicken joint a few doors down.
"The whole concept was always: Where would Ken want to hang out on his day off?" said Michelle Mungcal of her husband, Ken Concepcion; before Concepcion became a bookshop owner, he spent two decades as a cook and was chef de cuisine at Wolfgang Puck's Beverly Hills steakhouse Cut when he hung up his monogrammed jacket in 2016. Mungcal asked, "Where would cooks and chefs want to hang out on their day off?"
The two opened Now Serving in September 2017 as an answer to the question.
7 great American cookbook shops »
"We kind of reverse-engineered it," said Concepcion on a recent Wednesday, when he opens the shop only by appointment. "We didn't know anything about how to find publishers or purchase books. "They have figured that part out: There are about 1,500 titles in the shop at any one time, including imports from Asia and Europe and a wall of small-press journals and periodicals.
In addition to the new titles, Concepcion and Mungcal source their vintage book selection at estate sales and flea markets, from Craigslist, and from folks wanting to unload their collections. "One time we got them from a very scary farm," said Mungcal, holding their baby daughter, Frankie, who is as much a fixture of the store as the owners themselves. (The couple, both first-generation Filipino Americans, met nearly a decade ago at a Feist concert at the Hollywood Bowl.)
On the table that fills the center of the space like a kitchen island, books rise in uneven stacks, with ceramics, copper pots, cutting boards and jars of utensils jigsawed into available gaps. ("I didn't want it to feel too much like a library," said Mungcal.) Beneath a pane of glass, there's a meticulous tray of knives, tweezers and metal chef presses (weights like vented bacon presses), tagged like jewelry. Aprons and chef's jackets hang on a rack in front of a wall pinned with haphazard art like a police station evidence board. And by the cash register: a basket filled with a jumble of antique metal spoons.
Co-owners Ken Concepcion and Michelle Mungcal talk about how their cookbook store, opened in 2017, has quickly attracted a community of cooking fans thanks to the special guests they invite to visit.
Now Serving is and is not a gift shop. Although you can buy a bowl or a bandanna with a copy of the latest cookbook from Mark Bittman or Anissa Helou, the extra stuff is engineered for cooks to pick up on their days off. The tasting spoons are a tell, one of the first things you're made to get at culinary school, along with a knife kit and a Sharpie. "It's fun watching people pick them up, put them down, look at them. Michael Cimarusti would pick each one up, do the quenelle motion," said Concepcion of the chef-owner of Providence, the fine dining seafood palace, mimicking the shaping technique that is de rigeur for every scoop of fancy restaurant ice cream you've ever been served.
Concepcion did not go to culinary school. He grew up in New York City, cooking for his two younger brothers as "a classic '70s and '80s latchkey kid"; his father was an immigration lawyer, his mother a Mary Kay sales director. He wanted to go to art school but instead went to Washington University in St. Louis, where he got a dual degree in creative writing and painting.
"Two weeks after I graduated, I started working at a bookstore. I was so nervous about not having a job that I just took a job in receiving," said Concepcion about the job he held for two years. "They gave us an employee discount, and all I bought was cookbooks."
Concepcion cooked for his roommates, and stockpiled cookbooks, and thought about going to cooking school, but instead took a restaurant job rather than rack up more student loans. "So I learned on the job, and cookbooks were a big part of that."
Los Angeles' last cookbook-only shop, the beloved Cook's Library on Beverly Boulevard, closed in 2009.
Now Serving opened to fill that gap and not just with physical books. Concepcion and Mungcal also provide a way station for visiting authors to give talks and sign their books, sometimes attracting a crowd that fills the 450-square-foot space like a clown car. (To make the events available to a wider audience, Concepcion posts them on Now Serving's IGTV account.) A recent discussion with Dorie Greenspan about her latest cookbook was standing-room only. And when the Swedish chef Magnus Nilsson came for a book signing of his "The Nordic Baking Book," Concepcion sold tickets, then let the crowd inside in groups.
"I love it when there's 30 or 40 people in here and it feels like a house party," said Concepcion, whose work uniform the day of my visit was an old Billy Joel concert T-shirt.
Often people will come to events and look around, confused, said Mungcal. "They think maybe it's in the next room, that it's a speakeasy and you're going to go through the freezer into the amphitheater." Her voice trails into laughter.
There is neither freezer nor amphitheater at Now Serving, but there is more space — on the other side of the evidence board — where Concepcion has plans for a luncheonette to pair with his bookstore. Now, it's a default storage room where he stockpiles the inventory that won't fit on the shop's bookshelves. The luncheonette will take more time and investment than the couple currently have, so Concepcion allows that they might convert the space ("an abyss of books," said Mungcal) into a second room for the bookstore.
"It would be great to have more shelf space," said Concepcion. "But it helps explain why we don't carry some things — like diet books."
No diet books then — "there are no avocado slicers or garlic peelers here," said Concepcion, as if declaring a political party — but a smartly curated catalog that draws chefs on their days off as if it has curative powers. Recently Concepcion opened the place for Ari Rosenson, the longtime head chef at Cut, with whom Concepcion worked for a decade. As they chatted about mutual friends and Frankie sang in her stroller, Rosenson's pile of books grew.
Concepcion says that he sees a variation of that process with other folks who come in: "There's something about the books." Visitors will take down one of the late chef Charlie Trotter's cookbooks, for instance, and say: "Did you ever eat at Trotter's? And then it's like dominoes."
"Ken and Michelle create an intimate welcoming space for learning, and community for culinarians, diners and fans," said Evan Kleiman, the longtime host of KCRW-FM's "Good Food," who has interviewed a number of authors at the bookstore. "I love how the informal vibe disarms writers and chefs and creates room for surprises. That all this happens in just a couple hundred square feet is kind of a miracle."
Because Now Serving serves as more than just a place to find a classic cookbook, the latest title about sake or Palestinian cuisine or a hard-to-find baking magazine.
"People come in here," said Concepcion, "and show us pictures of their cookbook collections and are just like, 'Where have you guys been?' "
727 N. Broadway #133, Los Angeles; (213) 395-0627; nowservingla.com. Instagram: @nowservingla.
Instagram: @AScattergood
---
Get our L.A. Goes Out newsletter, with the week's best events, to help you explore and experience our city.
You may occasionally receive promotional content from the Los Angeles Times.