Under pressure, LAUSD releases confidential contracts for reform consultants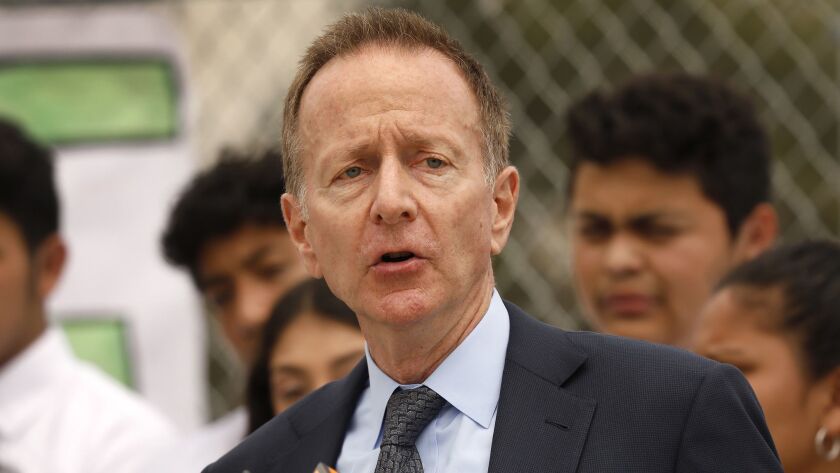 Outside consultants working on a plan to restructure the Los Angeles Unified School District were asked to develop a performance-based rating system for schools and to shift hiring and purchasing of services from the central district office to local campus networks, according to confidential contracts provided to The Times.
The contracts were released last week in response to repeated requests since October from Board of Education member Scott Schmerelson. The consultants' work was not disclosed, but Schmerelson plans to continue to press to make it public.
District officials had declined requests from the Times and others to make the contracts public as Supt. Austin Beutner developed his reform plan, which he said is meant to save money and improve student success by bringing decision-making and resources closer to the campus level.
The contracts also became an issue in the weeks leading up to the January teachers' strike, when union leaders and their members expressed concern about where Beutner — a businessman with no background in education management — would take the nation's second-largest school system.
Beutner and other district officials said that their reform strategy, which must be approved by the Board of Education, is still taking shape and there will be ample and open discussion of it.
"In the coming weeks the superintendent and the district will be talking about their agenda to focus on student learning," spokeswoman Janelle Erickson said Monday.
The contracts total $3 million so far, with the largest amounts going to Ernst & Young ($1.5 million), which specializes in business services and consulting, and the Kitamba Group ($765,000), whose focus is education. The agreements are being administered by the nonprofit California Community Foundation and paid for by private donors, including the Ballmer Group, the California Community Foundation, the California Endowment, the Eli and Edythe Broad Foundation and the Weingart Foundation.
According to its contract, Ernst & Young's mission was to analyze how the district can better use resources and cut costs in purchasing, food services, technology and transportation, as well as deal with work-related injuries and adjust its general financial practices. The work was to be completed, with a full report, before the end of November. It is not clear if that timetable was met.
Kitamba was to have developed a working definition of a "great school" and to have designed a "network structure" by the end of 2018. The Times reported in November that Beutner was considering assigning all schools to one of about 32 different networks.
Kitamba's contract also said the company would help the district develop a way for officials to discuss giving letter grades to schools, ranking them on a 100-point scale or assigning them a color to denote their status. Kitamba was also to have developed measures that could be taken when a school fell short of standards. The triggers for taking action were to be developed in draft form by last September.
By December of 2018, each school was to have a performance rating along with a summary explanation. The goal by mid-February, according to Kitamba's contract, was to "engage" on the plan with central office and school staff as well as with students and families. A media campaign also was due to roll out, with the new school networks slated to launch next September.
The Kitamba contract also proposed that each school network be allowed to choose or refuse "services" from the central office. The proposal does not specify which services, or say where the services would come from if the networks reject the central district's offerings.
But the New York City school system tried a similar plan, starting in 2007, allowing local nonprofits to compete against the district to provide services. After about eight years, New York abandoned the plan, which cut costs but did not improve student achievement.
Kitamba, in the contract documents, cited its previous work in Midland, Texas as an example of how it would carry out its duties. In Midland and some other Texas school districts, schools or networks of schools are supposed to have autonomy, but individual schools are rated every year and there can be serious consequences for those with low student achievement.
The Texas plan calls for creating new schools, replicating successful ones and "restarting" struggling ones.
A $595,000 restructuring contract was also awarded to former Newark schools Supt. Cami Anderson to make services to students with disabilities cheaper and more effective.
Anderson's tenure in Newark was marked by aggressive reforms that generated strong pushback from unions and some community groups. Kitamba was a key consultant in the Newark restructuring.
Schmerelson's motion, which could be voted on Tuesday, would require Beutner to release to school board members all "existing reports, analysis and associated documents and work product materials" from Ernst & Young, Kitamba and Anderson's firm — New York-based ThirdWay Solutions. Beutner would have until Feb. 22 to comply.
Separately, the firm Latham & Watkins is providing L.A. Unified "with advice on certain financial restructuring issues" at no charge other than up to $25,000 in expenses. That is the only description of services. The contract also notes that a separate arm of Latham has represented privately operated charter schools in actions against L.A. Unified and that it will continue to do so.
Twitter: @howardblume
---
For reporting and exclusive analysis from bureau chief John Myers, get our California Politics newsletter.
You may occasionally receive promotional content from the Los Angeles Times.