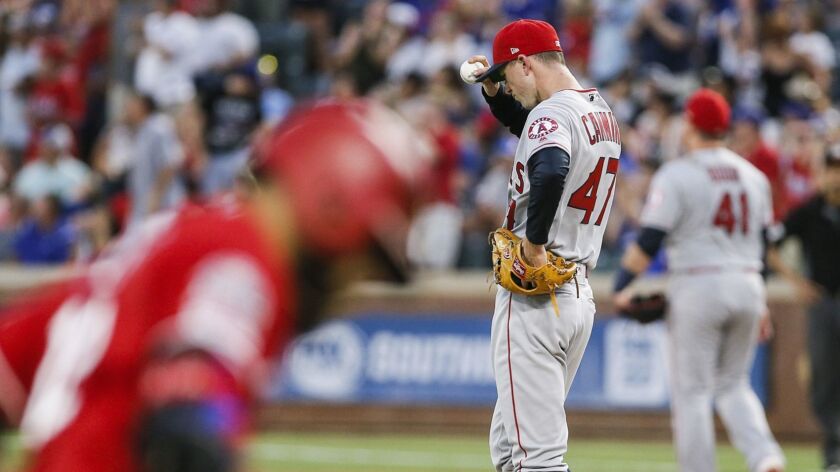 Reporting from Arlington, Texas —
Tyler Skaggs felt the rotation was the "missing piece" of an Angels team that seemed poised to hit its stride after an injury-filled first half. The same pitchers who underachieved for three months could fuel a playoff push if they performed to their potential.
"Once the starting staff is clicking on all cylinders, it's going to be a meteoric rise," Skaggs told the Orange County Register on June 24. "Quote me on that. It will be a lot of fun."
Skaggs, the 27-year-old left-hander who was emerging as a leader of the rotation, was found dead in his Southlake, Texas, hotel room on Monday, leaving a gaping hole in the hearts of devastated teammates, coaches and front-office executives that will take weeks, months, years, to heal.
As insignificant as it seems now, there is also a hole in the team's rotation, one that was felt more acutely on Thursday night. Skaggs was originally scheduled to pitch the finale of a four-game series against the Texas Rangers in Globe Life Park.
"It's weird," Angels catcher Jonathan Lucroy said. "You're sitting here expecting the guy to walk through the door, or you expect to see him on the plane or the bus. That's the hard part. You're used to seeing a guy every day, and now you're never going to see him ever again, and you didn't get a chance to say goodbye.
"You don't expect a 27-year-old professional athlete to go like that, you know? We all understand that things happen, that in this life you're going to face adversity like this. It sucks, but it's a part of life."
Griffin Canning, the rookie right-hander who said Skaggs "felt like a big brother to me," took the ball Thursday night. It did not go well.
Canning struck out the side in the first inning, his fastball touching 96 mph. He gave up six runs and seven hits, including a two-run double to Nomar Mazara and a 430-foot two-run homer to Rougned Odor, in the next 2 1/3 innings of a 9-3 loss to the Rangers.
Odor added a 471-foot three-run homer in the seventh when he turned around a Luis Garcia 100-mph fastball, and Mazara had four hits to back a strong start by Lance Lynn, who gave up two runs and nine hits in seven innings, striking out five and walking none.
Canning struggled with his command and fell behind in too many counts. The 31/3-inning, six-run, seven-hit effort was by far his worst game of the season. He is 3-5 with a 4.43 ERA in 12 starts since being called up from triple A in late April.
Manager Brad Ausmus says it was more an aberration than a reason for concern.
"If Griffin Canning is on his game, I think we see a lot better results than that," Ausmus said. "You wouldn't see hits and runs being put up like that."
The Angels need Canning to join left-hander Andrew Heaney as the anchors of a rotation that has a 5.35 ERA, which ranks 28th in the major leagues. Starters have thrown a major-league low 380 1/3 innings, an average of 4 1/3 innings per start, though that figure is skewed by the use of an "opener" to pitch the first inning or two in 16 games.
Felix Pena is expected to pitch the bulk of Friday's game in Houston. The right-hander, who has a 4.73 ERA in 16 games, is expected to retain his spot after the All-Star break. Jose Suarez, the 21-year-old left-hander who has shown promise but has been inconsistent in five big-league starts, will pitch Sunday in Houston.
Right-hander Jaime Barria was optioned to triple-A on Thursday after throwing five two-run, four-hit innings Wednesday so the Angels could add a bullpen arm before the break.
Barria was a rotation mainstay as a rookie last season, going 10-9 with a 3.41 ERA in 26 starts, and he is 1-0 with a 2.40 ERA in his last three big-league starts, striking out 20 and walking four in 15 innings. He could return after the break.
"I don't know what we're going to do moving forward with the rotation," Ausmus said, "but [Barria] has certainly done his part recently."
Two other rotation options could be available after the break. Veteran right-hander Matt Harvey, who went 2-4 with a 7.50 ERA in 10 starts before suffering an upper-back strain in late May, will need one or two more minor league rehab starts before he is ready to be activated.
Right-hander JC Ramirez, who went 11-10 with a 4.15 ERA in 27 games — 24 of them starts — in 2017 is in the final stages of his Tommy John surgery rehab. The Angels want him to get his pitch count to 90 in another start but haven't decided if they will bring him back as a starter or reliever.
"The focus has been on him getting healthy, getting him back," Ausmus said. "We'll probably have that discussion during the break."
Is veteran right-hander Trevor Cahill, who was demoted to the bullpen in June after going 2-5 with a 6.92 ERA in his first 11 starts, a candidate to return to the rotation?
"That's not something we've discussed right now," Angels general manager Billy Eppler said.
If the Angels hope to remain within striking distance of the second wild-card spot, Eppler may have little choice but to trade for a starting pitcher this month.
Canning and the Angels got roughed up on Thursday, but Lucroy was encouraged by how the Angels pitched and played while winning the first two games of the series against the second-place Rangers under extremely difficult circumstances.
Sign up for our daily sports newsletter »
"We've played hard, we've played to win," Lucroy said. "That's what Skaggsy would have wanted. I don't think he would have liked it too much if we were in here feeling sorry for ourselves. He wants us to battle and fight.
"It's been a strange couple of days, but after the first pitch is thrown, everybody locks in, and that's been the most amazing part to me, to see the intensity and focus we have. We lost one of our brothers, but it's brought us closer together.
"Adversity does that. Grief does that. We're using this tragedy, this loss, as a platform to jump off of. Think about it like a trampoline. You go down before you go up."
---