Reporting from arlington, texas —
The sensation was familiar, the overwhelming sadness that made him break down in the middle of a news conference.
"This feels identical," Brad Ausmus said. "It really does."
Seventeen years ago, Ausmus lost a friend when former batterymate Darryl Kile died in his sleep.
Ausmus was the catcher for the Houston Astros at the time. Kile, a starting pitcher, had moved on to the St. Louis Cardinals.
No matter.
This week, Ausmus lost another friend when 27-year-old pitcher Tyler Skaggs was found unresponsive in the Angels team hotel.
Ausmus is the Angels manager. Skaggs was a player.
No matter.
"I'll miss him," Ausmus said through tears.
Ausmus is supposed to be the leader of this Angels team, the man tasked with guiding the players through their grief. Except that he didn't feel like he was that person Tuesday. He didn't pretend otherwise, perhaps because he knew from experience there was no point.
"As far as wearing the manager hat," Ausmus said, "I'm just wearing an Angels hat right now."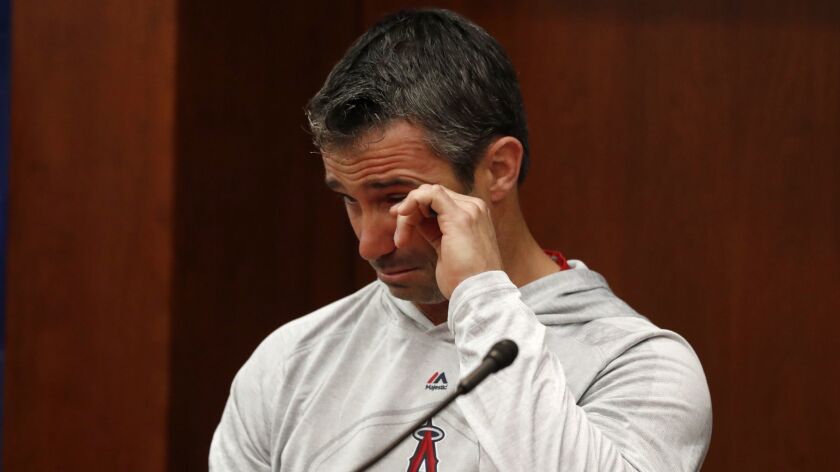 The scheduled series opener against the Texas Rangers the previous day was postponed. They resumed play Tuesday.
Before that, Ausmus addressed Skaggs' sudden death in a news conference at Globe Life Park, along with Angels owner Arte Moreno, president John Carpino and general manager Billy Eppler. The players were on the far side of the room, spread out over a couple of rows of white folding chairs.
Ausmus reacted more like a player than he did a member of the front office.
As several of the players covered their heads with the hoods of their sweatshirts or their tearful eyes with their hands, Ausmus wept into the microphone in front of him.
And so Ausmus' first test as Angels manager will be a cruel and unfair one, nothing to do with running a marginal pitching staff or caring for two-way player Shohei Ohtani. He will have to oversee a team in mourning when he is in a similar emotional state.
"We're all kind of in the same boat on this one," Ausmus said. "We all feel a tremendous loss."
Jeff Mathis predicted as much earlier in the Rangers clubhouse. Mathis played for the Angels when pitcher Nick Adenhart and two friends were killed by a drunk driver after a game. He also played for the Miami Marlins when pitcher Jose Fernandez died in a cocaine-fueled boating crash.
Mike Scioscia managed the Angels when Adenhart died and Don Mattingly the Marlins when Fernandez perished.
"I remember seeing them walking around, just like everybody else, in shock and numb and all those terrible feelings," Mathis said.
Ausmus said several people reached out to him over the last couple of days, "including managers who have gone through similar experiences."
He wouldn't say whether Scioscia was one of them.
"To a man, it's the same advice, and that is, there is no handbook for this," Ausmus said. "You've just kind of got to go with your honest feelings. If you do that, then you're not going to be wrong."
Ausmus at least knows how a loss like this could affect a player. He caught Kile on the Astros in 1997. They remained in contact even after Kile continued his career elsewhere. Ausmus was affected by Kile's death in June 2002.
"Once the game starts, it's actually a refuge because it takes your mind off it, distracts you for a little while," Ausmus said. "When you go back to your hotel room, you're reminded of reality."
Tony La Russa was the manager of that Cardinals team.
Of Skaggs' death, La Russa said in a phone interview, "I think it's very similar to what we went through."
Like Skaggs, Kile was well-liked.
"Darryl was our leader," La Russa said.
Like the Angels, the Cardinals decided to resume play a day after tragedy struck because they felt that's what their deceased pitcher would have wanted.
The Cardinals lost five of the first seven games they played after Kile's death.
"We had no energy," La Russa said.
La Russa said he and his coaches, as well as general manager Walt Jocketty, agreed on what they wouldn't do to address the problem.
"We all thought the wrong thing to do would be to push the players to put that aside," La Russa said. "We thought that was not sympathetic. We tried to bring them back slowly. This was such a unique thing."
La Russa said he received advice from his friend Bob Ladouceur, then the football coach at record-setting De La Salle High in Northern California. Ladouceur had experience helping his players deal with the death of a teammate.
Then came word from Kile in the form of a column in the St. Louis Post-Dispatch. The newspaper ran what Kile said about the death of his own father: basically, that he would never get over it, but that he had to separate his personal and work lives.
La Russa read the column to his players, and they rebounded. The Cardinals went on to win the National League Central and reached the NL Championship Series.
In retrospect, La Russa said he wasn't only guiding the players; he was also being guided by them.
"That's what you do as a family," La Russa said.
Ausmus wept Tuesday. He wiped away tears with his shirt sleeve. There were moments he stared blankly into the table in front of him.
He will lead these Angels in what could be the most difficult period of their careers. But they will also have to give him strength. They are more than manager and players now. They are fellow mourners.
Sign up for our daily sports newsletter »
Follow Dylan Hernandez on Twitter @dylanohernandez
---