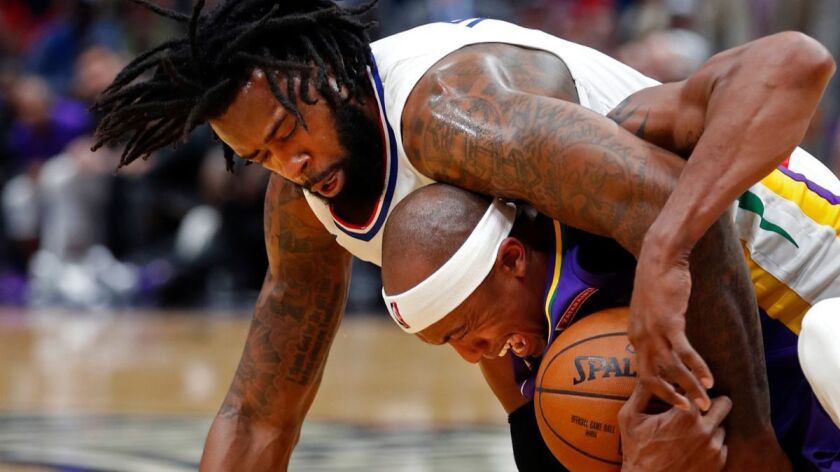 Reporting from NEW ORLEANS —
DeAndre Jordan increased his Clippers franchise-record number of games played to 717 Sunday, and he is extremely proud to hold that distinction.
He would love to keep extending his record, but Jordan is unsure how long that will be possible. He and the Clippers are not close to a contract extension, and Jordan has been mentioned in trade rumors as the Feb. 8 deadline approaches.
Recently, Jordan has had dinner with Clippers owner Steve Ballmer a couple of times to discuss his future and talked with the team a few times about an extension, but the sides are not close to an agreement.
Jordan will earn $22.6 million this season and has a player option for $24.1 million next season.
"The trade deadline is coming up," Jordan said. "I've heard my name in trade rumors the past three years. It is what it is. It's a business sometimes. That's what it is. When you think about it that way, your feelings don't get involved too much."
Jordan has been with the Clippers for 10 years. He would like to finish his career with the Clippers, but knows it's not all in his hands.
Jordan's job is to play basketball, like he did in scoring 12 points and grabbing 19 rebounds in a 113-102 win over the Pelicans. He was six for eight from the field, moving him into first place in the NBA in field-goal percentage. Jordan is shooting 66.77% from the field, a tick ahead of Houston's Clint Capela, who's making 66.75% of his shots.
Jordan has led the league in field-goal percentage the past five years, a feat accomplished by only Shaquille O'Neal (1997-2002) and Wilt Chamberlain (1964-69). He'd be the first to do it for six straight seasons.
He just hopes he can do it in a Clippers uniform.
"Whatever they decide to do, they decide to do," Jordan said. "I can't control that. I can only play basketball and that's what I do. My love for the game will be wherever. For me, the most important thing is being wanted and appreciated where you are. And wherever that is, I'm going to be happy. And if it's here, that's amazing. If not, then it's a business sometimes."
Twitter: @BA_Turner
---