Donald Sterling's son-in-law voluntarily leaves Clippers organization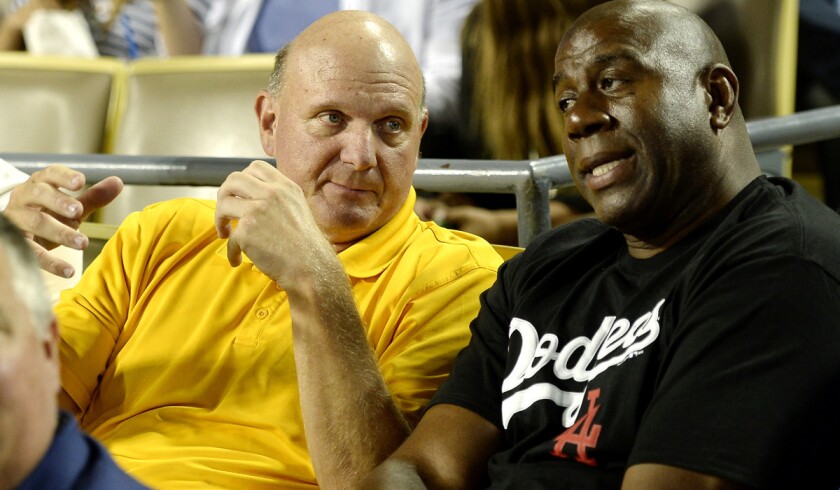 New Clippers owner Steve Ballmer said Wednesday the team had severed ties with another link to disgraced predecessor Donald Sterling after Sterling's son-in-law voluntarily left the organization earlier this summer.
Ballmer said Eric Miller, who was director of basketball administration, departed even though he was entitled to two-year employment "on substantially similar terms" to his previous arrangement under Sterling, according to terms of the $2-billion sale of the Clippers from the Sterling family trust to the former Microsoft executive.
"We welcomed Eric back," Ballmer said during an interview at the team's practice facility in Playa Vista. "He's chosen to move on with his life and that's his prerogative."
Miller did not respond to a text message seeking comment.
Former Clippers president Andy Roeser, who was placed on an indefinite leave of absence after defending Sterling in the wake of TMZ releasing audiotapes in which Sterling told a female friend not to bring blacks to games at Staples Center, has also permanently left the organization, according to a team source.
Ballmer said he was close to hiring a new team president to run business operations. He said ticket sales "seem to be pretty good" for a franchise that has sold out 142 consecutive home games and that sponsorships were "not doing bad."
The new owner was more definitive about where he would sit for games at Staples Center: in four seats directly underneath the basket stanchion on the side of the court closest to the Clippers' bench, putting Ballmer in position to appear in plenty of dunk footage involving forward Blake Griffin. Ballmer said two of the seats were available and the other two were attained after the team made "a nice arrangement" with the other ticket-holders.
Ballmer's pick of seats apparently surprised Clippers Coach Doc Rivers.
"Doc [asked], 'Don't you want to sit center court and see everything?' " Ballmer said. "But I actually feel like when you sit at center court you feel removed from both sides of the court."
Ballmer said he had been working on what he called a Clippers credo, a sort of mission statement that would spell out to everyone inside the organization "who we are, what we stand for."
"We want to make sure everybody, whether you're an usher in the arena, whether you're doing the broadcast … whether you're the chef, everybody knows where we stand," Ballmer said.
As for the fan experience at the Clippers' opener Oct. 30 against Oklahoma City, Ballmer said, "Hopefully we'll have a surprise or two."
Ballmer has solicited ideas from inside and outside the organization about likes and dislikes and hopes to incorporate new technology.
"It's classic for the tech guy to get into sports and say, 'Yeah, man, I'm really excited about the tech,' " Ballmer said. "But, yeah, man, I'm really excited about the tech. It's not just what the tech can do but what people want out of the technology. We've got to figure that out."
Twitter: @latbbolch
---
Get our high school sports newsletter
Prep Rally is devoted to the SoCal high school sports experience, bringing you scores, stories and a behind-the-scenes look at what makes prep sports so popular.
You may occasionally receive promotional content from the Los Angeles Times.