Yasiel Puig has done well in triple A, but Dave Roberts won't say whether he'll rejoin Dodgers next week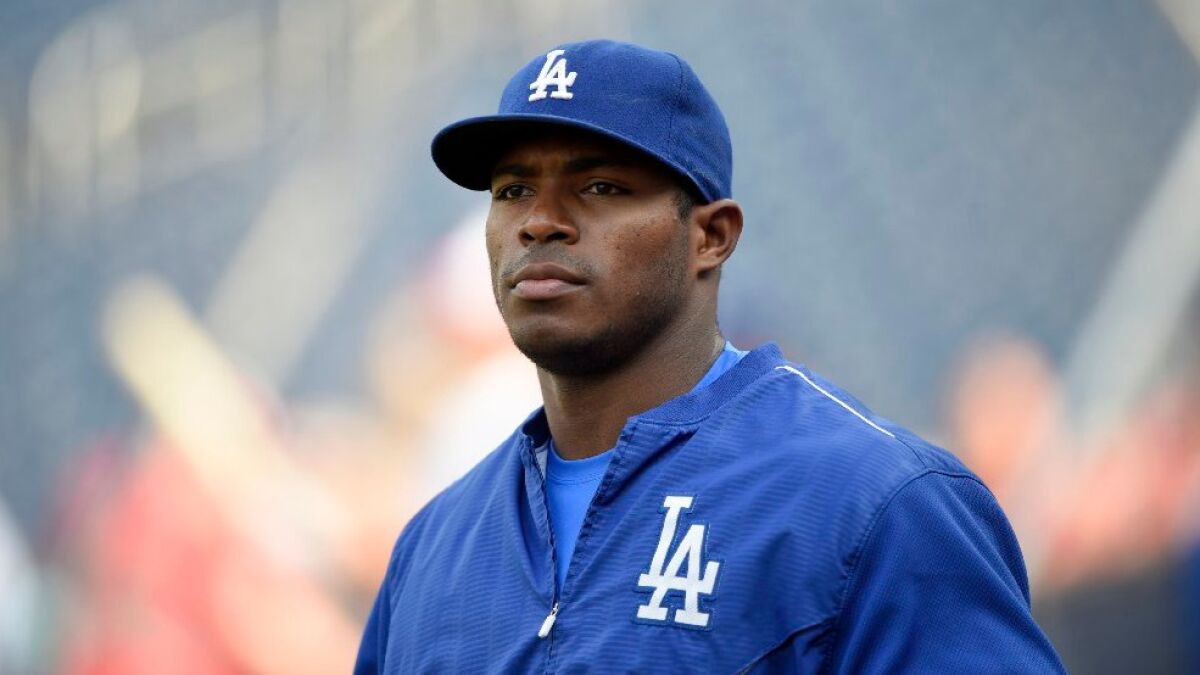 The reports on Yasiel Puig from triple-A Oklahoma City have been "great," Dodgers Manager Dave Roberts said Saturday.
The demoted outfielder hit .386 (22 for 57) with a 1.102 on-base-plus-slugging-percentage, four homers and 12 runs batted in through 15 games and, outside of a few ill-advised Snapchat postings from a party bus in Iowa, appears to have been a model citizen and teammate.
But when asked if Puig would be among the September call-ups when teams expand rosters on Thursday, Roberts said, "We haven't decided yet."
Puig was batting .260 with a .706 OPS, seven homers and 34 RBIs when he was sent to triple A after the Dodgers acquired right fielder Josh Reddick from Oakland on Aug. 1.
Performance wasn't the only problem. Puig's work habits and behavior were also issues, the Dodgers sending him down in hopes that he would become "a better person and baseball player," Roberts said.
Puig appears to have made some progress. "He's playing well, and he's assimilated very nicely with his teammates in Oklahoma City," Roberts said.
But if Puig is hitting well and being a good teammate, and the reports on him are favorable, why wouldn't he be called up this week?
"That's a fair question," Roberts said, without answering the question. "Let me think through that one."
Over and out
Scott Van Slyke will undergo season-ending surgery to clean out cysts and scar tissue in his right wrist this week.
Van Slyke missed most of April and May because of lower-back irritation and was sidelined by the wrist injury in early August. In between disabled-list stints, he hit .225 with one homer and seven RBIs in 52 games.
"It's something that has bothered him for a couple of years," Roberts said. "We discussed what impact he can have for us [this season] versus just getting it taken care of and coming back next year, and we decided it's best to get the surgery."
High hopes
Trayce Thompson, out since the All-Star break because of two stress fractures in his lower back, remains confident he will play again this season. Thompson will undergo another X-ray and bone scan this week, and if he's healed, he plans to "ramp up" his baseball activities with an eye toward a September return.
"I feel great," said Thompson, who was batting .225 with 13 homers and 32 RBIs when he went on the DL. "I'd rather go out with a better taste in my mouth. I have to be smart about it, but I just want to play."
Vin to win
Comcast Sportsnet Chicago will carry Vin Scully's call for one inning of Sunday's game so Cubs fans can hear the retiring Dodgers broadcaster in action.
"I think it's an absolute treat for the people of Chicago," Cubs Manager Joe Maddon said. "If the Dodgers are on after we play back home in Chicago, I put the game on my iPad just to listen to Mr. Scully."
Short hops
Roberts on the glacially slow pace of reliever Pedro Baez, who took 29 minutes to throw 29 pitches in the seventh inning Saturday: "We're working on the tempo, and we're going to continue to let him know that tempo is important. But he really is a cerebral guy and is trying to think through things and execute. I don't think he is really cognizant of how the game comes to a standstill." . . . Roberts said the next step in Clayton Kershaw's rehabilitation from a herniated disk in his lower back will be to face hitters in simulated-game conditions Tuesday. Kershaw, who hasn't pitched since June 26, threw a 60-pitch bullpen session on Friday. . . . Roberts said he fully expects left-hander Alex Wood, who is recovering from minor elbow surgery, to "help us in the bullpen" by mid-September. . . . The Dodgers passed 3 million in attendance on Saturday for the fifth straight season and 30th time in franchise history.
Twitter: @MikeDiGiovanna
Get our Dodgers Dugout newsletter for insights, news and much more.
You may occasionally receive promotional content from the Los Angeles Times.