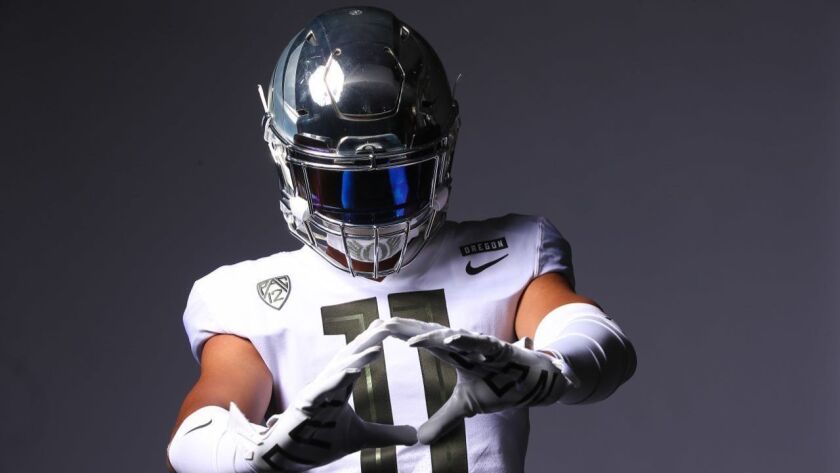 Jaden Navarrette thought he had found his college home. The Norco High outside linebacker committed to Louisiana State during an April trip to Baton Rouge.
"I was thinking about the development over there," Navarrette said. "There's a lot of development there. That's what you usually get from an SEC school like that."
But the 6-foot-3, 235-pound four-star prospect started having second thoughts after his return to Southern California.
The Southeastern Conference is known as being more run-oriented. Navarrette sees himself as a pass-rushing edge defender who can drop to cover in space. He also felt LSU took his commitment and didn't follow through with his recruitment.
"I felt like they got satisfied that I committed and it's like they stopped after a little bit," Navarrette said. "I didn't even have [coach Ed Orgeron's] number. Like no one did anything. It was just like 'OK, you're committed' and they were satisfied. They didn't really care. I can't go somewhere where they don't care. If I go there, is that going to be the case when I'm trying to get on the field is that you don't care about me?"
Was it disrespect on the Tigers' end? Or was it just part of the recruiting process? The difference, Navarrette said, became clear two weeks later when he traveled to Eugene, Ore., to watch Oregon's spring game.
As soon as he stepped on campus, he began noticing the Ducks did things different.
"I liked how Oregon treated me and how Oregon did things, the organization," he said. "It was all set up. Everyone was together, [I liked] just how everyone presented their self."
Navarrette was impressed that Oregon coaches came to the Southland multiple times to recruit him.
Ducks defensive coordinator Andy Avalos and linebackers coach Ken Wilson have told Navarrette they want him to play the "Stud" position. He'll be playing to the short side of the field, dropping in zone coverage and rushing the passer. He could also get moved to the defensive line as an end. His primary focus will be pressuring the quarterback at either spot.
"That's what I'm trying to do," Navarrette said. "I'm not trying to sit in the box and trying to make tackles every play. That's not me. Rushing the quarterback and getting to him and having sacks and taking that into the NFL I think will help me more, benefit me more in that position."
Navarrette initially went on the trip to see what Oregon had to offer. By the time he left, he flipped his commitment to the Ducks. That pledge has only been reaffirmed over the last month.
He is taking his official visit to Oregon this weekend with his family. The Ducks continue to wow the Navarettes with their genuineness and effort to make the entire group feel at home, he said.
"It's not always about the big things. It's about the little things. Little things that can help me in my life and help me in the future," Navarrette said. "I just think that Oregon is the right fit for me. I think it's going to help me a lot playing here, especially with Andy Avalos — one of the best defensive coaches in college football."
---