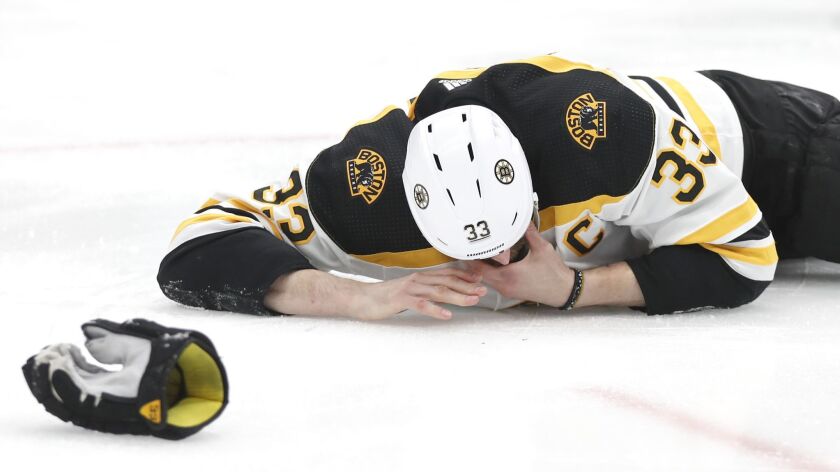 Reporting from Boston —
Injured Boston defensemen Zdeno Chara and Matt Grzelcyk will be game-time decisions Thursday night, when the Stanley Cup Final resumes at TD Garden with the Bruins and the St. Louis Blues tied at two games each.
Chara, 42, suffered facial injuries and an apparent broken jaw when he took a deflected puck in the face early in Game 4 on Monday, a series-tying 4-2 victory for St. Louis. His injuries have left him unable to speak to the media. The Bruins' public relations staff solicited two questions for him from the Professional Hockey Writers' Assn. and transcribed Chara's replies:
What's your biggest challenge in skating with this type of injury?
"At this time of the playoffs, everyone has injuries and there are challenges that you have to overcome to play. I'm no different than any player on either team."
How do you weigh the risk of further injury when deciding whether to play?
"You don't think about that. You think about playing. You don't go into a game thinking you might get hurt."
Grzelcyk hasn't played since he suffered a concussion in Game 2 as the result of an illegal hit by Blues center Oskar Sundqvist. He participated in the Bruins' morning skate on Thursday, a day after skating while wearing a no-contact jersey. He said Thursday he's still awaiting word on his status from the team's medical staff.
Whether the two defensemen can play is a crucial issue to the Bruins. The Blues' strategy of wearing opponents down as each series goes along was a resounding success in the first three playoff rounds: In the fifth, sixth and seventh games they played against Winnipeg, Dallas and San Jose, the Blues were a cumulative 6-1 and outscored their opponents 23-9. Game 6 of this series will be played in St. Louis on Sunday. A seventh game, if necessary, would be played next Wednesday at Boston.
Speaking after the morning skate on Thursday, Bruins coach Bruce Cassidy said Chara was classified as day-to-day after his injury and never ruled out of any upcoming games. He did not have a concussion, according to Cassidy. "The doctor has to give him the green light, then it would be his call. If the doctor doesn't, then he has no say in the matter," Cassidy said.
Cassidy also said it's possible he will play seven defensemen, which would mean bringing Steven Kampfer and Urho Vaakanainen into the lineup and taking out a forward. "It depends who's in there," Cassidy said.
Teammates marveled at Chara's fortitude. "He's able to play through pain, probably a little more pain than anyone in the league," winger Brad Marchand said. "It doesn't surprise me at all" that Chara would try to play, Marchand said.
Forward Jake DeBrusk also praised Chara's ability to play through injuries. "It's just how he is as a guy, and his character," DeBrusk said. "That's why he's our captain and he's been our captain for a while here. It's really nice to see him get on the ice and it's a morale boost for sure."
Blues winger Patrick Maroon offered his respects to Chara but said the Blues weren't changing their game plan whether he plays or not. "Our focus isn't on if he's in or out. He's obviously their leader, so he brings leadership to the locker room. Our focus is our team right now," Maroon said.
"He's a good competitor. He's 42 years old and still playing hockey. He's done a heck of a job of being in this league and he's got a lot of respect around the league. Any player that's hurt around the league and comes back with a broken jaw and is playing, that says a lot about their character."
---