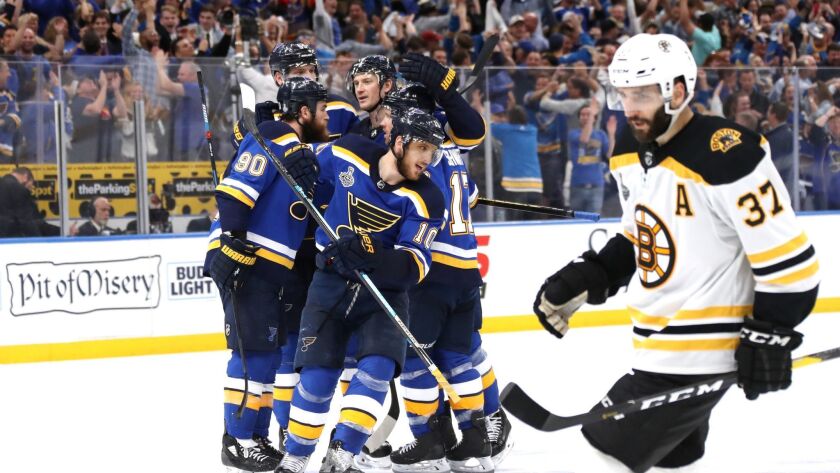 Reporting from st. louis —
Defenseman Vince Dunn wanted to grin, wanted to give the world a smile as wide as the Gateway Arch to celebrate the gritty 4-2 victory that allowed the St. Louis Blues to tie their Stanley Cup Final against the Boston Bruins at two games each, but the raw-looking stitches on the side of his mouth wouldn't permit that much movement.
<indent_on>In his second shift back after he had been struck in the face by a puck three weeks ago and sustained injuries that limited him to a liquid diet, Dunn took a stick in the face. But this is playoff hockey. A few cuts and bruises were as small an obstacle to him on Monday as falling behind in a playoff series has presented to the remarkably buoyant Blues.
"Nothing is going well for my face right now," Dunn said with as much of a smile as he could produce. "It's whatever, right now. It's an amazing time of the year, things are going to happen that way, but other than that I felt good."
Their triumph at a rollicking Enterprise Center, the Blues' first home victory in Cup Final play, was special even for a team that has redefined resilience from the day they hit the bottom of the NHL standings on Jan. 2. The players who lost their composure in a 7-2 loss in Game 3 were disciplined, purposeful. They moved their feet, went hard to the net, and shrugged off a potentially deflating game-tying shorthanded goal by Boston's Brandon Carlo in the second period.
They could have fallen apart. Instead, they stood together, as they have all season, fueled by Ryan O'Reilly's two goals and yet another bounce-back performance from goaltender Jordan Binnington, who is 13-2-0 in games following a loss. O'Reilly's second goal was the game-winner, scored on the rebound of a shot by Alex Pietrangelo at 10:38 of the third period.
"We were physical when we had to be and laid off when we needed to," forward Zach Sanford said. And because they did, they'll go to Boston for Game 5 on Thursday having turned this into a best-of-three tussle.
"I've said it before, things don't really seem to faze us," said Pietrangelo, who was active and forceful throughout his game-high 29 minutes and 37 seconds' ice time. "Obviously, last game got out of hand and we weren't too proud of that."
So they did something about it on Monday, and the Bruins couldn't stop them. "They were winning loose pucks, winning their battles. They came hungry and we need to do a better job," Boston center Charlie Coyle said. "When we have those good starts, we do the right things, we outwork them and we support each other well, that's when we give ourselves a great shot and we seem to kind of snowball after that. We didn't have it as much as they did tonight."
The Blues, pumped up by the crowd's energy, scored the game's first goal, on a wraparound by <JU>O'Reilly 43 seconds into the first period. The assists went to Sanford, who was restored to the lineup in Game 3 after being scratched after the Blues' third playoff game, and Dunn, whose creativity is a valuable asset. Although the Blues carried the play the Bruins were able to tie the score 1-1 at 13:14. Boston defenseman Zdeno Chara skated into the zone and took a shot that Binnington kicked away with his right leg, but Coyle pounced on the rebound for his ninth playoff goal.
The Blues regained the lead at 15:30, also off a rebound. Pietrangelo made a nifty move as he skated deep into the zone on the right side before taking a shot. Tuukka Rask stopped it, but Vladimir Tarasenko claimed the rebound for his 11th postseason goal.
Chara went to the locker room for repairs early in the second period after a shot by Blues center Brayden Schenn glanced off Chara's stick and ricocheted into his face. Chara missed the rest of the period but returned to sit on the bench during the third period, outfitted with a full face shield. However, he didn't take a shift. Bruins coach Bruce Cassidy said the team's medical staff advised Chara not to return and added Chara might need some dental work, leaving him questionable for Game 5.
Sign up for our daily sports newsletter »
The Bruins pulled even on Carlo's shorthanded goal at 14:19 of the second period, but that didn't shake the Blues' confidence. "We stayed positive. We pushed each other to keep going," forward Oskar Sundqvist said. "That's what we've been doing since January. I think our team is really confident in one another. We didn't lose focus. We just kept going."
O'Reilly rewarded his teammates' persistence by going to the net to rebound Pietrangelo's shot on the winner. "He got inside. So sometimes it's a battle of will, sometimes it's establishing position," Cassidy said. "Sometimes you tip your hat to a good player."
Or to a lot of good players in Blues uniforms, all intent on keeping a magical season alive.
Follow Helene Elliott on Twitter @helenenothelen
---