Kings will honor Willie O'Ree, hockey pioneer and ambassador for NHL's diversity program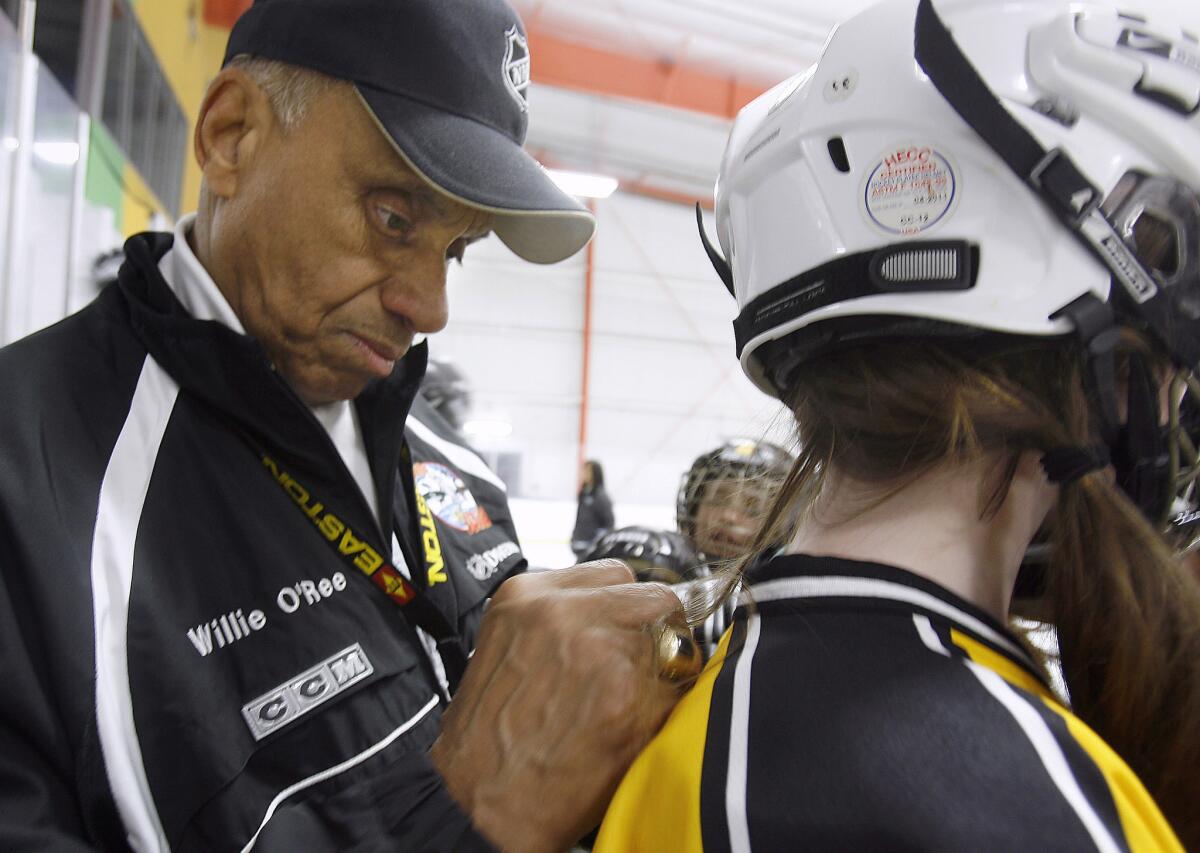 The first time Jordan Samuels-Thomas met Willie O'Ree, he really didn't need an introduction.
"I knew exactly who he was. I've known who he was since I started playing hockey," said Samuels-Thomas, a forward with the San Diego Gulls, the Ducks' American Hockey League affiliate.
O'Ree became the first black to play in the NHL when he debuted for the Boston Bruins in January 1958. He would play one more game that season and just 43 more in his NHL career, but that was enough to make him a hero in Samuels-Thomas' eyes.
But when they met for the first time, O'Ree told him he hadn't intended to make history. He just wanted to play hockey at a time when NHL rosters were as white as the ice the teams skated on.
"He didn't know he was breaking the color barrier. He had no idea," Samuels-Thomas said. "He's changed who knows how many kids' lives, families' lives."
The Kings will honor O'Ree before Monday's Martin Luther King Day matinee with the Tampa Bay Lightning at Staples Center. And though O'Ree appreciates the thought, he'd rather see the game reach a point where no one notices — or honors — a player because of the color of their skin.
"When I get up in the morning and look into the mirror, I don't see a black man or a brown man. I just see a man," said O'Ree, who, at 81, still travels regularly as the league's director of youth development and an ambassador for the NHL's diversity program. "Basically, that's what these fans have to [see]. They're just another hockey player."
In Fredericton, in Canada's New Brunswick, where O'Ree grew up the youngest of 13 children, there were just three black families in town — and two of them lived on the same street. Still, O'Ree says, he experienced little racism.
"I was just another kid," he said.
That didn't change as he advanced up the professional hockey ladder, playing in five Canadian leagues before being called up to the Bruins, one of four U.S. teams in the six-team NHL. Knowing things would be different across the border, Boston general manager Lynn Patrick and coach Milt Schmidt sat O'Ree down and asked him to ignore what he would hear.
"So that's what I did," O'Ree said. "I heard the N-word and every other racial slur or remark that blacks will encounter. But I just let it go in one ear and out the other."
O'Ree appeared in his final NHL game in 1961 before going on to play 13 seasons in the Western Hockey League with Los Angeles and San Diego. And it wasn't until 1974, the season after O'Ree retired from the WHL, that Mike Marson became the second black to play in the NHL.
According to the league, 73 others have followed, including retired Hall of Fame goalie Grant Fuhr and All-Stars Jarome Iginla, P.K. Subban and Dustin Byfuglien, who are among 16 blacks playing in the NHL this season.
"From one to 16 is moving in the right direction," said Tampa Bay forward J.T. Brown. "But that's not enough."
In fact the NHL has 14 more teams than it does black players, leaving it far short of O'Ree's dream of a color-blind league. But since he opened that door, it's now up to others to pull players through it.
"He made it possible for me to play the game that I love," Brown said. "So anything I can do to help keep growing the game, keep doing the things he did to help me play, that's something I want to do."
Overtime pays off again
When Jeff Carter scored 1 minute 32 seconds into overtime Saturday, it not only gave the Kings a 3-2 win over the Winnipeg Jets, but it also gave them nine wins in 10 overtime games and five victories in their last seven games overall.
That may not be all. Jake Muzzin said Anze Kopitar's three assists and Dustin Brown's third-period goal suggest the Kings' dormant offense may finally be answering its wake-up call.
"They were buzzing," Muzzin, who set up the winning goal, said of his two teammates. "It's nice to see a little chemistry going. I don't know what's going on, but it's awesome."
UP NEXT
VS. TAMPA BAY
When: 1 p.m. Monday.
Where: Staples Center
On the air: TV: Fox Sports West; Radio: 790
Update: The Lightning (20-20-4) have won just once in six games this month to fall to sixth in the Atlantic Division standings. Turning that around immediately could be difficult, however, since Monday's game kicks off a 12-day, six-game road trip and Tampa Bay's 12 road losses are the most in the Eastern Conference. All-Star Victor Hedman has been hot with seven assists in his last seven games. He ranks third in the NHL with 31 for the season.
Twitter: kbaxter11
Staff writer Helene Elliott contributed to this story.
Get the latest on L.A.'s teams in the daily Sports Report newsletter.
You may occasionally receive promotional content from the Los Angeles Times.