L.A.'s revived '24 Olympic dream now heads to tough international contest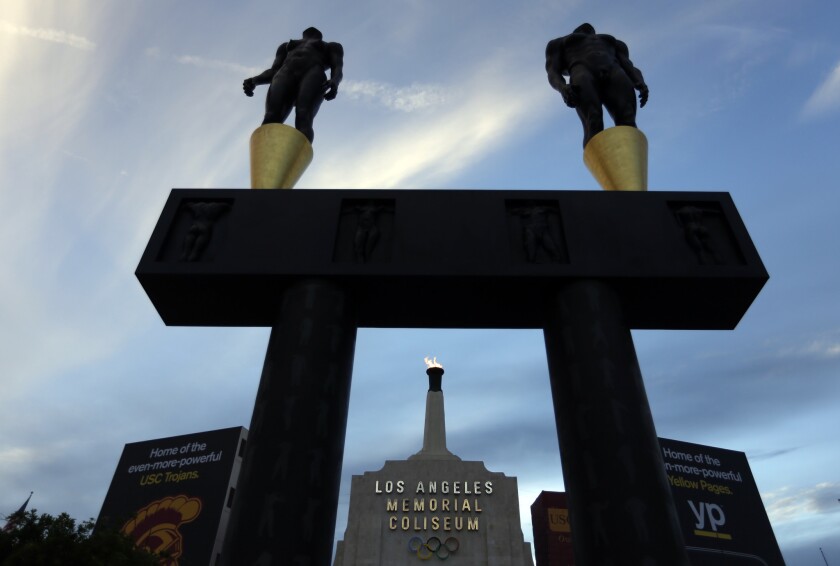 The selection of Los Angeles as the U.S. candidate to bid for the 2024 Summer Games caps a tumultuous month in which the city went from Olympic also-ran to serious contender.
Now comes the hard part.
Bid leaders boarded an overnight plane to Switzerland on Tuesday, headed for International Olympic Committee headquarters to begin an expensive, two-year competition against such formidable contenders as Rome and the early front-runner, Paris.
The campaign — spearheaded by Los Angeles Mayor Eric Garcetti and sports executive Casey Wasserman — faces obstacles, including a City Council that intends to play the watchdog role in future planning.
But the city holds distinct advantages with its array of world-class venues and previous success hosting the Games in 1932 and 1984. It could further benefit from behind-the-scenes politicking by the U.S. Olympic Committee.
In the dynamics of the IOC's selection process, that should put Los Angeles in a strong position when the host city is selected in 2017.
"It feels like we got through the preliminaries," Garcetti said. "Now we're ready to compete."
The mayor's $4.6-billion proposal seemed all but dead last winter when, in a surprise move, USOC board members selected Boston as their designated candidate.
NEWSLETTER: Get the day's top headlines from Times Editor Davan Maharaj >>
The Massachusetts campaign struggled through months of missteps and public relations gaffes before succumbing to low poll numbers in late July. Los Angeles quickly stepped back into the picture.
Garcetti and his team launched into hurried talks with the USOC while simultaneously negotiating with the City Council.
Council members debated the pros and cons of a massive sports event whose overall price tag could rise above $6 billion. They worried about Garcetti's vow to sign an IOC contract that would make the city financially responsible if the Games ended in debt.
On Tuesday, council members voted, 15-0, to authorize Garcetti to move forward but emphasized they will have the right to vote on any future plans that put public funds at risk.
"We are not going to allow Los Angeles taxpayers to be on the hook for cost overruns," Councilman Mitch O'Farrell said.
While that could lead to future problems, Garcetti and Wasserman are likely to focus on public support when they arrive at IOC headquarters Wednesday.
A recent USOC poll of 600 residents — conducted before the release of detailed cost estimates — showed 81% of respondents favoring a bid for 2024, with 11% opposed.
Los Angeles can also emphasize that its proposed use of existing venues — including the Coliseum, Staples Center and Pauley Pavilion — aligns with recent IOC reforms that seek to make the Games more affordable.
"If you're trying to present a rational bid, you use the stadiums you already have," said Victor Matheson, an economics professor at the College of the Holy Cross in Massachusetts. "L.A. is well-positioned."
Just as important, national Olympic leaders have laid the groundwork for an American campaign.
In the wake of failed bids by Chicago and New York, the USOC has improved its relations with the IOC, in no small way by increasing the portion of American television dollars shared with the rest of the Olympic movement.
"I think the IOC understands that it must reciprocate," said Robert Baade, an economics professor at Lake Forest College in Illinois. "That could mean awarding the Games to a U.S. city."
The Los Angeles bid, which will evolve over time, projects $4.1 billion in expenses, $150 million for insurance premiums and $400 million for a contingency fund to cover overruns.
The rest of the potential $6 billion would involve contributions of more than $1.7 billion from private-sector partners.
Transforming the Coliseum into a modern Olympic stadium would involve USC spending $500 million on its pre-existing renovation plans. The bid committee would need to partner with NBCUniversal to build a media center and with a yet-to-be-named developer for the athletes village.
Garcetti has said no taxpayer dollars would be necessary because the Games would generate billions in broadcast, sponsorship and ticket revenue, leaving an estimated $161-million surplus.
"Of all the cities in the world, L.A. has a real shot at doing this in a reasonable way," Matheson said.
Paris is the current favorite if only because of its popularity as a tourist destination and the fact that 2024 would mark 100 years since it last hosted the Olympics. Like Los Angeles, the City of Light could avoid massive construction costs by using existing stadiums and arenas.
Interested in the stories shaping California? Sign up for the free Essential California newsletter >>
David Wallechinsky, a historian who has written extensively about the Olympics, sees another reason why IOC members might vote for the French capital.
"They have great restaurants," he said. "Let's be honest — if there are going to be 85 or so people voting, a certain number are going to vote for that."
If nothing else, Los Angeles has experience on its side.
The 1984 Summer Games all but saved the Olympic movement, establishing a new model for cost control and maximizing revenue through corporate sponsorships. Eight years after Montreal amassed $1.5 billion in debt, Los Angeles finished with a surplus of more than $230 million.
The existing venues in the current bid emulate that blueprint.
"L.A. has been successful playing this game before," Baade said. "They know how to do it."
Times staff writer Peter Jamison contributed to this report.
Twitter: @LATimesWharton
MORE ON THE 2024 OLYMPIC BID
L.A.'s 2024 Olympics bid: a risk worth taking
USOC names Los Angeles the official U.S. bidder for the 2024 Summer Olympics
---
Get the latest on L.A.'s teams in the daily Sports Report newsletter.
You may occasionally receive promotional content from the Los Angeles Times.