USOC names Los Angeles the official U.S. bidder for the 2024 Summer Olympics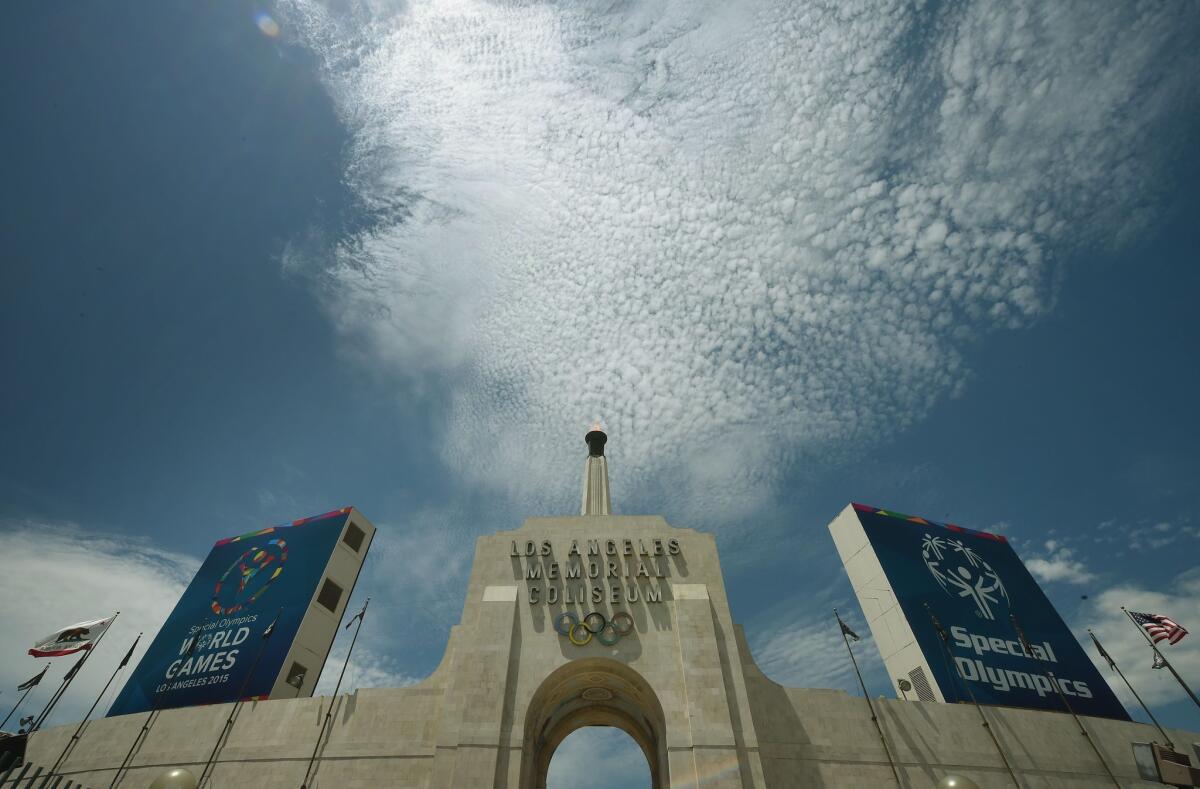 Los Angeles has been chosen as the U.S. candidate to bid for the 2024 Summer Games, capping a tumultuous month in which the city went from Olympic also-ran to serious contender.
The U.S. Olympic Committee finalized its selection on Tuesday, moments after the Los Angeles City Council authorized Mayor Eric Garcetti to pursue the bid, according to a source close to the situation who was not authorized to speak publicly.
The decision capped an unexpected chain of events in which USOC board members initially selected Boston last January, then watched that city's campaign succumb to local opposition.
In the search for a replacement, Los Angeles offered more-favorable poll numbers and a history of success hosting the Games in 1932 and 1984.
"You can't overemphasize the importance of experience," USOC Chief Executive Scott Blackmun said recently in discussing L.A. as an alternate site. "They've got strong venues. They've got incredibly strong public support."
Even after last winter's loss to Boston -- a surprise to many -- Garcetti had remained determined to bring the Olympics back to Southern California.
"I think it is right for this city," he told The Times' editorial board in early August. "I think it's who we are."
Los Angeles now begins working to overcome a "second-choice" label, hoping to join London as the only city to host three Summer Games.
Paris, Rome and Hamburg highlight a field of heavyweight contenders in what promises to be a difficult, expensive bidding process that culminates with an International Olympic Committee vote in the summer of 2017.
Over the next two years, L.A. bid leaders must convince the City Council that hosting the Games at a potential overall cost of $6 billion would make financial sense -- especially because Garcetti has vowed to sign an IOC host contract that would make the city liable if costs exceed revenues.
The first step in the process involves creating a private bid committee. Sports executive Casey Wasserman, who has worked with Garcetti, said last week that he had raised $35 million to fund the campaign.
If L.A. eventually wins the IOC vote, organizers would spend an estimated $4.1 billion, plus $150 million for insurance premiums and $400 million for a contingency fund to cover overruns.
The remainder of the overall $6 billion would come from private-sector investors expected to contribute more than $1.7 billion.
Garcetti has said no taxpayer dollars would be needed because the Games would generate enough broadcast, sponsorship and ticket revenues to cover costs and leave an estimated $161-million surplus.
His plan leans heavily on the use of existing venues such as the Coliseum, Staples Center and Pauley Pavilion.
"Of all the cities in the world, L.A. has a real shot at doing this in a reasonable way," said Victor Matheson, an economics professor at the College of the Holy Cross in Massachusetts.
Transforming the Coliseum into a modern Olympic stadium would involve USC spending about $500 million on its pre-existing renovation plans. The bid committee would need to partner with NBCUniversal to build a media center and with a yet-to-be-named developer for the athletes village.
Officials with the 2010 Vancouver Games and 2012 London Games entered into similar cost-overrun arrangements, only to see their developers fail to complete the work. Those governments spent hundreds of millions to bail out the projects.
In Vancouver, officials needed several years to recoup their money by selling the village as condominiums.
For the Los Angeles bid, city analysts have questioned the $1-billion estimate for a village along the L.A. River, suggesting the price could be significantly higher.
Because cities bid for the Games nine years in advance, construction estimates can be tricky. Every Olympics since 1960 -- even the ones that have reported a surplus -- have experienced cost overruns.
With city funds at risk, council members spent last week crafting contractual language that aims to give them a voice in future planning.
Recent USOC polling of 600 L.A. residents showed 81% of respondents favoring a bid for 2024, with 11% opposed to the idea. But that was before detailed cost estimates had been released.
If nothing else, Los Angeles has experience on its side.
The 1984 Summer Games all but saved the Olympic movement, establishing a new model for cost control and maximizing revenues through corporate sponsorships. Eight years after Montreal amassed $1.5 billion in debt, Los Angeles finished with a surplus of more than $230 million.
By using the existing venues, the current bid would seek to emulate that blueprint.
The Coliseum would anchor a downtown cluster that would also include Staples Center, the Galen Center and Microsoft Theater, which would host fencing.
UCLA and the beaches of Santa Monica would form a coastal cluster. StubHub Center in Carson, with its soccer stadium, tennis courts and velodrome, could host numerous events.
Unlike 1984, the San Fernando Valley would get several events, including equestrian and archery.
Though Paris has been considered the early favorite, Los Angeles holds a few advantages.
In the wake of failed bids by Chicago and New York, USOC leaders have worked to improve their relationship with the global sports community. In 2012, they agreed to share a larger portion of American television dollars with the rest of the Olympic movement.
An economically sound Los Angeles proposal might also help win votes, aligning with recent IOC reforms that emphasize cutting costs.
"L.A. has been successful playing this game before," said Robert Baade, an economics professor at Lake Forest College in Illinois. "They know how to do it."
Twitter: @LATimesWharton
MORE OLYMPICS
If L.A. bids for 2024 Olympics, will taxpayers be off the hook?
Get the latest on L.A.'s teams in the daily Sports Report newsletter.
You may occasionally receive promotional content from the Los Angeles Times.