Column: UCLA loses the spring in its step and falls hard as March gets mad
Reporting from Las Vegas —
Madness, yes. March, not so much.
The third-ranked UCLA basketball team was rudely shoved into the NCAA tournament Friday night with a Pac-12 tournament exit one day too early and dozens of shots too short.
The regressing Bruins lost to relentless Arizona, 86-75, in the Pac-12 semifinals and now will stumble into the sport's fabled March Madness with November uncertainty.
It was a night when T-Mobile Arena, filled with mostly Arizona fans, shook with chants of "U of A."
If the Bruins fans could have been heard, they could not have been blamed for chanting, "What the ... ?"
On one end of the floor in the final minutes, Arizona's Lauri Markkanen was throwing down a dunk with a roar loud enough to be heard out on the Strip.
On the other end, Bryce Alford shot an airball from the corner that sailed completely over the rim and nearly over the backboard.
That was the game, in a cracked and grimy nutshell.
"We didn't play real well this tournament,'' said UCLA Coach Steve Alford, an understatement the size of a $19.99 buffet.
As one last insult, Arizona Coach Sean Miller called timeout with nine-tenths of a second remaining while Alford stood at midcourt awkwardly awaiting the handshake. Apparently Miller was angry that Alford had called a late timeout when the Bruins defeated the Wildcats in Tucson last month.
"When UCLA played us at McKale … they called a timeout with one second left just to make sure they had poise,'' Miller told the Pac-12 Network afterward. "I felt like I wanted to make sure our guys had poise at one second left in this game.''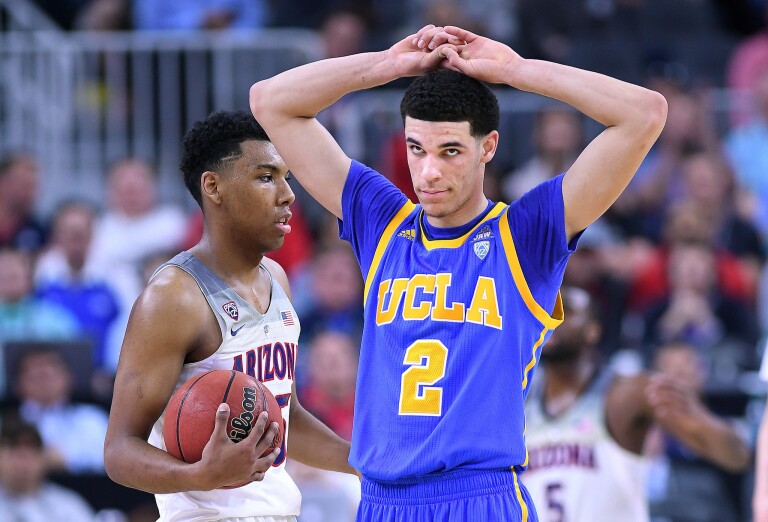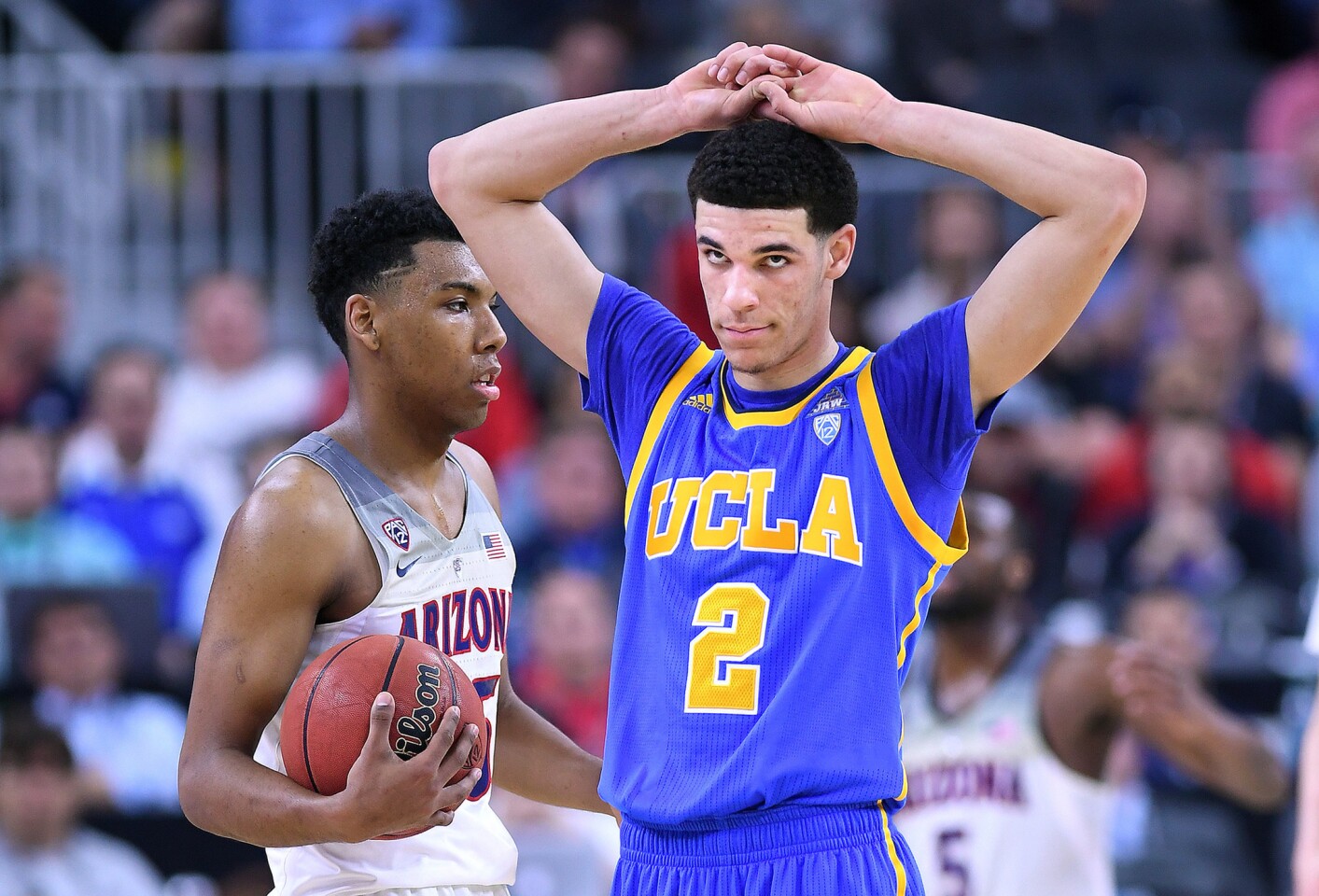 UCLA guard Lonzo Ball reacts after fouling Arizona guard Allonzo Trier during the second half.
(Wally Skalij / Los Angeles Times)
UCLA guard Bryce Alford misses a shot against Arizona guard Kadeem Allen (5) and forward Lauri Markkanen late in the second half.
(Wally Skalij / Los Angeles Times)
UCLA Coach Steve Alford consoles forward TJ Leaf after he fouled out of the game late in the second half.
(Wally Skalij / Los Angeles Times)
Bruins center Thomas Welsh fouls Wildcats forward Lauri Markkanen as he attempts a shot during the second half.
(Wally Skalij / Los Angeles Times)
Arizona's Allonzo Trier keeps the ball away from UCLA's Lonzo Ball and Aaron Holiday late in a Pac-12 Tournament semifinal game on March 10.
(Wally Skalij / Los Angeles Times)
UCLa guard Bryce Alford (20) tries to secure a loose ball against Arizona guard Kadeem Allen during the first half.
(Wally Skalij / Los Angeles Times)
Bruins forward TJ Leaf is fouled by Wildcats forward Lauri Markkanen while driving to the basket during the first half.
(Wally Skalij / Los Angeles Times)
UCLA guard Lonzo Ball is fouled by Arizona guard Kadeem Allen (partially obscured) while he drives against Wildcats guard Allonzo Trier.
(Wally Skalij / Los Angeles Times)
UCLA forward Ike Anigbogu is fouled by Arizona forward Lauri Markkanenon a close-range shot during the first half.
(Wally Skalij / Los Angeles Times)
UCLA guard Lonzo Ball (2) blocks a shot by Arizona guard Allonzo Trier during the first half.
(Wally Skalij / Los Angeles Times)
UCLA forward TJ Leaf attempts a reverse layup against Arizona forward Lauri Markkanen during the first half.
(John Locher / Associated Press)
Miller was acting like a baby. Alford later said he "meant no disrespect" in Tucson, he was just trying to set up his defense one last time in a hostile environment.
The two men shook hands at the final buzzer Friday, but, with Miller acting so sophomoric, that was the only battle the Bruins won all night.
The loss means that UCLA will almost surely be given no higher than a No. 3 seeding in the NCAA tournament starting next week, and be forced to attempt its Final Four advance through a regional located far from its desired spot in San Jose.
More importantly, the loss, combined with the Bruins' two-point escape against USC in the quarterfinals here Thursday, raises questions at a time when UCLA should be providing answers.
Where did the Bruins go? Seriously, how could a team that won 29 of its first 32 games suddenly disappear in a span of 48 hours?
Where did the nation's highest-scoring team go? These Bruins couldn't make an outside shot, connecting on just four of 25 three-point attempts. Bryce Alford, who needs to be one of their senior leaders this month, made just two of 12 shots overall and was just four for 22 in two tournament games.
"Our goal all year is to get to Phoenix and to compete for a national title,'' said Bryce Alford. "So we've got a lot of work left to do.''
Where did the nation's leading assist team go? Once these Bruins fell behind by double digits Friday, they forgot to pass, forgot about each other and began relying only on themselves, just like last season's bad old days. The Bruins had 14 turnovers against just 16 assists.
"We just have to wash it off,'' said Lonzo Ball.
And where did the defense that had it turned it up so powerfully during the Bruins' 10-game win streak go? Arizona was able to move the ball at will against confused UCLA defenders who often wound up just looking at each other while the Wildcats made exactly half of their overall shots and half of their three-point attempts, outscoring UCLA 30-12 from behind the arc.
"It was a very, very good lesson tonight,'' said Bryce Alford. "I felt like they were very, very passionate and kind of hit us in the face and we didn't respond the way that we normally do.''
In all, it's not a good look for a UCLA team that previously had appeared headed into next week with the highest of expectations.
Were you thinking about them as possible national champions? Please consider they were outhustled and outworked by an Arizona team that they bullied in Tucson a couple of weeks ago.
Were you going to pencil them into the Final Four? Consider that their most high-impact player, Ball, is suffering from a thumb so sore it was X-rayed after the game. The results were negative, but so is Ball's recent play. Ball was two for seven Friday, making him six for 17 in this tournament with just three three-pointers in 13 tries and six turnovers.
When asked if Ball's thumb was OK, Alford said, "I hope so'' and later added injuries, not the team's play, was the biggest thing that worried him.
"We haven't been able to practice the way we normally practice because TJ's been out,'' he said of Leaf, whose made one-third of his shots on a healing ankle. "So we've just got to get everyone healthy.''
The game began getting out of hand late in the first half, with the score tied 27-all, when Arizona grabbed the momentum with consecutive fastbreak points that were endemic of UCLA's problems.
On the first, Kadeem Allen simply drove past three Bruins for a layup. On the second, Allen stole the ball from Ball and worked it downcourt for a fastbreak dunk by Markkanen.
Soon the Wildcats were running around the Bruins in every direction, finishing the half with three-pointers by Allonzo Trier and Parker Jackson-Cartwright to forge a 41-35 halftime lead.
Seven minutes into the second half, the game was essentially over, the Wildcats having sprinted out to a 63-48 lead on a run that ended with a dunk by Chance Comanche. The Bruins actually closed the gap in the final minute, but a missed layup by Isaac Hamilton after a steal ended any hope.
Arizona, which has won the most Pac-12 tournament championships with a dozen titles, will now play Oregon on Saturday night in the tournament final.
The Bruins, meanwhile, will go home and await the Sunday afternoon announcement of their tournament destination.
As the most important part of their search for their first title in 17 years begins, UCLA first needs to rediscover UCLA.
As the search for their first title in 22 years begins, UCLA first needs to rediscover UCLA.
Get more of Bill Plaschke's work and follow him on Twitter @BillPlaschke
ALSO
A cautionary tale of what can happen when a sports parent pushes too hard
Rob Pelinka vows to make the Lakers the 'greatest sports franchise in the world'
From the NFL to prison to recovery: Ryan Leaf shares his story with those who need to hear it most
---
Get our high school sports newsletter
Prep Rally is devoted to the SoCal high school sports experience, bringing you scores, stories and a behind-the-scenes look at what makes prep sports so popular.
You may occasionally receive promotional content from the Los Angeles Times.