Column: A cautionary tale of what can happen when a sports parent pushes too hard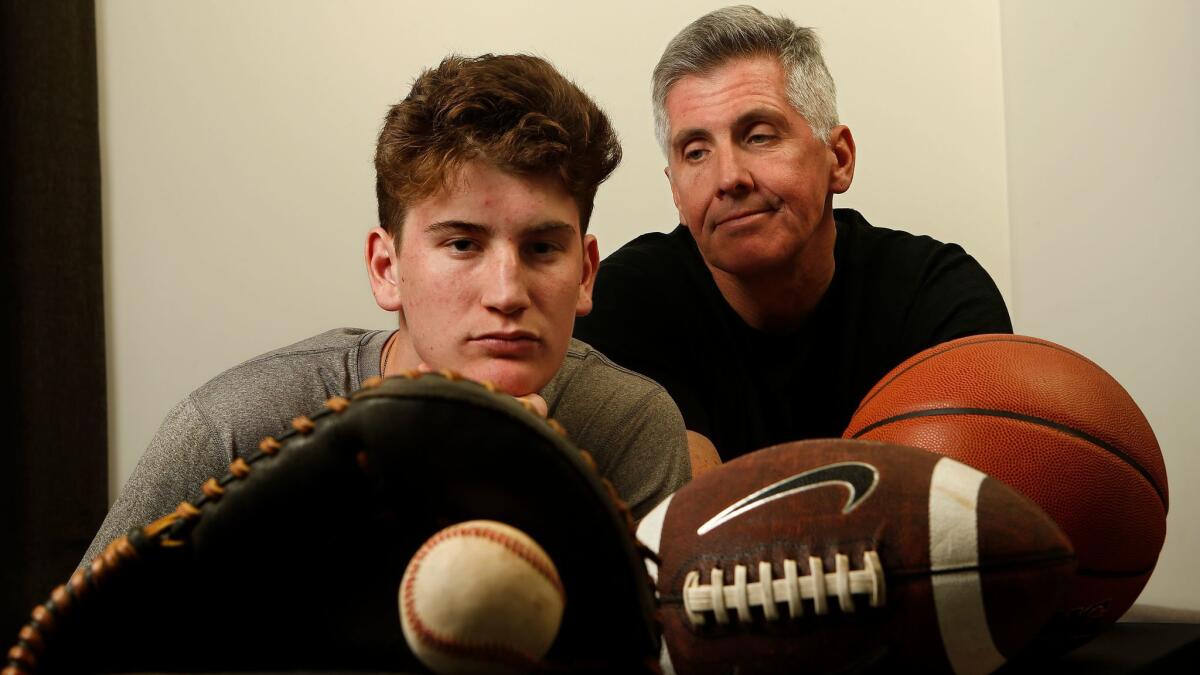 The son suffered his first injury when he lost a tooth on a Brentwood basketball court. He picked it up, threw it to the sidelines, and kept playing as the father cheered the greatest athlete he had ever seen.
Aidan Cullen was 8.
"I should have said, 'Stop, are you OK?'" said Mark Cullen. "But I heard other parents saying, 'Whoa, that's such a tough kid.' So I did nothing."
The son once passed out at the end of a soccer game after suffering from exhaustion and dehydration. He was packed in ice and, a few hours later, played in another game while the father basked in the glory of his star.
Aidan Cullen was in middle school.
"I thought he had died, but then I was glad he kept playing," said Mark Cullen. "Everybody cheered him so much, I felt like they were cheering for me. I loved it. I loved the power of it."
Ten years later, that perception of stardom has fallen, the feeling of power is gone, and the only thing that Mark Cullen carries in his giant sports duffel bags is regret.
His son Aidan has been in almost constant pain for several years after being diagnosed with a disease partially caused by being pushed to play sports through injury and affliction. At one point he thought about suicide. Today he feels lucky if he can physically show up for high school baseball practice.
Everybody cheered him so much, I felt like they were cheering for me. I loved it. I loved the power of it.
— Mark Cullen
"I went from the best to the worst," Aidan said. "The pain was so bad, I didn't want to be alive."
Mark Cullen has been feeling a different sort of pain, from guilt over his son's condition. He's also separated from wife Rebecca after spending years being an absentee husband while shoving Aidan toward their combined dreams.
"I pushed too far, did too much, helped break up my family and actually put my son's life in jeopardy, all because I was seduced by his talent," said Mark. "As a parent, that is devastating, and I am so ashamed."
This is about how that shame, far from being singular to this well-meaning Santa Monica dad, is probably shared by many who don't possess the self awareness to admit it.
This is about the dangerous triumvirate that dominates neighborhood playing fields across this country, a three-headed demon that turns children's games into adult crusades and happy childhoods into ones filled with injury and insecurity.
This is about parents, youth sports, and ego.
This is about one Westside family, but also many families, strong and solid households that suddenly find themselves torn apart over their child's ability to kick a soccer ball or sink a basket. This is the story of one struggle, but also every struggle to balance the child's happiness in sports with the parents' desire to not only promote that glory, but share in it.
Mark Cullen, an established screenwriter, wanted to begin the new year by acknowledging the biggest villain in his most important story is himself.
"I ruined my son's HS sports career and almost his life – a cautionary tale," read the subject line in an email he sent to this newspaper in January.
He detailed the familiar story of a parent pushing a child into athletic oblivion, causing long-term damage to the entire family. He agreed to expand on his remorse despite the embarrassment it might cause him across a landscape where obnoxious sports parents are rarely held accountable with more than a frown and a sigh.
"If I can help one parent not make the same mistakes I made, then it's been worth it," Cullen said.
If you know one of those parents, give this story to them.
If you're becoming one of those parents, read it now.
==
The dad was an athlete. Of course he was.
At age 52, Mark Cullen is a 6-foot-3 former basketball star who was invited to walk on at UCLA before breaking his ankle. He eventually gave up the idea of playing sports and wound up writing for television and movies. He and brother Robb have created several TV series including "Lucky'' for FX but his shortened athletic career was always in the back of his mind.
When his son Aidan was born 17 years ago, he had that second chance.
It got so, I just wanted to play well to make him happy. I would find myself looking at him on the sidelines after every play to see if he was smiling.
— Aidan Cullen
"He was living out some of his excitement about sports through Aidan," said estranged wife Rebecca. "I wanted to support our son, so I kept my mouth shut, but I should have said something."
Aidan began playing basketball at age 6. He was as big as a 9-year-old, and tougher. He would chase down other kids and fight them for the ball while his father shouted with joy.
He was thrown out of two Westside youth leagues because of rough play. He was never disciplined by his coach because it was his father.
"I thought, I'm going to coach him because I'm not going to let anybody ruin him," said Mark. "Turns out, I ruined him myself."
Aidan eventually played three sports, all with his father on the sidelines or in the stands, which meant they could spend eight hours a day together on various fields throughout the Southland while Rebecca and Cullen's other son Beckett, now 14, stayed home. Aidan was becoming a neighborhood star, but the cost was slowly growing.
"There just wasn't effort or time put into connecting as a couple or a family," said Rebecca. "Sports became all encompassing and, really, sort of ridiculous."
As the stakes grew, so did Mark's involvement. He would scream at Aidan from the bench. He would pull him out of games for mistakes. He would scold that a double would have been a triple if only his son had worked harder in practice.
"It got so, I just wanted to play well to make him happy,'' said Aidan. "I would find myself looking at him on the sidelines after every play to see if he was smiling."
Once the game ended, the stress would worsen. Aidan's biggest dread was the car ride home.
"I'd been in the middle of the game thinking of the car ride home, how can I make it better, how can I keep him from yelling at me," said Aidan.
Several men who coached with Cullen agree that he was tough, but none described him as crazy.
"Mark is a super tough intense dad, but the scariest part for me is that there's so many worse parents than him," said Matt Steinhaus, former fellow youth league coach and current athletic director and baseball coach at New Roads School.
By the time Aidan had enrolled at Windward School in seventh grade, the injuries and over-exertion finally caught up with him. His body began to hurt and never stopped hurting. The pain struck his knees, then smothered his back, then finished his dreams.
"As a little guy, Aidan was a stud," said Tyrone Powell, Windward athletic director. "But by the eighth grade, it was all gone."
He was often too injured to practice. Some days he was in so much pain, he couldn't get out of bed.
"I thought, 'I'm going to feel like this for the rest of my life?'" Aidan said. "For a year straight, every day I wanted to kill myself."
By the spring of his junior year, he was finally diagnosed with a neurological disorder called Central Pain Syndrome, a condition in which damage to the central nervous system can cause constant pain. Doctors told Cullen that one of the causes was that Aidan constantly played hurt.
He quit sports for several months and began dealing with the disease with a combination of medicine and physical therapy. He eventually felt better, and his love of baseball led him to rejoin the Windward team this winter for his senior season. But the nagging injuries have returned, and his contributions will probably be limited.
"He's trying to play, but it's physically difficult for him," said Powell. "And we would never put a kid on the field if he wasn't physically ready."
Mark Cullen understands that now. He came forward with his story in hopes of sharing that understanding.
"The reason I'm doing this is because of how much I love my son, I adore him, I'm so very proud of him for enduring this brutal disease that I may have helped cause," he said. "I want parents to realize we're pushing our kids way too hard. Don't do travel leagues. Don't play year round. Kids will find their way."
This winter, Aidan received an important letter, but not the kind you put on a sweater. It was a notice from New York University that he had been accepted into the Tisch School of the Arts to study his new passion of photography.
Upon hearing the news, Mark briefly reverted to old habits by saying, "That's great…how's their baseball team?"
Aidan, newly empowered, responded, "I don't know if I'm going to play."
Mark took a deep breath and, having reached a new acceptance, finally smiled.
"That's fine," he said.
Get more of Bill Plaschke's work and follow him on Twitter @BillPlaschke
ALSO
In stopping her brothers' attempted takeover, Jeanie Buss shows she's in charge of Lakers — for now
Tommy Lasorda, the Dodgers' antique with attitude, is still going strong as he approaches 90
'My record is still alive!': High school boys basketball state record holder reacts to LaMelo Ball's 92-point game
Get our high school sports newsletter
Prep Rally is devoted to the SoCal high school sports experience, bringing you scores, stories and a behind-the-scenes look at what makes prep sports so popular.
You may occasionally receive promotional content from the Los Angeles Times.