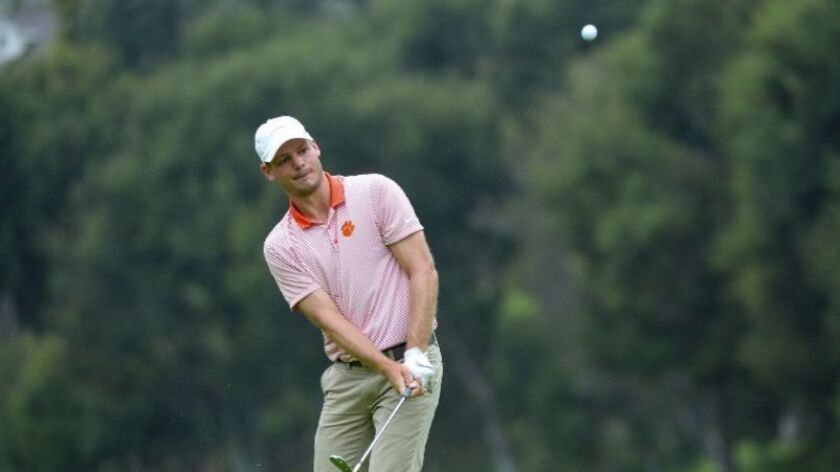 Doug Ghim, the seventh-ranked amateur golfer in the world, played well enough to win the U.S. Amateur Championship in the 36-hole final Sunday at Riviera Country Club.
He just didn't play well enough to beat a 19-year-old sophomore from Clemson whose swing was never betrayed by the match's relentless pressure and whose putter seemed equipped with a GPS system locked onto the bottom of the cup.
Doc Redman, who's ranked 70th and had to survive a playoff simply to make the field of 64 that started match play Wednesday, was two holes down with two holes to play Sunday, went eagle-birdie to force a playoff, then won the 37th hole to claim the 117th Amateur.
His name will join such notables as Arnold Palmer, Jack Nicklaus, Phil Mickelson and Tiger Woods on the Havemeyer Trophy, but only after he survived a match in which neither golfer gave the other more than a hint of an opening. One delivered a roundhouse; the other counterpunched with equal effectiveness. Somehow, they both remained standing.
Redman has learned to embrace that pressure, using exercises to remain calm with his breathing and lower his heart rate. He walked with the same confident stride all day Sunday, whether he had just knocked a four-iron 12 feet from the hole or found a bunker on his approach shot.
"I try not to make any putt or shot any bigger than it really is," he said. "Try a lot to treat all 10-footers the same, as if they're to win the hole or tie it or whatever….
"It was a privilege to feel that pressure coming up 18 with a chance to send it to extra holes. It was a privilege to go to No. 10 on the extra hole with a chance to win. I was just honored to have that chance and that pressure. I enjoy it very much."
Redman was 1-up after 18 holes in the morning. Fifteen of the 18 holes were halved, with each golfer facing one putt after another simply to tie the hole. Both routinely made putts from six, eight, 12 feet and longer. It seemed that any putt that made a difference ended up in the hole.
Redman's short birdie on No. 11 evened the morning match, and on No. 13, his 42-foot birdie putt finally gave him a 1-up lead, which held up through the first 18.
On 14, Ghim saved par from 15 feet; Redman tied him with a 10-footer. The next hole, Ghim birdied from 15 feet; Redman tied him with a three-footer. And on 16, Redman drained a 30-footer to halve the hole.
Four times in the first 18 holes, the players tied each other with birdies, including on the difficult 18th.
"I felt like every time we won a hole it was so significant because we weren't giving each other anything; nothing was easy," said Ghim, 21, a senior at Texas. "Every hole that we won was super hard earned…. It was like do or die every time you had a chance."
Spider Miller, captain of the U.S. Walker Cup team, hardly could believe what he was seeing. "I'm not sure I've ever seen a putting exhibition like this in a major amateur event," Miller said midway through the afternoon round, "especially with all this pressure.
"I wouldn't be surprised to see this go extra holes."
Redman, who had gotten a pep-talk phone call from Clemson football coach Dabo Swinney on Saturday night, went 2 up with a 35-foot birdie on No. 2, the 20th hole of the day, but Ghim picked away and went 1 up with a par on 13 and then 2 up with two to play with another par on 16.
Redman responded with a 272-yard three-wood to the back of the par-five 17th and drained a 60-foot putt for eagle. His birdie from seven feet on No. 18, his second birdie of the day on the hole, sent the match to extra holes.
Redman hit a perfect tee shot left and just short of the 10th green on the first extra hole; Ghim found the hay well to the left, then went bunker to bunker before conceding Redman's birdie putt for the match.
Shortly afterward, the USGA announced the 10 U.S. Walker Cup players who will play a team from Great Britain and Ireland at Los Angeles Country Club on Sept. 9-10.
Both Ghim and Redman were named to the team, along with Cameron Champ of Sacramento; Stewart Hagestad of Newport Beach; Maverick McNealy of Portola Valley, Calif.; Collin Morikawa of La Cañada Flintridge; Scottie Scheffler of Dallas; Braden Thornberry of Olive Branch, Miss.; Norman Xiong of Canyon Lake, Calif.; and Will Zalatoris of Plano, Texas.
---