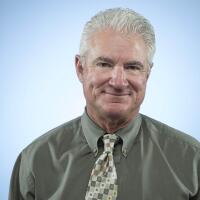 Mike James
Mike James is a former Sports editor of the Los Angeles Times. A native of suburban Washington, D.C., James came to The Times from the Hartford Courant in 1985, took a hiatus from the print world in 2000 to work as coordinating producer at FoxSports.com and managing editor of the nightly news report on Fox Sports Net. He returned to The Times in 2002 and, after three years as deputy Sports editor, became Sports editor in 2009.

Latest From This Author
Adam Scott's first win at Riviera came during a rain-shortened event in 2005 that wasn't an official PGA win. His triumph in the Genesis Invitational on Sunday is official.

Adam Scott's only win at Riviera Country Club came in a rain-shortened tournament. He's hoping for a more conventional win Sunday at the Genesis Invitational.

Matt Kuchar shook off his early struggles to shoot a two-under-par 69 and maintain a two-shot lead after two rounds at the Genesis Open.

Barring what would be a comeback for the ages, you can assume that Tiger Woods' record-breaking 83rd PGA Tour victory won't come this weekend at Riviera Country Club.

It's tempting for golfers to try to reach the 10th green on their tee shot at Riviera Country Club, but that can lead to trouble at Genesis Invitational.

Phil Mickelson turns 50 in June and his plan is to stick with the younger guns on the PGA Tour and leave the senior tour alone for now. And he's gotten into tip-top shape for 2020.

Minjee Lee isn't perfect. It just seems that way when it really matters.

Today's final pairing in the slugfest known as the Hugel-Air Premia L.A.

Now that almost half the field is gone, it shouldn't be too difficult to predict the winner of the Hugel-Air Premia L.A.

Sometimes golf is the easy part. String three birdies together? Sure, done it tons of times.