Another loss to Guatemala could spell the end for U.S. soccer coach Juergen Klinsmann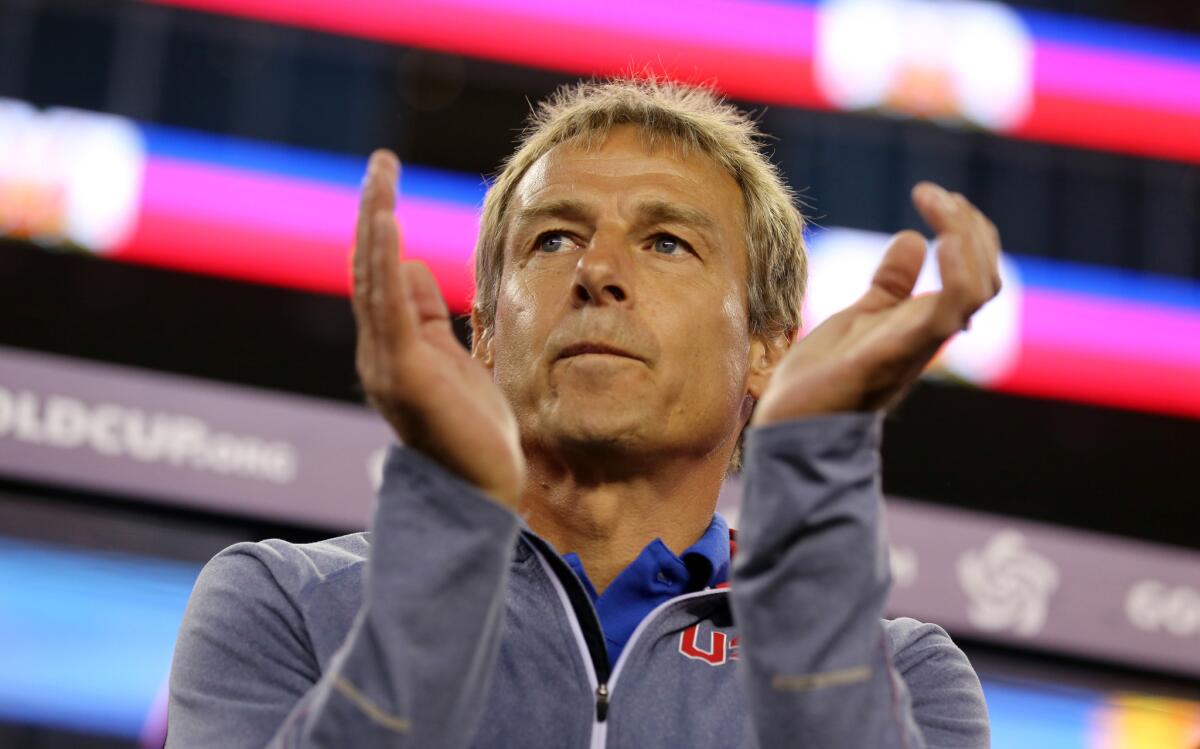 If you're like most of the people in this country and soccer is something you pay attention to only once every four years, it could be a really long time before you watch another game.
The United States men's team is in real danger of not reaching the 2018 World Cup.
The ramifications of that would be enormous, and not only for Coach Juergen Klinsmann. The entire sport would be set back in this country.
A qualifying match Tuesday night against Guatemala is shaping up as the most important game in a generation for U.S. soccer. If the Americans lose again to a team that they lost to four days earlier, they probably won't even make it to the final round of qualifying.
Every qualification cycle has its scary moments, but the alarm bells now sound louder than usual.
The U.S.'s 2-0 loss in Guatemala last Friday wasn't an isolated event. Anyone who has watched the team over the last year knew a result like that was well within the realm of possibility.
A shortage of talent is only part of the problem. Under Klinsmann, the team has no identity, no sense of what it is.
As a self-proclaimed up-and-coming team, the U.S. has always had to strike a balance between who it is and what it wants to be. When Bruce Arena coached the Americans, he was a pragmatist who had little concern for the aesthetic parts of the game. Arena's successor, Bob Bradley, was more of a romantic. Sometimes their tactics worked, sometimes they didn't, but their teams always had something to fall back on in times of crisis.
Whereas Arena and Bradley did the majority of their experimenting on the margins of the team, Klinsmann has toyed with its foundation. The latest example of this was his ill-fated decision Friday to start attacker Mix Diskerud alongside Michael Bradley as a deep-lying central midfielder.
Klinsmann sacrificed defense to add a play-making element to the position. The thinking was similar to when, say, Bob Bradley made midfielder DaMarcus Beasley a left back. But it's one thing to try something like that on the flanks; it's another to do it in the middle of the field where mistakes are more costly.
The only reason Klinsmann remains employed is because of something he has lamented in the past: widespread apathy toward soccer in the United States. In almost any other country, he would have been replaced by now.
While U.S. Soccer President Sunil Gulati has continued to back Klinsmann — perhaps because it was Gulati's decision to pay Klinsmann about $3 million a year — a defeat Tuesday could, and should, force a change.
::
Guatemala's victory over the U.S. on Friday could be a good omen for the Dodgers. The last time Guatemala defeated the U.S. was in 1988.
::
Reviews of Kenta Maeda's exhibition season for the Dodgers were favorable, with scouts saying the right-hander's four-pitch mix should play well in the major leagues, provided he remains injury-free.
One National League scout predicted that if Maeda makes 30 starts for the Dodgers, 10 would be "Greinke-like." However, the same scout said inconsistency should be expected.
Maeda doesn't have an overpowering fastball, which means any lack of precision will be punished. Also, he will be pitching every five days rather than once a week, as he was used to doing in Japan.
::
How many Rams can you name outside of running back Todd Gurley? Considering how unknown their players are in Los Angeles, it's a good thing the Rams will be featured on HBO's "Hard Knocks" documentary series this summer.
::
TBS's Kevin Harlan waded into dangerous water when Syracuse secured its place in the Final Four, calling, "Back from the dead on Easter Sunday!"
::
While former super-middleweight champion Andre Ward dominated every round during a unanimous decision victory over Sullivan Barrera in his long-awaited return to the boxing ring Saturday, he was hit flush multiple times, which rarely happened to him in the past.
Ward had to absorb hard shots because he was uncharacteristically flat-footed. And that raises the question of whether he did so by choice because he knew Barrera couldn't hurt him or was forced to do so because his legs are gone.
In addition to being 32, Ward is carrying more weight by fighting at the 175-pound limit, seven pounds heavier than where he spent the majority of his career. If Ward's mobility is compromised, he will be in serious trouble in his anticipated showdown this fall against power-punching Sergey Kovalev.
Twitter: @dylanohernandez
Get our high school sports newsletter
Prep Rally is devoted to the SoCal high school sports experience, bringing you scores, stories and a behind-the-scenes look at what makes prep sports so popular.
You may occasionally receive promotional content from the Los Angeles Times.