Rams' scoring prowess reminds former great Torry Holt of the 'Greatest Show on Turf'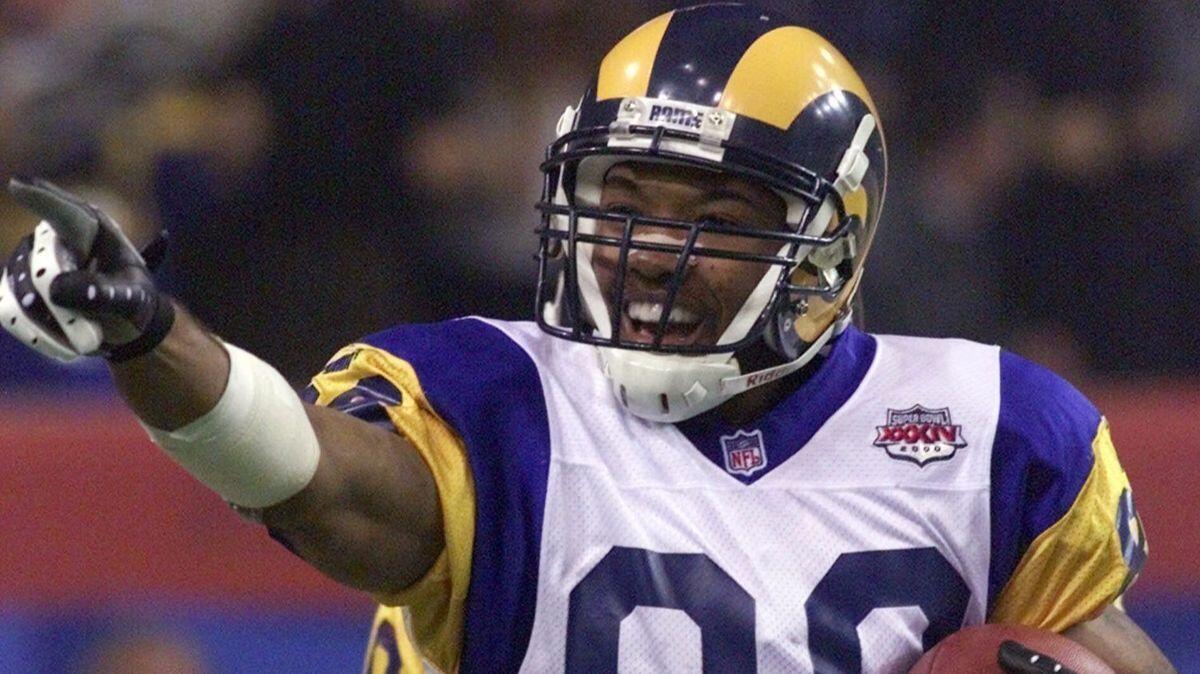 They were such a prolific offense, fans came out to watch them during pregame warmups. Opposing defensive players frantically tried different pairs of cleats to gauge whether one could help neutralize the threat better than another.
Those are a few things Torry Holt remembers from his years as a star receiver for the St. Louis Rams' record-setting "Greatest Show on Turf" offense.
In 1999 and 2001, the historically high-powered unit — featuring Hall of Fame quarterback Kurt Warner, Hall of Fame running back Marshall Faulk and Pro Bowl receivers Holt and Isaac Bruce — propelled the Rams to the Super Bowl.
Holt sees similarities in this season's Rams offense.
"I'm not saying that's where they are now," Holt said Wednesday in a phone interview, "but that's where this offense is trending."
The Rams lead the NFL in scoring and with a 6-2 record are positioned for a run at their first playoff appearance since 2004.
Under first-year coach Sean McVay, they have been transformed from the NFL's worst scoring team in 2016 to one so productive it is making a push toward history.
Last season, the Rams scored 224 points. Through eight games this season, they've scored 263.
That puts them on pace to become the first team in league history to go from last in scoring one season to first the next, according to the NFL. Their 18.9 points-per-game improvement over last season, if maintained, would be the greatest in NFL history.
"We're pleased with the progress that we made," McVay said Wednesday, when asked if he was surprised by how many points his team has produced. "We'll see if we can continue that."
With second-year quarterback Jared Goff at the controls, the Rams could finish among the top 10 scoring offenses in NFL history.
If they match their eight-game point total in the second half of the season, they'll finish with 526, tying the 1999 Rams team that won the Super Bowl.
That was Holt's rookie season.
After catching 920 passes during an 11-year NFL career, 74 for touchdowns, Holt watched for nearly a decade as the Rams fell far short of even flirting with his era's production.
The arrival of McVay changed everything.
"He's a shot in the arm for that organization, a shot in the arm for that offense and shot in the arm for Jared Goff's development," Holt said.
Goff, the No. 1 pick in the 2016 NFL draft, went 0-7 as starter last season but has blossomed under McVay, offensive coordinator Matt LaFleur and quarterbacks coach Greg Olson.
He has completed 60% of his passes for 2,030 yards and 13 touchdowns, with four interceptions.
Goff passed for a career-best four touchdowns and 311 yards in Sunday's 51-17 victory over the New York Giants — the most points surrendered at home by the Giants since 1964 — and is the first Rams quarterback in 10 years to earn recognition as NFC offensive player of the week.
He completed 14 of 22 passes, four covering 44 yards or more, as the Rams scored more than 40 points for the third time.
"I didn't get hit all day and that's a testament to the O-line," Goff said Wednesday. "We threw a bunch of screens for a bunch of yards. It's not me doing the work — it's those guys."
The offensive proficiency — running back Todd Gurley has scored an NFL-best 10 touchdowns — has taken the onus off a defense that had grown accustomed the last few seasons to short stints on the sideline and fatigue in the closing minutes of games.
"When I know, pretty much, when they go out there they're going to score and I can pretty much sit on the bench and relax, it's a great feeling," veteran linebacker Robert Quinn said of the Rams offense.
Then he laughed.
"When they don't score," Quinn said, "you kind of get upset because we expect them to."
It's not just the offense that is contributing to the scoring onslaught.
The defense has returned two interceptions for touchdowns and also produced a safety. Kicker Greg Zuerlein has made 24 of 25 field-goal attempts and leads the NFL with 99 points. Pharoh Cooper returned a kickoff for a touchdown, Malcolm Brown a blocked punt for another.
But it is the Rams offense that has turned heads.
Against the Giants, receiver Robert Woods caught a pass behind the line of scrimmage and dashed 52 yards for a touchdown. Goff connected with receiver Sammy Watkins on a 67-yard touchdown pass play.
"There was some resemblance to the 'The Greatest Show on Turf,'" Holt said. "I saw some of that flash, particularly on those two plays."
Rams cornerback Kayvon Webster also has witnessed similarities to the 2013 Denver Broncos team he played for as a rookie.
That Broncos team, with future Hall of Famer Peyton Manning at quarterback, produced an NFL record 606 points during the regular season en route to the Super Bowl.
But this Rams team is different, Webster said.
Goff is "coming up," he said, while Manning was "proven year-in and year-out."
"This is a young team — we didn't have a young team in Denver — so that's a difference too," he said. "And we've got the youngest coach in [pro] football."
That seems to be working in the Rams' favor.
Holt would like fans in Los Angeles to see McVay orchestrate another dynamic Rams performance Sunday against the Houston Texans in their first game at the Coliseum in more than a month.
The attitude adopted by the "Greatest Show on Turf" offenses appears to have returned, Holt said.
"We felt like we could outscore anybody in the NFL," he said. "Going into games like that week after week gives you a tremendous amount of confidence."
Etc.
Running back Malcolm Brown suffered a left knee injury against the Giants and is expected to be sidelined for a few weeks, McVay said. A decision has not been made on whether the injury requires surgery. The Rams could activate running back Lance Dunbar, but that decision will not be made until later this week, McVay said. ... Quinn did not practice because of illness and tight end Derek Carrier did not participate because of a hamstring injury, according to the Rams' injury report.
Follow Gary Klein on Twitter @latimesklein
Get the latest on L.A.'s teams in the daily Sports Report newsletter.
You may occasionally receive promotional content from the Los Angeles Times.