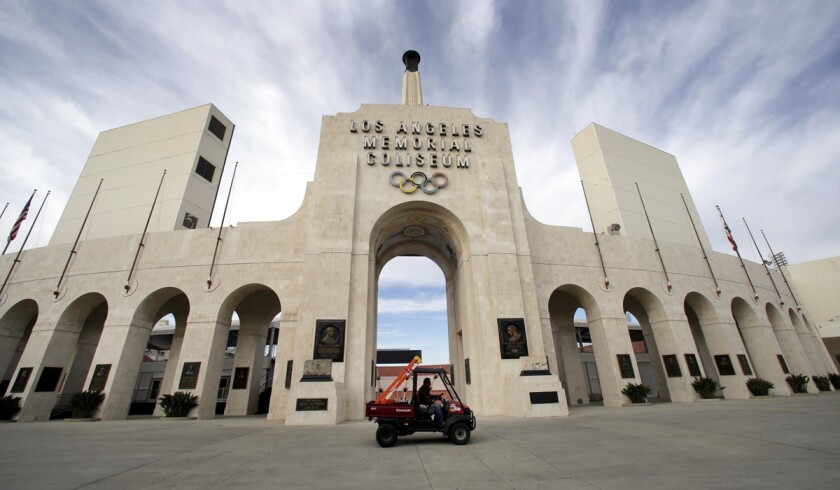 The Rams are going above and beyond for their home games against the Dallas Cowboys and Seattle Seahawks.
Due to high ticket demand for those games in particular, the Rams will make seats available in areas of the Coliseum they originally planned not to sell — mostly the upper level corners.
The preseason opener against Dallas on Saturday, the first NFL game in Los Angeles since 1994, could wind up drawing a crowd close to the stadium's capacity of 91,000. The club has made several thousand extra tickets available this week on Ticketmaster.com.
The Rams sold slightly more than 70,000 season tickets, then made 10,000 more single-game tickets available for their nine home dates (two exhibition and seven regular-season games). So that 80,000-plus constitutes a sellout.
There was still significant demand for the preseason opener and the Sept. 18 home opener against the Seahawks, so the Rams opted to keep selling.
"Before we say, 'We want to sell to 91,000,' we want to make sure we can ensure a great experience for 80,000-plus," said Jake Bye, the Rams vice president overseeing ticket sales. "That it's safe, the fans can get in and out of the Coliseum easily, that the concession experience is good, parking, all the fan-experience dynamics work. We just go back to, just because we can sell it doesn't mean we should."
Most of the tickets newly made available for the exhibition game against the Cowboys are in the $40-$65 range, although the teams also plan to sell some returned tickets (possibly better ones) and those unused by sponsors and/or the Cowboys.
See the most-read stories in Sports this hour >>
"You only have one first game back," Bye said. "It's just so historic, and there's such an appetite for people to be here and be a part of this that it's a unique situation for us."
There's little doubt that part of the appetite for tickets is due to the popularity of the Cowboys. However, Dallas played its preseason opener at San Diego last year, and that game drew 58,507.
Bye said the league's clear-bag policy will be in effect at the Coliseum, starting with Saturday's game. That limits the size and types of bags spectators can bring into the stadium, meaning purses must be replaced by plastic bags of one gallon or smaller. Details of the policy can be found at NFL.com/allclear.
"We want to get people into the building as quickly and efficiently as possible," Bye said, adding: "We don't want people's first visit to a Rams game at the Coliseum to also be their last."
ALSO
For Rams, this special teams coach is a life saver
The Rams make their Hollywood debut on 'Hard Knocks'
Meet the Rams: Case Keenum's the starting QB for now while Jared Goff waits for his turn
---