Galaxy's winning combination hasn't included captain Robbie Keane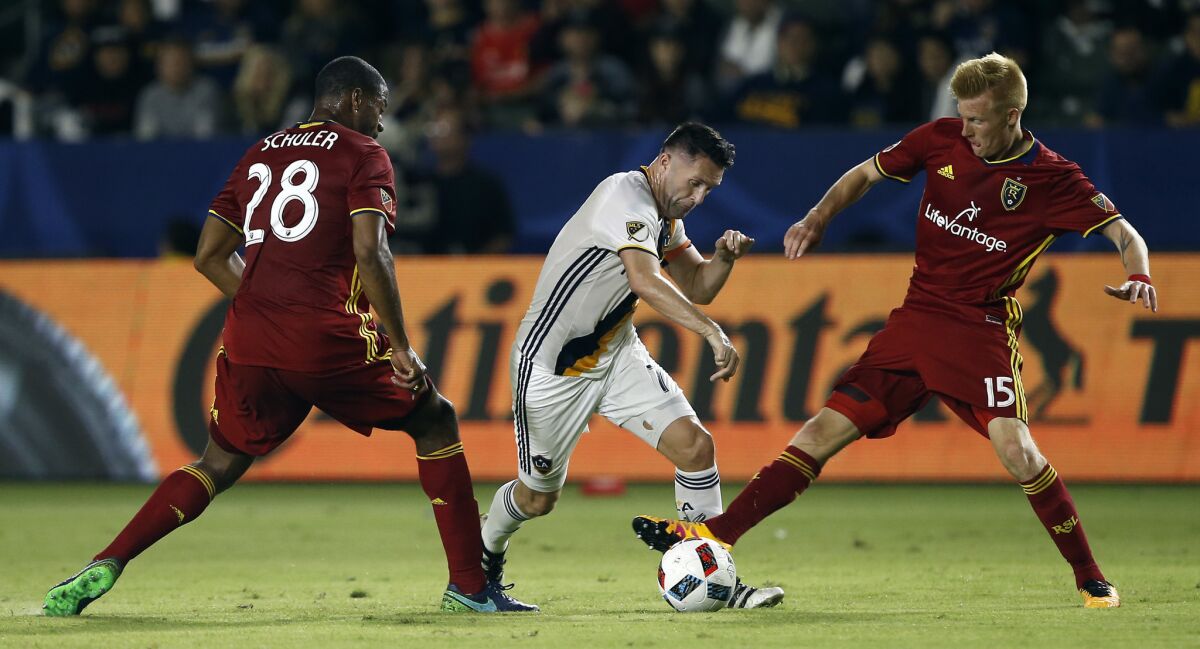 Over the last five MLS seasons, no player has scored more often than Galaxy captain Robbie Keane. Yet with the team's title hopes on the line, Keane found himself on the bench twice in the last six days.
"I can promise you Robbie is not happy with that," Galaxy Coach Bruce Arena said after Sunday's 1-0 win over the Colorado Rapids. "It's the way it is."
And given Arena's penchant for riding the hot hand, it could be the way it remains when the Galaxy head to Colorado on Sunday for the second game of their two-leg Western Conference semifinal.
The Galaxy were off Monday.
Keane has been a workhorse since coming to the Galaxy, averaging 25 starts during his first four full seasons in MLS. But this year a combination of international duty and injuries, including early-season knee surgery, caused him to miss half the team's regular-season games.
Keane, 36, was healthy enough to start in playoff victories over Real Salt Lake and Colorado, yet Arena went with the ageless Alan Gordon instead, using the same lineup in consecutive games for just the second time this season.
Could a changing of the guard be taking place?
"That's a team we've been playing with over the last two, three weeks getting them ready for the playoffs," Arena said after the postseason opener. "They've been training together and they know each other and each other's responsibilities.
"They played in a very cohesive manner. This is the best collective effort we've had in a while."
In Colorado, the Galaxy need only protect a one-goal lead to advance to the Western Conference final for the sixth time in eight seasons. Whether Keane, who came off the bench to play a combined 46 minutes in the two postseason wins, will assume a more prominent role Sunday probably won't be known until just before kickoff.
But it may be hard to sit Gordon, 35, a two-way grinder who is more active defensively than Keane. The Galaxy haven't allowed a goal from open play in the last three games Gordon started and he also scored the first goal in two of those, a vital stat given that Arena has lost just once in 27 playoff games in which his team scored first.
Want another stat? Only one of Giovani dos Santos's team-high 15 goals — including Sunday's game-winner — has come with Keane on the field. And now they're heading to Dick's Sporting Goods Park, the most imposing MLS venue for opposing teams.
Colorado, which finished with the league's second-best regular-season record, is the only MLS team that hasn't lost at home, where they've allowed just seven goals all season. But if defense hasn't been a problem for the Rapids, offense has. And in a playoff series where away goals serve as the first tiebreaker, if the Galaxy scores once Sunday, Colorado would need three goals to advance.
They've scored that many at home just one time this season.
"It's an advantage, of course," Galaxy midfielder Landon Donovan said. "We could play a lot of hypotheticals but … there's a reason why they are where they are.
"The pressure switches to them and they've got to find a way to get a goal. If not, 0-0 sends us through."
kevin.baxter@latimes.com
Twitter: @kbaxter11