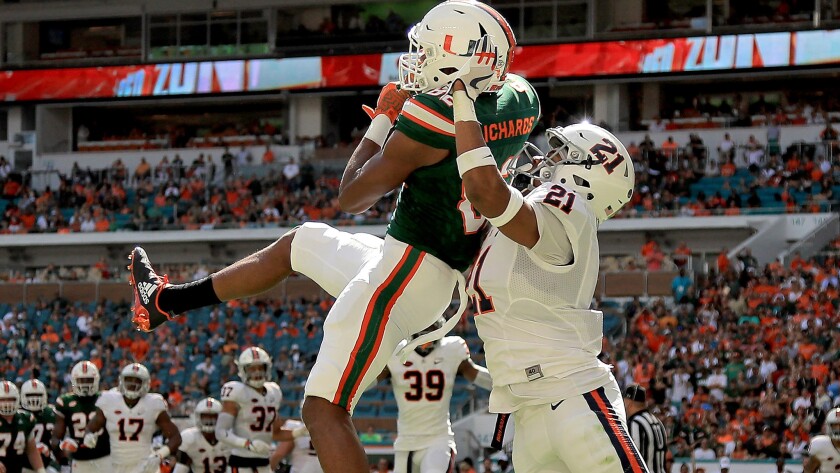 Malik Rosier threw three touchdown passes and ran for another score, and No. 3 Miami pulled off its biggest comeback in five years by defeating Virginia 44-28 on Saturday at Miami Gardens to extend the nation's longest winning streak to 15 games.
Jaquan Johnson had an interception return for a touchdown for Miami (10-0, 7-0 Atlantic Coast Conference), which went on a 30-0 run in the second half to remain unbeaten. The Hurricanes erased a pair of 14-point deficits, and had lost 15 consecutive games in which they trailed at any point by such a margin.
But the defense got a pair of fourth-down stops in Virginia territory in the fourth quarter, and the Hurricanes finished off their first 7-0 home regular season since 1988.
Travis Homer rushed for 96 yards and a touchdown for Miami, which looks to close out a perfect ACC regular-season slate at Pittsburgh on Friday. The Hurricanes already had a spot in the ACC championship game against Clemson on Dec. 2 secured.
Kurt Benkert was brilliant for Virginia (6-5, 3-4), completing 28 of 37 passes for 384 yards and four touchdowns.
at No. 5 Wisconsin 24, No. 24 Michigan 10: Alex Hornibrook's 24-yard touchdown pass to A.J. Taylor in the third quarter broke open a defensive slugfest while Kendric Pryor scored on a reverse to help the Badgers remain undefeated.
Wisconsin (11-0, 8-0 Big Ten) padded its playoff resume by winning a grinding, physical matchup against the Wolverines (8-3, 5-3).
Hornibrook completed nine of 19 passes for 143 yards, but bounced back from an interception early in the third quarter with some of his best throws of the season. He connected with Taylor through a tight window in the end zone for a 14-10 lead with 3:31 left in the third quarter.
at No. 1 Alabama 56, Mercer 0: Jalen Hurts passed for 180 yards and three touchdowns in a little more than a quarter and the Crimson Tide cruised to the win over their FCS opponent.
Alabama (11-0) raced to a 35-0 halftime lead in what amounted to a tuneup for the team's biggest game. Now, Alabama heads to No. 6 Auburn with the winner of the Iron Bowl facing No. 7 Georgia in the Southeastern Conference championship game in Atlanta.
The Bears (5-6) lost to Auburn 24-10 early in the season, when the Tigers committed five turnovers.
at No. 2 Clemson 61, The Citadel 3: Kelly Bryant threw for 230 yards and three touchdowns and was out of the game before halftime as the Tigers comfortably remained in the playoff race with the rout.
The lower-division Bulldogs were out of this one quickly. After Bryant's 14-yard touchdown pass to T.J. Chase on the offense's 26th play, Clemson (10-1) led 28-0.
No. 4 Oklahoma 41, at Kansas 3: Oklahoma's Baker Mayfield threw for 257 yards and three touchdowns after getting dissed by the Kansas captains before kickoff. Mayfield had tried shaking hands with Daniel Wise, Dorance Armstrong Jr. and Joe Dineen Jr. after the coin toss, but they stared stoically back at him.
He threw TD passes to Rodney Anderson and Marquise Brown in the first half, then founded Mark Andrews late in the third quarter, which prompted more insults between Mayfield and the Jayhawks. At one point, Mayfield lewdly grabbed his crotch while cursing across the field, and another time he yelled to fans behind his bench: "You have one win! Go cheer on basketball!"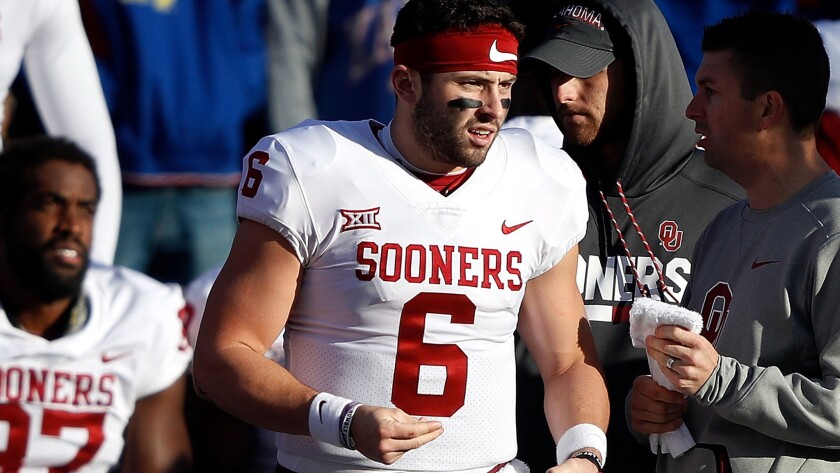 The histrionics added at least some interest to a game that figured to be a blowout. The Sooners (10-1, 7-1) are fourth in the College Football Playoff ranking and clinched a spot in the revived Big 12 title game, while the Jayhawks (1-10, 0-8) have yet to beat a Football Bowl Subdivision foe.
at No. 6 Auburn 42, Louisiana Monroe 14: Darius Slayton's 50-yard scoring catch late in the first half gave the Tigers the lead and they pulled away in the second half when Kam Martin scored two touchdowns, one rushing and one receiving, in the third quarter.
Auburn (9-2) can earn a spot in the Southeastern Conference championship game by beating Alabama next week. The Tigers, perhaps distracted by last week's rout of then-No. 1 Georgia and next week's Iron Bowl showdown with Alabama, were tied at 7 with ULM (4-6) late in the first half. Auburn took the lead on Slayton's bomb from Jarrett Stidham with 1:27 left before halftime.
at No. 7 Georgia 42, Kentucky 13: Nick Chubb and Sony Michel led a dominant running game and Georgia bounced back from its first loss of the season.
In the final home game of their careers, Chubb and Michel went out with a bang on Senior Day between the hedges. Chubb rushed for 151 and two touchdowns, including a 55-yard burst down the sideline to seal the victory early in the fourth quarter. Michel rambled for 87 yards and three scores of his own, most notably a 37-yard TD that sent the Bulldogs into the half with a 21-6 lead.
Georgia (10-1, 7-1 Southeastern Conference) returned to form after getting stuffed on the ground in a 40-17 loss to Auburn, a dismal performance that knocked the Bulldogs out of the top spot they held for two weeks in the College Football Playoff standings. Georgia finished with 381 yards rushing against the Wildcats (7-4, 4-4).
at No. 8 Notre Dame 24, Navy 17: Brandon Wimbush threw for 164 yards and two touchdowns and ran for a score as the Irish rallied in the rain and wind to beat Navy. Wearing throwback uniforms with the name Rockne on the back of every player's jersey and helmets designed to evoke the leather tops from the era of Knute Rockne, one of the Fighting Irish's most famous names, Notre Dame (9-2, No. 8 College Football Playoff) kept its slim national championship hopes alive heading into the regular-season finale next Saturday at Stanford.
Wimbush, who threw two interceptions and lost a fumble in Notre Dame's 41-8 loss at No. 2 Miami two Saturdays ago, connected with Kevin Stepherson twice and added his 14th rushing TD of the year as the Irish scored on three straight possessions late in the longest-running matchup between teams from different regions of the country, dating to 1927.
The Irish outgained the Midshipmen (6-4) 327-318, but Navy outrushed Notre Dame 277-163 and had a huge advantage in time of possession, 42:42 to 17:18.
at No. 9 Ohio State 52, Illinois 14: The Buckeyes scored on their first six possessions — including J.T. Barrett's 100th career touchdown pass — and wrapped up the Big Ten East title. Barrett, playing in his last game at Ohio Stadium, threw for two touchdowns and ran for another score to help the Buckeyes (9-2, 7-1) dominate from the opening kick.
Barrett became the Ohio State leader in rushing yards among quarterbacks (3,070), eclipsing Braxton Miller. He holds 35 Big Ten and school records. Ohio State's defense limited the Illini (2-9, 0-9) to a season-low 105 yards in handing them a ninth straight loss. They didn't record a first down until near the end of the first half.
Barrett was 11 for 19 for 141 yards, with backups Dwayne Haskins and Joe Burrow playing most of the second half. Running back Mike Weber picked up 108 yards on 11 carries and scored twice, including on a 43-yard breakaway romp in the first quarter.
at No. 10 Penn State 56, Nebraska 44: Saquon Barkley broke Penn State's career touchdown record with three scores and had 208 of 224 total yards in the first half. Barkley passed Lydell Mitchell for the record with his 39th touchdown.
Trace McSorley ran for a touchdown and threw for 325 yards on 24-of-36 passing with three touchdown passes for Penn State (9-2, 6-2 Big Ten). Mike Gesicki caught two scoring passes and became Penn State's career touchdowns leader by a tight end with 13, and DeAndre Thompkins also had a touchdown catch.
Nebraska's Tanner Lee returned from concussion protocol to complete 26 of 41 passes for 399 yards and three touchdowns. Morgan Stanley Jr. had seven passes for 185 yards and a touchdown for Nebraska (4-7, 3-5).
No. 12 Texas Christian 27, at Texas Tech 3: True freshman quarterback Shawn Robinson ran for 84 yards and threw a key second-half touchdown in his first career start to help TCU to stay in contention for a spot in the Big 12 championship game. Robinson, who won a Texas Class 6A state high school championship last season, filled in for Kenny Hill. The senior didn't even make the trip to Lubbock because of an unspecified injury.
While Robinson was only 6-of-17 passing for 85 yards, his 12-yard TD to Jalen Reagor came late in the third quarter as the Horned Frogs (9-2, 6-2 Big 12) took a 17-3 lead. The Red Raiders (5-6, 2-6) got their only score on their opening drive of the game.
Kansas State 45, at No. 13 Oklahoma State 40: Byron Pringle caught three touchdown passes and returned a kickoff for another score to help the Wildcats pull off the upset. The Cowboys nearly erased a 29-point deficit in the second half, but Kansas State (6-5, 4-4 Big 12) held on to become bowl eligible for the eighth consecutive season.
Pringle caught four passes for a career-high 166 yards. His kickoff return for a score covered 89 yards. The junior entered the game with eight career touchdowns, and he had never scored more than two in a game. Freshman Skylar Thompson threw for 204 yards and three touchdowns and ran for 93 yards and a score in his second start for the injured Jesse Ertz.
Oklahoma State's Mason Rudolph passed for 425 yards and three touchdowns and ran for another score. James Washington caught eight passes for 159 yards and two touchdowns for the Cowboys (8-3, 5-3).
No. 15 Central Florida 45, at Temple 19: McKenzie Milton threw four touchdown passes and ran for a score as the Knights comfortably took care of business on the road to set up a showdown with rival South Florida.
The Knights (10-0, 7-0 American Athletic conference, CFP No. 15) turned three Temple turnovers inside the Owls' 25 into 17 first-half points, taking a 31-10 lead when Gabriel Davis stretched across the goal line for a 5-yard touchdown reception with 2:36 left in the second quarter.
The AAC East Division will be decided on Black Friday in Orlando, Florida, when No. 23 South Florida (9-1, 6-1) visits UCF. Temple (5-6, 3-4) could have been easy to overlook for the Knights. The game had no bearing on whether they play for a conference title and a loss probably wouldn't have damaged their chances to play in a New Year's Six bowl.
No. 16 Mississippi State 28, at Arkansas 21: Nick Fitzgerald threw a six-yard touchdown pass to Deddrick Thomas with 17 seconds left to overcome four turnovers and a lackluster performance on the road.
The Bulldogs (8-3, 4-3 Southeastern Conference) won at least eight games in a season for the fourth time in coach Dan Mullen's nine years with the victory. They had already earned bowl eligibility for a school-record eighth straight season.
The Razorbacks (4-7, 1-6) led by a touchdown in the fourth quarter, but Fitzgerald tied the game with 4:07 remaining with a 37-yard touchdown pass to Reggie Todd.
at No. 17 Michigan State 17, Maryland 7: LJ Scott ran for 147 yards and a touchdown to lead the Spartans to a snowy victory. Michigan State (8-3, 6-2 Big Ten) rushed for 271 yards, and that was about the only way the Spartans could move the ball in yet another game affected by the elements.
Michigan State quarterback Brian Lewerke completed only two of 14 passes for 20 yards, and one of his completions was a shovel pass late in the third quarter. Maryland (4-7, 2-6) wasn't much better through the air until the fourth quarter. Max Bortenschlager finished 13-of-25 passing for 121 yards.
at Wake Forest 30, No. 19 North Carolina State 24: John Wolford threw his third touchdown of the game to Tabari Hines with 8:03 remaining, and Wake Forest held on to upset the Wolfpack. Wolford completed 19 of 28 passes for 247 yards for the Demon Deacons (7-4, 4-3 Atlantic Coast Conference). They have won three of four and had their first regular-season victory over a Top 25 opponent since 2011. Wolford hit Hines for scores covering 21 and four yards before they connected for the go-ahead 18-yarder.
Ryan Finley drove the Wolfpack (7-4, 5-2) inside the Wake Forest 20 in the final minutes and hit Emeka Emezie inside the 5. Emezie made a move on Ja'Sir Taylor but was hit by Demetrius Kemp and fumbled inside the one-yard line. The ball squirted into the end zone and Kemp recovered it with 1:51 remaining for a touchback. The call stood after a brief review by the replay official.
No. 20 Louisiana State 30, at Tennessee 10: Derrius Guice and Darrel Williams combined to run for 165 yards and three touchdowns and LSU beat Tennessee in stormy conditions. Guice ran 24 times for 97 yards and one touchdown to help LSU win for the fifth time in its last six games. Williams rushed for 68 yards and two touchdowns on seven carries.
LSU (8-3, 5-2 SEC) scored 10 points after recovering two fumbled punt returns by Tennessee's Marquez Callaway in the red zone. The Tigers also began a touchdown drive after making a fourth-down stop at Tennessee's 21. Tennessee (4-7, 0-7) was playing its first game under interim head coach Brady Hoke after the firing of Butch Jones. The Volunteers must beat Vanderbilt next week to avoid their first eight-loss season in school history.
at No. 21 Memphis 66, Southern Methodist 45: Darrell Henderson rushed for 147 yards, including two long touchdowns, and Riley Ferguson threw for 320 yards and two scores to help Memphis wrap up the American Athletic Conference West Division championship.
Ferguson scored on three runs as Memphis (9-1, 6-1) won its sixth straight and claimed a spot in the conference's Dec. 2 championship game. Patrick Taylor had 112 yards rushing, while Anthony Miller had 163 yards receiving. Both scored two touchdowns each. Xavier Jones rushed for 175 yards and two touchdowns for the Mustangs (6-4, 3-4).
---