Patriots' Patrick Chung says Super Bowl prediction was him just clowning around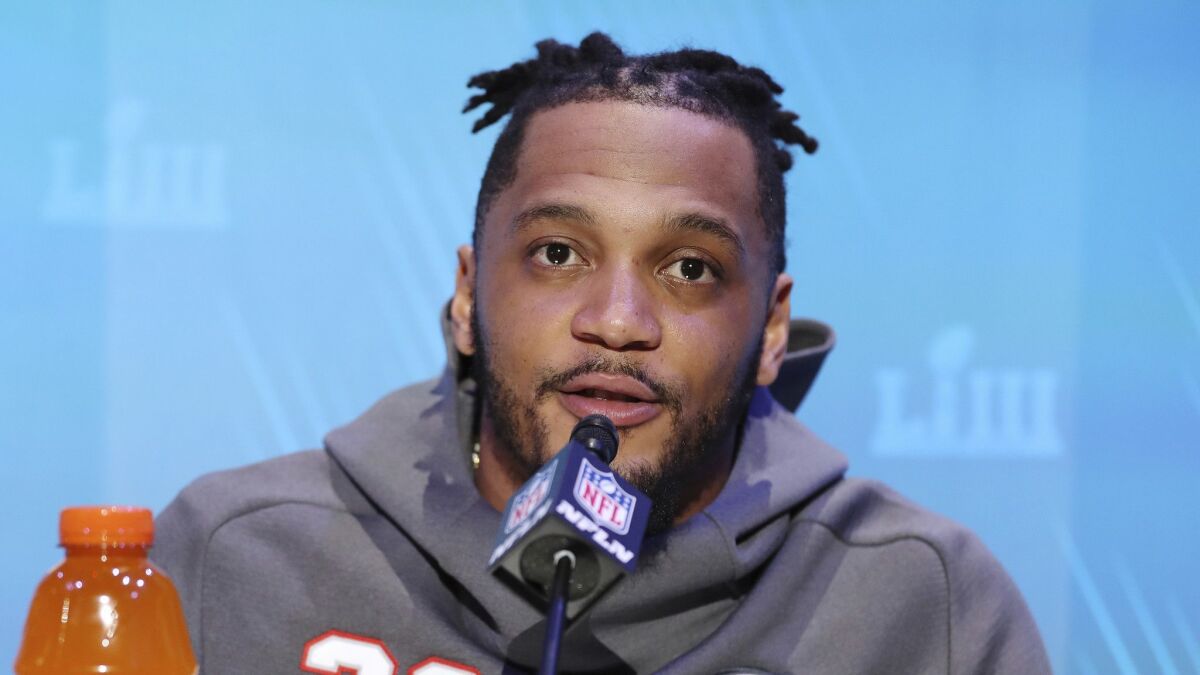 Reporting from atlanta —
On Sunday, safety Patrick Chung talked quite seriously about how the New England Patriots will beat the Rams in Super Bowl LIII.
On Monday, Chung explained himself by playing the clown card.
"You guys don't know me," he said. "I'm a clown. You guys want to write whatever you want to write. That's OK. Obviously, you guys have nothing else to write about."
During a rally at Gillette Stadium on Sunday before the Patriots departed for Atlanta, Chung began by leading the crowd in a "Beat L.A." chant. Then he declared, "We're gonna go down there and kick their ass, baby."
The proclamation was particularly bold on the eve of Super Bowl week, a time when players generally try to avoid providing the opposition with extra purpose or their teammates with potential distractions.
Chung said he meant no disrespect to the Rams and even playfully noted that receiver Brandin Cooks, a former Patriot, also is a clown.
Rams quarterback Jared Goff, left, and Patriots quarterback Tom Brady talk on stage during media day.
(Wally Skalij / Los Angeles Times)
Rams quarterback Jared Goff answers questions as members of the media surround him during Opening Night.
(Wally Skalij / Los Angeles Times)
Actor Dallas Dupree Young catches a ring thrown by Rams quarterback Jared Goff during media day.
(Wally Skalij / Los Angeles Times)
Rams Aaron Donald answers questions during media day in Atlanta.
(Wally Skalij / Los Angeles Times)
Rams Aaron Donald wears his necklace during media day.
(Wally Skalij / Los Angeles Times)
Rams head coach Jared Goff answers questions as members of the media surround him during Opening Night.
(Wally Skalij / Los Angeles Times)
Members of the media take pictures of Rams head coach Sean McVay.
(Wally Skalij / Los Angeles Times)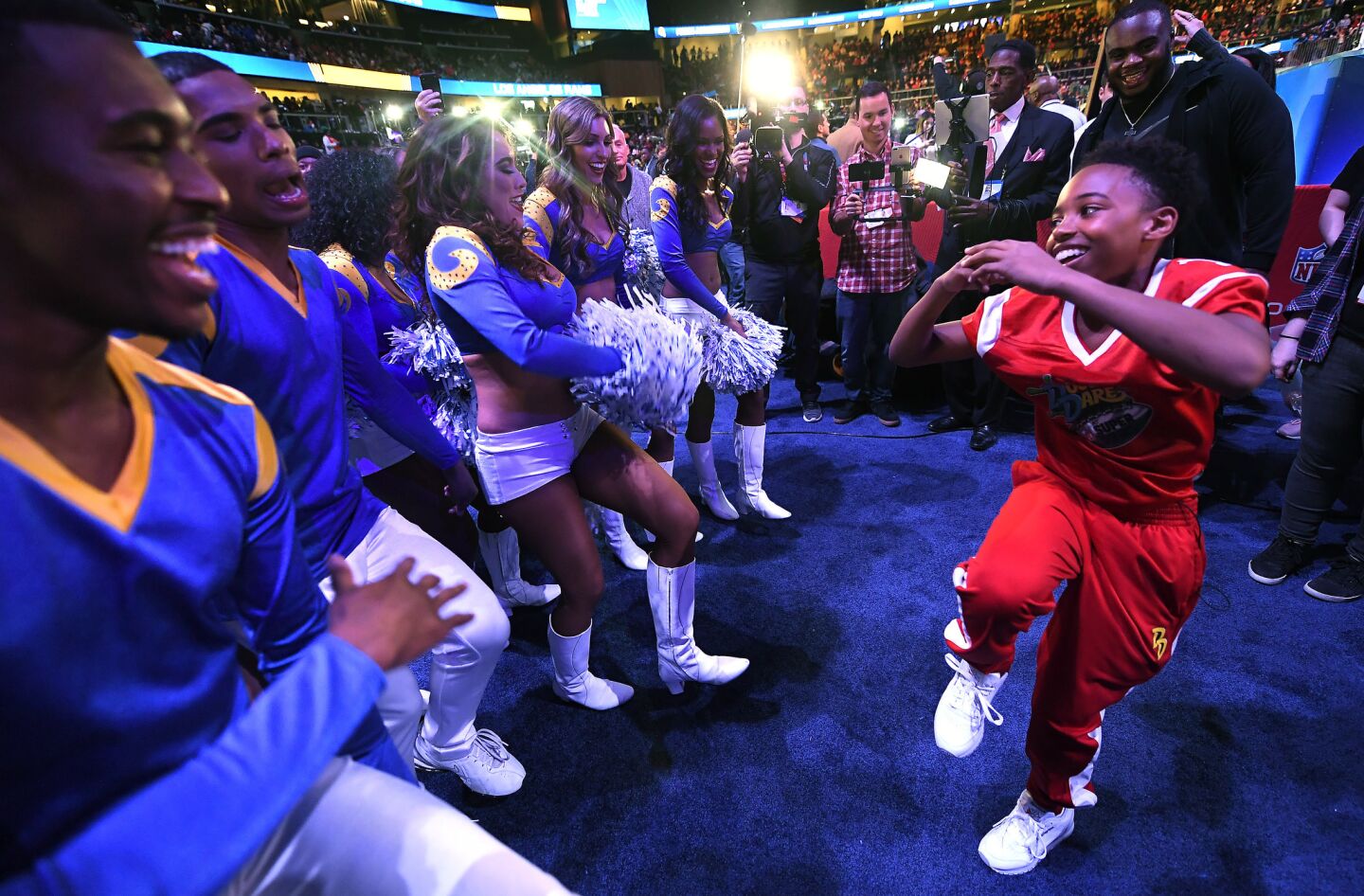 Actor Dallas Dupree Young dances with the Rams cheerleaders during media day.
(Wally Skalij / Los Angeles Times)
During the Rams' rally Sunday, Cooks responded to Chung's words by telling the crowd, "Hey Chung, we heard you talking that talk, you know, back there in Foxborough. … Let's get straight."
Then he dropped the microphone and walked away to cheers.
"We're confident," Chung said Monday. "They're confident, I'm sure. They're thinking the same thing. It was just me being a clown. … I'm not really going to apologize. We're confident just like they are."
A second-round pick of New England in 2009, Chung has spent nine of his 10 years with the Patriots, finishing this season with 84 combined tackles.
He was selected as one of the team's captains for the first time in his career this season.
"I'm going to do with whatever explanation Patrick gave you," New England defensive lineman Lawrence Guy said. "I can tell you he has a serious approach toward the game. He never takes a play off, not even in practice. He's a great leader and an even greater teammate."
Chung, who was born in Jamaica and attended Rancho Cucamonga High, is about to play in his fifth Super Bowl. He had a team-high 10 tackles a year ago when the Patriots lost to Philadelphia.
"The most important thing is to stay calm," he said. "It's just a game. It's a big game but just a game. If you prepare like you did for the first 20 games or whatever we played so far, you'll be fine."
Patriot games
New England quarterback Tom Brady, 41, will start his ninth Super Bowl. Rams quarterback Jared Goff, 24, will start his first.
The two share a common bond, having grown up in the Bay Area, and they exchanged small talk during a joint interview session on the opening-night stage Monday.
But their budding friendship has its limits, which was evident when Brady, who has five Super Bowl victories and was selected most valuable player in four of them, was asked whether he had any advice for Goff.
"I'm not giving him any advice — are you crazy?" Brady said. "I know how great of a player he is. The Rams have a great defense. They have the best D-line in the league and a couple of the best interceptors who have played in the league, so I have my work cut out for me."
Brady was later asked what he recalled from his first Super Bowl, after the 2001 season, when Adam Vinatieri kicked a 48-yard field goal as time expired to lift the Patriots to a 20-17 win over the St. Louis Rams in the New Orleans Superdome.
New England was a two-touchdown underdog to the Rams. Brady, 24 at the time, completed 16 of 27 passes for 145 yards and a touchdown.
"That week went by so fast," he said. "We won [the AFC title game over the Pittsburgh Steelers] on a Sunday, we flew to New Orleans on Monday morning. Before you knew it, Adam kicked the ball through the uprights and nobody could believe that we won. We were one of the biggest underdogs in Super Bowl history.
"It was just a magical year … and it's been pretty magical ever since."
Belichick II
There might be only one Bill Belichick but there will be more than one Belichick on the sidelines Sunday.
The Patriots coach's son, Steve, is in his third season coaching safeties.
"He's a phenomenal dad," Steve said. "You can't tell that from TV. But, when he's standing there during a game, being my dad isn't his No. 1 concern. Nor should it be."
Super Bowl week kicked off with Opening Night featuring the Los Angeles Rams, the New England Patriots and a few thousand media members and fans inside State Farm Arena in Atlanta.
Too much bling
Mattew Slater, the 33-year-old special-teams specialist and son of former Rams offensive tackle Jackie Slater, has two Super Bowl rings, from the Patriots' 2014 and 2016 championships, but he does not display the gaudy, diamond-encrusted baubles in his New England home.
"They're locked up — my wife has them in a safe-deposit box," he said. "I'll take them out if someone asks me to bring them to a certain place, but they're not really practical. I can't really go to the grocery store with them on and say, 'Yeah, let me get that milk there.' But they're what you play this game for."
Sign up for our daily sports newsletter »
Follow Mike DiGiovanna on Twitter @MikeDiGiovanna
Follow Jeff Miller on Twitter @JeffMillerLAT
---
Get our high school sports newsletter
Prep Rally is devoted to the SoCal high school sports experience, bringing you scores, stories and a behind-the-scenes look at what makes prep sports so popular.
You may occasionally receive promotional content from the Los Angeles Times.