New sports agency poised to give Lonzo Ball a unique start in NBA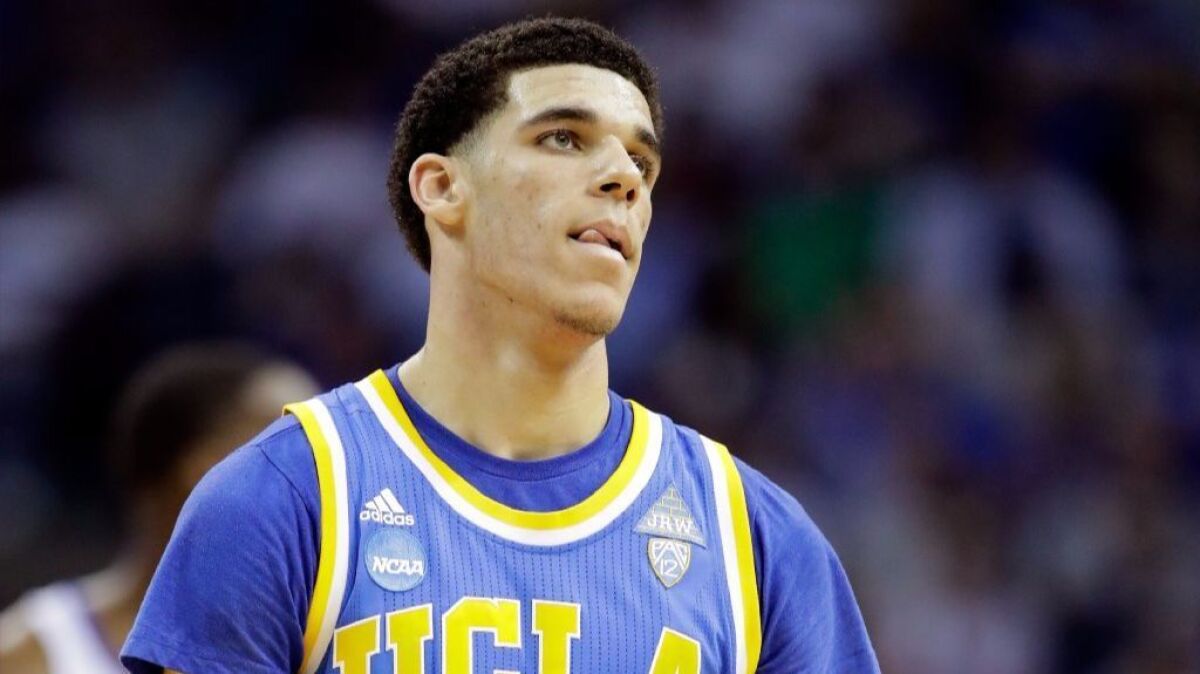 Lonzo Ball's basketball empire is expanding beyond pricey hats and highlight videos uploaded to YouTube.
The former UCLA point guard may become the first player to enter the NBA with his own sports agency after telling The Times on Friday that he would be represented by fledgling agent Harrison Gaines and the newly formed Ball Sports Group headed by Ball's father, LaVar.
"We're trying to do things differently, add a little flavor to the game and see what we can do from there," Lonzo said while sitting on a leather sofa inside Lucky Strike at LA Live before the Wooden Awards. Ball was a finalist for the player-of-the-year award that went to Kansas' Frank Mason.
Ball said he would be the first NBA client for Gaines, who has worked for a few sports agencies after having played at UC Riverside and Pennsylvania. Gaines' LinkedIn profile stated that he was chief executive officer at SLASH Sports & Entertainment and has a juris doctor degree from the Thomas Jefferson School of Law in San Diego.
"I trust the work he can do," LaVar Ball said of Gaines. "He just needs the opportunity; he knows the game. It's just like we set our own ways, so he's perfect for us."
Ball Sports Group is an extension of sorts from Big Baller Media, the Ball family's storytelling vehicle, and Big Baller Brand, the family line of apparel that includes hats and T-shirts. Each of the letters on the "BBB" logo stands for one of the Ball brothers — Lonzo, LiAngelo and LaMelo. LiAngelo is a senior at Chino Hills High who has signed a letter of intent to play for UCLA next season, and LaMelo is a sophomore who has also committed to play for the Bruins.
LaVar Ball said Ball Sports Group's only clientele would consist of his sons.
"It's going to ruffle a few feathers," LaVar said of the approach, "but it's going to set a ripple effect where people might not go just the agency way as far as, OK, what really does the agent do besides declare for the draft because how are you going to negotiate a price that's already there?
"They try to get you with the, 'Oh, we can market him.' If you're already successful, they're going to come at you anyway. You just have to say yes or no. They're just going to ask me questions I already know about my boys. I might as well market them myself. I know everything. I'm going to market them my way and not their way."
Lonzo is widely projected to be selected No. 1 or No. 2 overall in the June draft. He said he hoped to play for the Lakers because they are local and he considers himself family oriented. However, that possibility would require the team to be able to keep its top-three pick in the draft lottery. If the pick falls out of the top three, they would have to forfeit it to the Philadelphia 76ers as part of the Steve Nash trade.
"I'm a big family dude; that's the reason I stayed at UCLA," Ball said. "I feel like they have a good foundation over there. They're starting with Magic [Johnson] now and Luke Walton, I feel like he's going to be a great coach. I just feel like I can go help the program out and it will be an honor to play for them."
Ball acknowledged for the first time that he had pulled his hamstring early in UCLA's season-ending loss to Kentucky in an NCAA tournament regional semifinal last month, leading to a poor showing in which he finished with 10 points, eight assists and four turnovers. He struggled to keep up defensively with De'Aaron Fox, his Kentucky counterpart who established a freshman record for scoring in an NCAA tournament game.
"As you can see, 39 points says it all," Ball said. "He had a great game, I had a bad game and that's just how it goes sometimes."
Ball said his hamstring had fully healed and he would spend the final months before the draft working out near his home in Chino Hills with Darren Moore, who handles his basketball training, as well as Ball's father, who handles his strength and conditioning. LaVar Ball has also served as his son's de facto publicist, making the rounds with various media outlets to make claims about the family's basketball prowess.
LaVar recently pinned UCLA's loss to Kentucky on his son's teammates, telling the Southern California News Group that "realistically you can't win no championship with three white guys because the foot speed is too slow."
Lonzo laughed Friday when a reporter repeated his father's phrase.
"It was pretty funny when I saw it because it's not the first time I've heard him say that," Lonzo said. "It's just whatever's on his mind he's going to say."
Did former UCLA teammate TJ Leaf, presumably one of the players his father was criticizing, give Lonzo a hard time about his father's remarks?
"Nah," Lonzo said. "Me and TJ, we're real cool. He knows how my dad is, so it's nothing new for us. We're always talking and we just laugh."
LaVar said his comments were misconstrued.
"This is how the media messes up things," LaVar told The Times. "They said I blamed three white guys for losing. Wrong. I don't never blame anybody for losing but one person when UCLA loses and it's the same person all the time. It's my son. He's the leader of the ship. That's who I blame for the winning and the losing. I just said an opinion of mine, which is, when you start three white guys, the foot speed is slow."
Follow Ben Bolch on Twitter @latbbolch
ALSO
UCLA teammates see two sides of freshman guard Lonzo Ball
LaVar Ball's boasts about sons, including UCLA star Lonzo, draw strong reactions
Does the Ball family's 'Big Baller Brand' skirt NCAA rules? Experts say yes, but LaVar Ball doesn't care.
---
Get the latest on L.A.'s teams in the daily Sports Report newsletter.
You may occasionally receive promotional content from the Los Angeles Times.