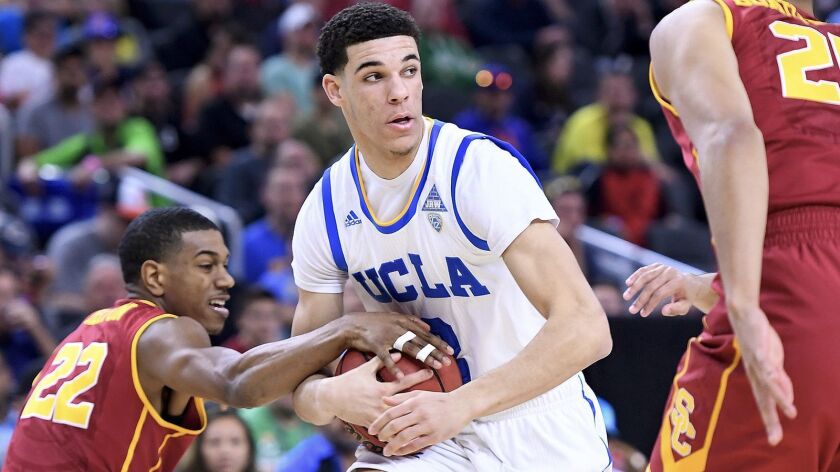 Reporting from SACRAMENTO —
There is another Lonzo Ball besides the one whose face is every bit as unreadable after a spectacular lob pass as it is following a turnover. He emerges before every game after the starting lineups are announced, his voice rising amid the din of the crowd and the UCLA teammates who surround him in the huddle.
"He gets us one last little fired up right before we start each game," Bruins guard Bryce Alford said. "He's just telling us that it's our time, to take this game and go out there and try to beat the heck out of whoever we're playing."
Loquacious Lonzo can also be found inside the locker room, where the freshman point guard who is often reserved during games blasts his Beats Pill speaker and loudly croons to whatever tune happens to catch his fancy.
"We know him as two different people," Alford said, "the one on the court and in the locker room."
Ball intends to be heard nationwide in the coming weeks. If all goes well, the echoes of UCLA's most dynamic freshman will ricochet from the third-seeded Bruins' NCAA tournament first-round game against 14th-seeded Kent State on Friday evening at the Golden 1 Center all the way to Glendale, Ariz., for the Final Four.
Ball has already identified a championship as the only acceptable result in what will surely be a cameo appearance on college basketball's biggest stage. Asked how Ball would respond to what might be his only NCAA tournament, UCLA Coach Steve Alford said with a chuckle, "Well, you can probably take the 'might' out of it."
Ball has been everything the Bruins envisioned, much more than a pass-first dynamo with a funky shot. He has won games with his lurking defense, his scoring outbursts, his steadying presence.
Those are among the traits that have made him universally projected as a top-three pick in the NBA draft in June. He won the Wayman Tisdale Award on Thursday as the national college freshman of the year after piling up 254 assists, the most of any player in the country and a Pac-12 Conference freshman record.
Barring an injury in the game's opening minutes Friday against the Golden Flashes, Ball will almost certainly get the three assists he needs to surpass Larry Drew II as UCLA's single-season leader in that category. He was wearing white tape Thursday around the thumb he sprained against Arizona last week but proclaimed himself "fine."
Ball has been a sensation since fans chanted his name at every stop the Bruins made in August during an exhibition tour of Australia. He made his first assist, steal and three-pointer within the first 83 seconds of his first official college game, a 39-point romp over Pacific, and never slowed on the way to becoming the Pac-12 freshman of the year.
He logged more assists than turnovers in each of his first 21 games and in 31 of 33 games overall. He's also made a habit of draining 30-footers in the moments before halftime, something he's done four times. UCLA won all four games.
The most demonstrative Ball has been on the court was when he held an upright finger to his mouth after making a three-pointer during the Bruins' December victory over Kentucky in Rupp Arena after his play had already shushed the normally rabid Wildcats fans.
Perhaps even more impressive is the improvement Bryce Alford said he's seen from a player whose game seemed almost spotless from his debut.
"He's just become a better player in all aspects — his shot selection, his ballhandling," Alford said of the teammate whose averages of 14.6 points and 6.1 rebounds in addition to all those assists don't begin to describe his impact on an offense that led the nation in efficiency for most of the season.
The only numbers Ball has said he cares about are his team's wins and losses, a reflection of the mentality his father, LaVar, instilled in him long ago when he intentionally placed him on lesser teams to improve his team-building skills. LaVar has since shifted from mentor to high-volume pitchman, saying his son was already better than Golden State Warriors superstar Stephen Curry.
Lonzo was typically unflappable Thursday when asked about his father's claim that LaVar could have taken NBA Hall of Famer Michael Jordan in LaVar's heyday.
"He probably thinks he can do that," Lonzo said. "He is bigger than him. That is his thinking process. He's never going to change for the cameras. He's been the same his whole life."
The Bruins want Ball to get back to the joyous ways that were missing in the Pac-12 tournament, when he made only six of 17 shots and hardly resembled the player he had been for most of the season's first four months. He had plenty of fun during his team's open practice Thursday, shimmying along to the UCLA band before bouncing a pass to himself in midair for a windmill dunk that drew oohs from the small crowd.
Next up is the pregame banter from the guy who otherwise largely stays mum on the court.
"He just kind of gets guys excited, pumped up for the game," Bruins guard Isaac Hamilton said. "Other than that, nah."
Twitter: @latbbolch
---