Bruins hoping 'dry run' will help them prepare for season opener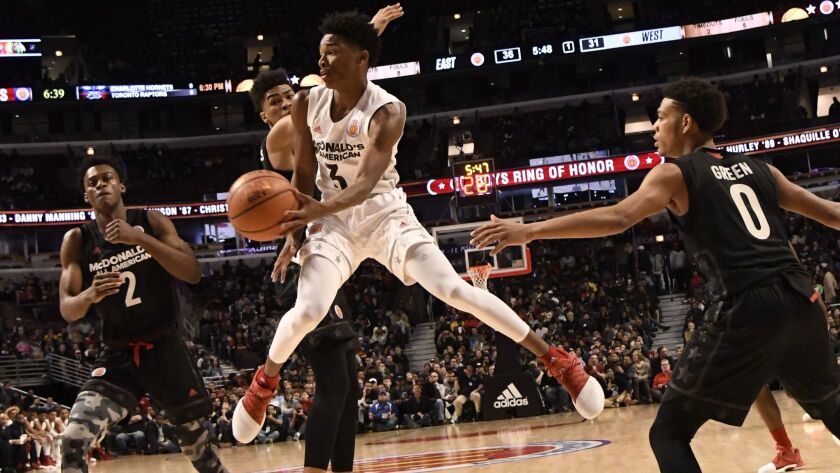 UCLA is headed into unknown territory before going to China for its season opener.
The Bruins' seven-man freshman class will experience its first game inside Pauley Pavilion on Wednesday night during an exhibition against Cal State Los Angeles.
Two of those freshmen — point guard Jaylen Hands and small forward Kris Wilkes — are probably going to be in the starting lineup, coach Steve Alford said Tuesday, alongside senior center Thomas Welsh, junior point guard Aaron Holiday and senior power forward Gyorgy Goloman.
Freshman power forward Jalen Hill is considered doubtful to play because of a sore knee, Alford said, though his absence would be largely precautionary.
The hope is that the exhibition will involve more than the usual runaway against an overmatched opponent; Alford said he was seeking improvement in rebounding and free-throw shooting, which emerged as problem areas during a recent scrimmage.
"We should be a good rebounding team," Alford said. "We've got long, big guards and we've got good size up front."
Alford said if he could redo his team's schedule, he would have included a second exhibition game given its youth and the relatively late addition of the trip to Shanghai for the season opener on Nov. 10 against Georgia Tech. That's why Alford said he considered the game against Cal State L.A. "a really big dry run for us."
Some transitions have been easier than others for a freshman class that also includes forwards Cody Riley and Chris Smith and guards LiAngelo Ball and Joseph Wallace.
"Every play," Riley said, "you've got someone with the same athletic ability and the same size and the same height, same skill set."
Holiday said he hasn't played alongside Hands much in practice, usually going head to head. But their styles appear to be complementary because Holiday said he considered himself more of a scoring guard and Hands more of a passing guard.
"Either one of us can score the ball, pass it and just run the team," Holiday said. "It's obviously good to play along with another good point guard like that."
Alford said he's been pleased with how vocal his team has been in its early practices, which had been an issue last season and could help the new group of players accelerate their growth defensively.
But there will certainly be some snags along the way for a team that also includes two more newcomers of sorts in sophomores Prince Ali and Alex Olesinski, who are coming off redshirt seasons.
"It's going to be an ongoing journey and process with a lot of new guys," Alford said. "We've just got to continue to hopefully have that maturation happening every week."
Follow Ben Bolch on Twitter @latbbolch
---
Get the latest on L.A.'s teams in the daily Sports Report newsletter.
You may occasionally receive promotional content from the Los Angeles Times.