UCLA's Murry Bartow has the book on coach Steve Alford, and aims to fix the Bruins' defense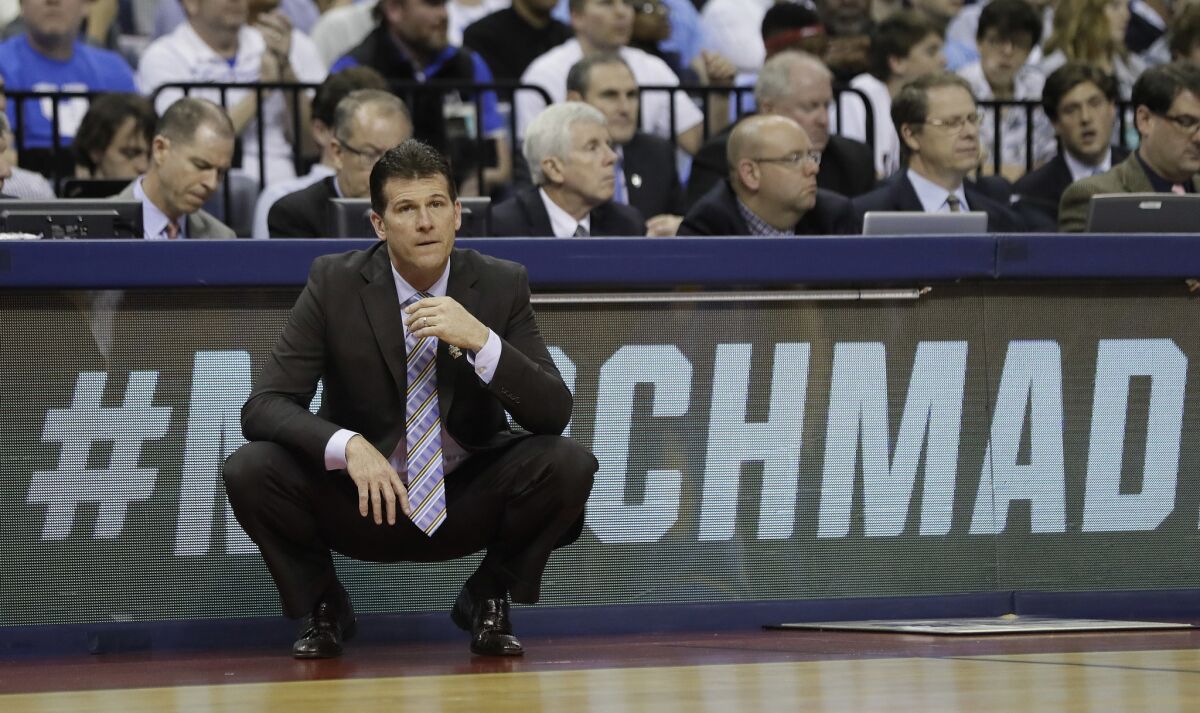 Steve Alford had not seen the red notebooks in a few decades but knew what was inside.
They were filled with notes taken by Murry Bartow from the 1980s, when Bartow was a graduate assistant at Indiana under coach Bobby Knight. The Hoosiers' best shooter was a wiry guard named Steve Alford.
Bartow, 57, brought the notebooks with him to Westwood after Alford hired him as his newest assistant at UCLA, leading to what seemed like old times for the longtime friends.
"It's been a lot of fun going back and reminiscing," Alford said Tuesday.
Alford said the notes have sparked conversations about approaches and terminology the Bruins might want to consider. Bartow has been tasked with reviving the team's weaker half.
"I've really got him zeroed in defensively," Alford said of the son of former Bruins coach Gene Bartow, John Wooden's successor.
UCLA has not been good in that department since the 2013-14 season, Alford's first at the school. The Bruins finished that season ranked No. 37 nationally in adjusted defensive efficiency, according to the metrics of Ken Pomeroy. They've deteriorated in subsequent years, finishing No. 66 in 2014-15, No. 118 in 2015-16, No. 85 in 2016-17 and No. 103 in 2017-18.
Alford said part of the problem last season was his team's three-point defense (34.6%) and turnovers forced (10.6 per game). Those are among the areas Bartow is targeting as UCLA tries to become more balanced.
"What he's trying to do is really create a culture defensively whether we're in zone, man or press of really doing the things we want to do," Alford said.
A big part of that is holding players accountable whenever there are breakdowns.
"Coach Bartow will tell you about yourself," redshirt junior guard Prince Ali said. "That's one thing I'll give to him. He'll tell you if you're doing good, and he'll quickly tell you if you're doing bad."
What has Bartow told Ali?
"When I'm not in a stance, he gets at me," Ali said. "He'll get in your face. … [He'll say], 'You're not doing this very well, son.' "
G men?
Moses Brown didn't chew on the question for more than a second.
Would the 7-foot-1 freshman center, the sort of prospect coveted by the G League under new rules that will allow the NBA's development league to pay elite players a $125,000 salary starting this summer, be enticed by that sort of compensation?
"Uh, nah," Brown said. "I'm happy where I am now. I feel like I'm blessed to have an opportunity to play under a great coach like [Alford] and have one of the best coaching staffs in the country and play in Pauley Pavilion. So I wouldn't give that up for something like that."
Sophomore forward Kris Wilkes echoed the sentiment.
"I think I'm selling myself short by just going straight to the G League," Wilkes said. "Why not just come to college for a year or two and get to the NBA, rather than just go there?"
Alford noted another potential drawback: struggling against players in their mid- to late-20s could cause younger players' draft stock to tumble.
"To me, that's a huge negative," Alford said, "because once you have that [reputation in] the NBA, they don't change very often."
Etc.
Wilkes returned to practice Tuesday after having missed 1½ weeks with a thigh bruise. The Bruins hope to get redshirt freshman forward Cody Riley back from a bone bruise in his right knee by week's end. … No. 21 UCLA will play its only exhibition Saturday night at Pauley Pavilion against the New York Institute of Technology.
Follow Ben Bolch on Twitter @latbbolch
---
Get the latest on L.A.'s teams in the daily Sports Report newsletter.
You may occasionally receive promotional content from the Los Angeles Times.