Chip Kelly is expecting big things from his first UCLA recruiting class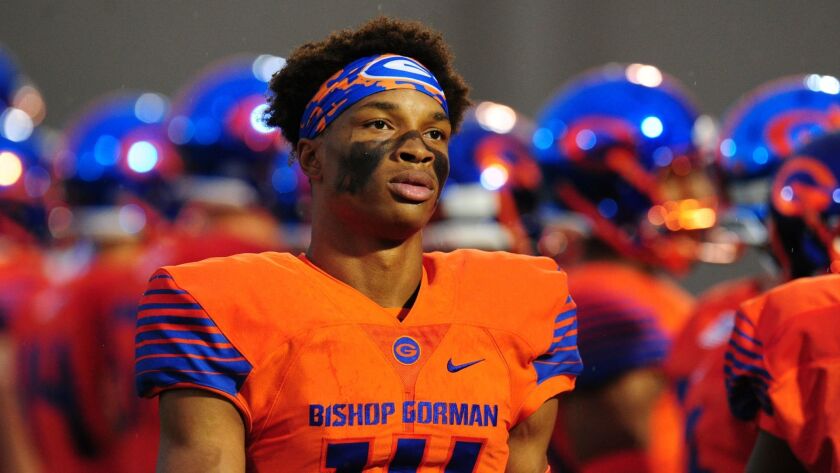 Chip Kelly doesn't concern himself with a recruit's number of stars. Size is another matter.
"Big people beat up little people," Kelly said Wednesday, "so we're looking for big people."
The UCLA coach loaded up on outsized prospects during his first national signing day with the Bruins. Combined with its efforts from the early signing period in December, the team has signed 15 players who stand at least 6 feet 4 as part of its 27-player class.
Like the game itself, recruiting can be a game of inches.
"It's easier to follow the measurables than when you take a bunch of underachievers and you have a 5-8 nose guard backed up by a 5-7 linebacker backed up by a 5-6 defensive back," Kelly said. "Then you're probably going to get run over."
The Bruins brought in a handful of receivers who they hope can help them do the pounding. Bryan Addison from Gardena Serra High is 6-5 and both Chase Cota from South Medford (Ore.) High and Michael Ezeike from Ontario Colony High stand 6-4.
"I think that matchup against smaller DBs is something that we'll try to exploit," Kelly said, noting that he hoped to utilize similar size advantages at other positions.
Ezeike picked the Bruins over USC and Oregon in something of an upset, revealing his decision when he lifted a UCLA cap off a table that also included the caps of his other finalists and placed it on his head.
He was one of nine four-star prospects UCLA signed according to 247Sports.com's five-star scale, giving the Bruins a class that ranked No. 4 in the Pac-12 Conference and No. 18 nationally.
As expected, UCLA landed Las Vegas Bishop Gorman High quarterback Dorian Thompson-Robinson, a possible successor to NFL-bound Josh Rosen. Thompson-Robinson had committed to the school long before Bruins coach Jim Mora was dismissed in November.
"He was a priority to make sure we kept him," Kelly said of the quarterback known for running as well as passing.
The Bruins didn't get everyone they wanted. Highly touted offensive lineman Jarrett Patterson from Mission Viejo High picked Notre Dame over the Bruins despite what was written in a program distributed by his high school, which listed Patterson as having picked UCLA.
UCLA did replenish its offensive line with four players, including Santa Ana Mater Dei High's Chris Murray.
Kelly described the class as balanced and said it addressed the team's needs across the board. It included a class president (offensive lineman Jon Gaines from Milwaukee Marquette University High), a former janitor (linebacker Tyree Thompson from L.A. Valley College) and a running back who plays three musical instruments (Martell Irby from San Diego Morse High).
"He can make cuts at full speed, he catches the ball really well," Kelly said of Irby, who also holds a 3.96 grade-point average. "He played some quarterback, he's got some versatility, he's also just a unique kid."
Ezeike wasn't the only player UCLA flipped from a previous commitment. The Bruins landed Memphis (Tenn.) Whitehaven High defensive back Rayshad Williams, who had been committed to Vanderbilt, and convinced Katy (Texas) High defensive tackle Otito Ogbonnia to pick them over Tennessee, Texas Tech and Nebraska. Irby had previously committed to Arizona.
Kelly brought in three junior college players but said they weren't any more likely to play next season than the freshmen.
"I hope everybody we signed is ready to play the day they get here because that's what we want them to do," Kelly said, "and if we did a good job recruiting then they are ready to play."
Kelly said San Marcos High receiver Kyle Philips, who signed in December, was already enrolled in classes and he hoped that the junior college players and one unspecified high school player could begin classes at the start of the next academic quarter in April.
Kelly acknowledged that being on the job for less than three full months affected the class but didn't necessarily result in UCLA bringing in more unheralded recruits.
"We're going for guys that fit what we're doing and what we want academically and athletically," Kelly said, "and whether they have a lot of stars or have no stars, that's not a big concern to us."
Kelly said he didn't intend to redshirt any of his recruits. Their readiness could be bolstered by their size, something the Bruins hope can help them reach new heights.
UCLA SIGNINGS
Player signings announced by UCLA Wednesday (* originally announced during Decmeber signing period):
HIGH SCHOOL
Player Pos. Hgt. Wgt. High School
Bryan Addison * WR 6-5 185 Serra
Matt Alaimo TE 6-4 225 St. Joseph (Montvale, N.J.)
Kazmeir Allen * RB 5-10 185 Tulare Union (Tulare, Cal.)
Alec Anderson * OL 6-5 285 Etiwanda
Baraka Beckett OL 6-4 271 Palisades Charter
Stephan Blaylock * DB 5-10 185 St. John Bosco
Bo Calvert * LB 6-4 220 Oaks Christian
Kenny Churchwell DB 6-1 190 Mountain Pointe (Phoenix)
Chase Cota * WR 6-4 195 South Medford (Medford, Ore.)
Michael Ezeike WR 6-4 220 Colony
Jon Gaines OL 6-4 272 Marquette (Milwaukee)
Elisha Guidry DB 5-11 179 Vista Murrieta
Delon Hurt WR 5-11 185 Servite
Martell Irby RB 5-9 204 Morse (San Diego)
Patrick Jolly, Jr. DB 6-0 186 Newsome (Lithia, Fla.)
Antonio Mafi * DL 6-4 360 Serra
Tyler Manoa DL 6-5 285 St. Francis (Mountain View, Cal.)
Chris Murray OL 6-3 290 Mater Dei
Otito Ogbonnia DL 6-4 303 Taylor (Katy, Texas)
Kyle Phillips * WR 5-11 176 San Marcos
David Priebe TE 6-6 220 Midway (Waco, Texas)
Dorian Thompson-Robinson QB 6-2 195 Bishop Gorman (Las Vegas)
Elijah Wade LB 6-4 257 Arbor View (Las Vegas)
Rayshad Williams DB 6-4 179 Whitehave (Memphis)
JUNIOR COLLEGE
Player Pos. Hgt. Wgt. Junior College
Je'Vari Anderson LB 5-11 229 Laney (Oakland)
Steven Mason DL 6-8 244 Southwestern (Chula Vista, Cal.)
Tyree Thompson LB 6-2 235 LA Valley
Follow Ben Bolch on Twitter @latbbolch
---
UPDATES:
2 p.m.: This article has been updated with the names and background information on multiple players who signed with UCLA on Wednesday.
This article was originally published at 7:30 a.m.
---
Get the latest on L.A.'s teams in the daily Sports Report newsletter.
You may occasionally receive promotional content from the Los Angeles Times.