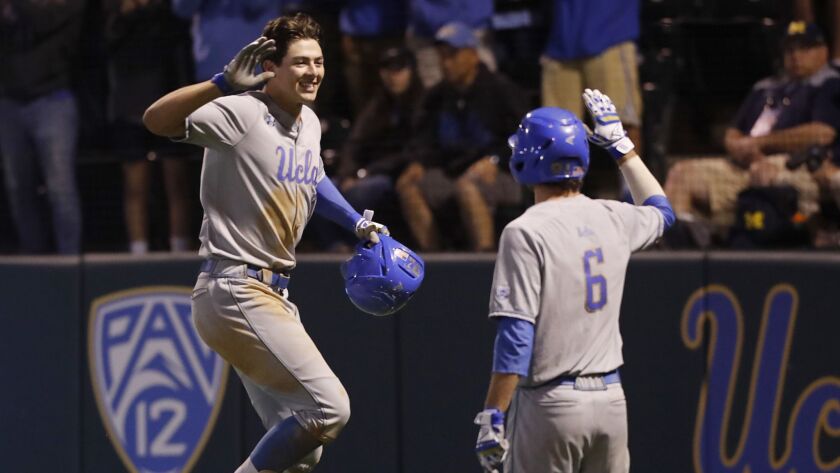 During its last trip to the College World Series in 2013, UCLA took the fastest possible route through the NCAA tournament, winning all 10 games it played en route to the program's first national championship.
"It usually doesn't go that way," Bruins coach John Savage said Friday night.
No kidding. This postseason, top-ranked UCLA has scratched and clawed to stay alive. Facing elimination for the fourth time Saturday against third-seeded Michigan at Jackie Robinson Stadium, the Bruins battled again, outlasting the Wolverines 5-4 in a wild 12-inning thriller to force a winner-take-all Game 3 in the Los Angeles super regional on Sunday at 6 p.m.
"A classic in every way," is how Savage described the win, which gave the Bruins' a program-record 52 victories on the year. "Whatever you wanted in that game was there."
To even get to the decisive 12th inning, the Bruins (52-10) had to ride a roller coaster of emotions and momentum swings, lucky breaks and blown leads. But then pinch-hitter Jake Moberg reached on an error, Michigan's fifth of the night, and came around to score when Kevin Kendall laced a full-count double into the gap in right-center off Wolverines left-hander Walker Cleveland.
"Our team preaches winning 3-2 [counts]," said Kendall, who entered the game in the ninth as a pinch-hitter. "Ironically, I found myself in that situation."
UCLA closer Holden Powell, who bounced back from a blown ninth-inning save opportunity to earn the win after a career-long five-inning, one-run outing, issued a leadoff walk in the bottom half but then retired the last three Wolverines, extending UCLA's season for at least one more day, again.
"It's a credit to our staff, to our players, their mental game of 'keep on competing,'" Savage said, adding: "You've got to tip your hat to both teams for being on the field for five hours, playing for a trip to Omaha and for us to survive another game."
The Bruins sit on the doorstep of the College World Series, one win from going back to Omaha for the first time since that title-winning season six years ago.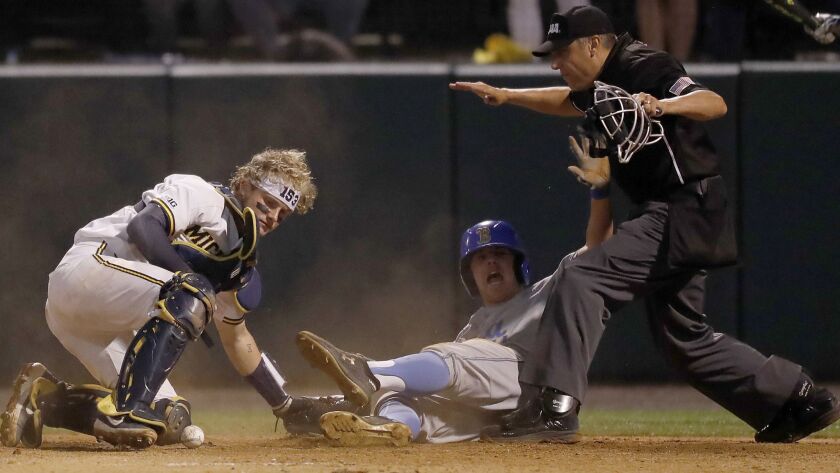 For most of Saturday night, however, it didn't look like they would get there.
Michigan (45-20) took early control after sophomore Joe Donovan broke a 1-1 second-inning tie with a two-run home run that left UCLA starting pitcher Jack Ralston muttering into his mitt.
Sign up for our daily sports newsletter »
But Ralston settled down from there, allowing just those three runs in six innings. Meanwhile, the Bruins' offense chipped away, with junior Michael Toglia finally leveling the score at 3-3 with a solo homer in the eighth.
UCLA took the lead in the ninth after junior Ryan Kreidler walked with two outs, stole second and racedhome when Michigan left fielder Christan Bullock let a routine fly ball bounce off the webbing of his glove.
Powell couldn't hold the 4-3 edge, though. Michigan senior Jimmy Kerr led off the bottom of the ninth with a double and scored on a sacrifice fly. The Wolverines, who were the designated home team Saturday, almost walked it off in regulation too, but Donovan had a two-out fly ball die at the wall.
"You talk about one pitch from your season being over with," Savage said.
The Bruins left the door open for Michigan in extra innings as well. They went down in order in the 10th, then failed to score on a bases-loaded opportunity with no outs in the 11th after Michigan third baseman Blake Nelson snagged a sharp grounder and turned an unassisted double play.
"I thought for sure we were going to end it in the bottom [of the 11th]," Michigan coach Erik Bakich said.
But Powell (4-3) quieted the Wolverines each time, helping the Bruins save the rest of their bullpen for Sunday's deciding third game by gutting through 77 stressful pitches.
"There's still a lot of baseball left to be played," said Powell, who only half-jokingly told Savage he'd be ready for another five innings in the super regional finale. "We were just really confident in ourselves out there."
---