As the healthcare vote looms, Trump sees opposition from conservatives, both on Capitol Hill and in the media
It's a really important vote in President Trump's fledgling first term.
Will House Republicans pass a bill to repeal and replace the Affordable Care Act — a promise from Trump on the campaign trail — or reject it? (House Speaker Paul D. Ryan rushed to the White House on Friday morning for a last-minute meeting with Trump as both attempted to corral enough votes.)
Trump spent much of the week trying to win support from members of the Freedom Caucus, among the most conservative lawmakers, some of whom are holdouts because they believe the bill does not go far enough.
"After seven horrible years of ObamaCare (skyrocketing premiums & deductibles, bad healthcare), this is finally your chance for a great plan!" Trump tweeted Friday.
But even some in conservative media aren't all that thrilled about the bill.
Here are some of Friday's headlines:
Polls: Ryancare even more unpopular than Obamacare and Hillarycare (Breitbart)
So, it's been clear in recent weeks that the right-wing website Breitbart does not like the new healthcare proposal.
The news site has dubbed the current bill Obamacare-lite or Ryancare — an homage of sorts to Ryan, who helped craft the legislation — and argued it does not go far enough in its overhaul.
Most conservatives want to repeal the Affordable Care Act, nicknamed Obamacare, they just differ on what the replacement should look like. For example, some on the far right want to see so-called "essential health benefits," such as maternity and newborn care, stripped from the bill.)
This piece highlights several of the dismal polls the legislation has received.
Among them: A recent Fox News survey that showed 54% oppose the bill, compared with 34% who support it. The article also references an analysis of polling and data by FiveThirtyEight.com, which shows the GOP legislation is more unpopular than Obamacare and President Bill Clinton's healthcare reform bill were when they were first introduced.
A modest immigration proposal (Weekly Standard)
Trump's recent immigration orders have left many immigrants on edge.
Through social media and pop-up legal clinics, immigrant rights groups have doled out around-the-clock assistance, as families fear being separated.
In this piece, Irwin Stelzer notes that "at some point, our border will be secure, resistance to deporting felons will collapse, and we will have accepted the fact that Dreamers will be allowed to stay in this country, probably on a path to citizenship."
He lays out his views of immigration reform, citing, among other things, setting an annual immigration limit and adopting "a system that has the effect of enriching our citizens by filling that annual quota with immigrants who are likely to increase the well-being of the existing citizenry."
Jeff Sessions is Rip Van Winkle on drug policy (American Conservative)
It's clear from polls that most Republicans oppose marijuana legalization, while Democrats support it.
However, libertarian-leaning Republicans often tend to support legalization.
This piece highlights Atty. Gen. Jeff Sessions' recent comments in opposition to states legalizing pot.
"The attorney general regurgitates simplistic clichés right out of the 1970s and 1980s about marijuana use. 'I don't think America is going to be a better place when people of all ages, and particularly young people, are smoking pot,' Sessions told reporters on February 26," the author, Ted Galen Carpenter, writes.
He adds, "Such comments confirm that critics may be right when they label him a 'drug war dinosaur.' He seems either oblivious or scornful about the trend in public opinion regarding marijuana."
FCC Chairman Pai wants to halt Internet privacy rules before they begin taking effect this week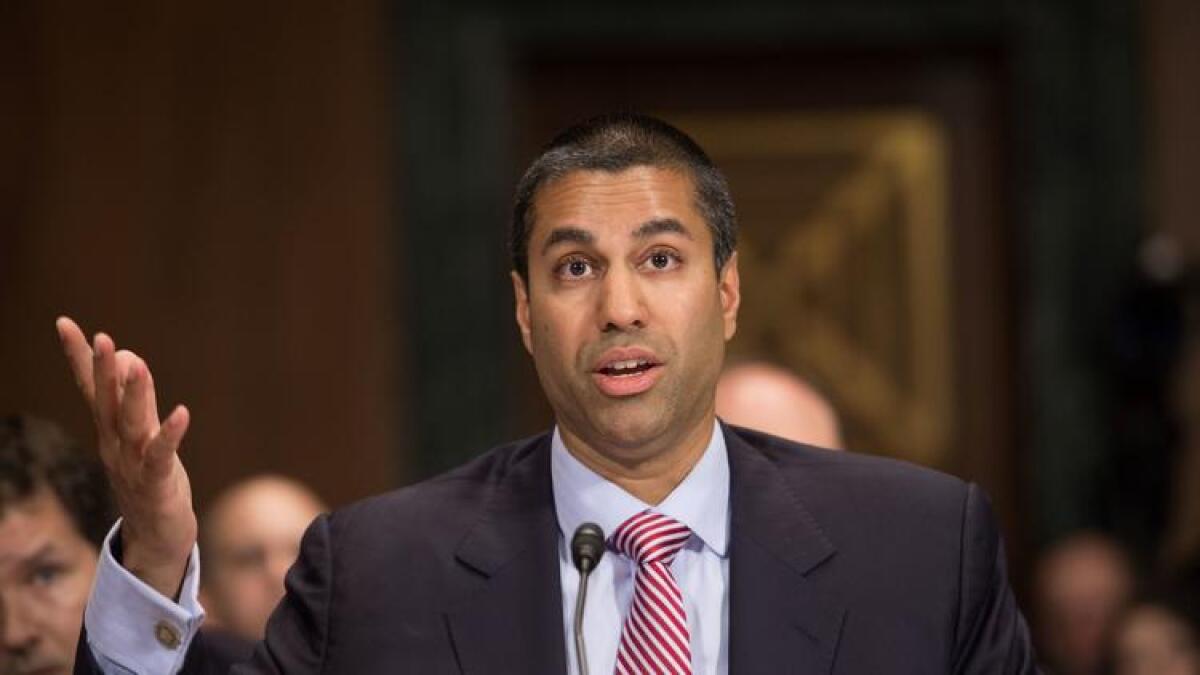 The nation's new top telecommunications regulator wants to halt tough Internet privacy rules before they begin taking effect this week, arguing they would unfairly impose tougher requirements on broadband providers than on websites and social networks.
Privacy advocates and a key Senate Democrat vowed Monday to fight the move as well as a separate effort in Congress to overturn the regulations, which were approved in October on a party-line vote by the Federal Communications Commission when it was controlled by Democrats under President Obama.
Following President Trump's inauguration, control of the commission passed to Republicans and Ajit Pai took over as chairman.
"All actors in the online space should be subject to the same rules, and the federal government shouldn't favor one set of companies over another," a spokesman for Pai said Friday.
Trump says Hollywood's obsession with him led to best picture Oscar gaffe
President Trump is often loath to accept responsibility when things go wrong, but in the case of Sunday's Oscars broadcast, he made an exception.
As he explained it Monday, it was Hollywood's obsession with attacking him that contributed to the botched best picture announcement, calling the embarrassing episode "sad," of course.
Accounting firm PricewaterhouseCoopers has apologized for the mix-up that led Warren Beatty and Faye Dunaway to announce "La La Land" as the winner of the top Academy Award prize, instead of "Moonlight."
But in Trump's eyes, the blame falls more broadly on an entertainment industry so preoccupied with politics that they "didn't get the act together," he told Breitbart News.
"It took away from the glamour of the Oscars," Trump told a reporter from the website, which was once led by his chief White House strategist, Stephen K. Bannon.
"It didn't feel like a very glamorous evening. I've been to the Oscars. There was something very special missing, and then to end that way was sad," he added.
The ceremony did contain a number of slights at Trump during its telecast, some more subtle than others. Host Jimmy Kimmel openly at one point begged the president to weigh in by tweeting at him.
Trump spent part of Sunday night hosting a black-tie dinner at the White House honoring the nation's governors, who were visiting Washington for their annual winter meeting. But it appears from excerpts of the Breitbart interview that he may have spent at least part of the evening watching.
Justice Department shifts course in closely watched Texas voter ID case
The Trump administration has scaled back its assault on a strict Texas voter identification law that federal courts have ruled discriminated against minorities, portending a shift in how the Justice Department plans to pursue allegations of voter suppression.
The government revealed its decision in court papers filed in federal court Monday, dealing a blow to civil rights advocates who have relied on federal support to help them knock down the controversial Texas statute.
"It's a very concerning signal to American voters about the Department of Justice's commitment to enforcing the Voting Rights Act," said Danielle Lang, deputy director of the voting rights unit of the Campaign Legal Center, which is suing Texas in the case.
The administration's partial retreat in the dispute highlights how Atty. Gen. Jeff Sessions, a conservative Republican who has championed voter identification measures, is expected to handle such cases. The Obama administration had joined civil rights groups in aggressively challenging the Texas law and other such measures around the country.
At issue in the case was how the Justice Department would proceed in a federal lawsuit that alleged the Texas legislature discriminated against minority voters when it enacted the strict voter identification law in 2011.
Known as SB 14, the measure requires voters to present a specific form of government-issued photo identification - such as a driver's license, military ID card, U.S. passport or citizenship certificate - to be permitted to cast a ballot.
The Obama administration and civil rights groups argued the state pushed the law, in part, to suppress the power of the state's minority voters, who frequently don't drive or have a passport.
State officials and lawmakers countered that the law was aimed at preventing voter fraud, though there is scant evidence that the problem exists.
The law was challenged in court by civil rights groups and the Justice Department under provisions of the 1965 Voting Rights Act, which was intended to help overcome legal barriers erected at the local and state level to keep African-Americans from the polls.
Last July, a federal appeals court ruled that the Texas law had a discriminatory impact on minority voters. It told U.S. District Judge Nelva Gonzales Ramos to craft a temporary remedy in time for the November elections.
Ramos subsequently ordered Texas to permit voters to present other forms of documentation to verify their identities. The judge's order is expected to remain in force until she imposes a permanent remedy or Texas addresses the judges' concerns.
According to the court papers filed Monday, the Justice Department will continue to work with civil rights groups to address those issues but will seek to withdraw from another important aspect of the suit.
In the same decision that found the Texas law had a discriminatory impact, the appeals court reversed Ramos' finding that Texas legislators had intended to harm minority voters.
It ordered Ramos to reconsider the evidence of that finding.
If the judge determines discriminatory intent in crafting the voter ID requirements, she could throw out the entire law. Civil rights groups will continue to press that claim.
In its court filing, the Justice Department asked Ramos to permit it to withdraw its claim that Texas acted with intent, arguing that it is best to give the Texas legislature time to address the matter.
With the loss of their key ally in court, civil rights groups will argue on their own in an effort to prove that Texas acted with a discriminatory purpose in passing the law. A hearing is scheduled for Tuesday.
Voting advocates complained that the Trump administration was backing away from a key safeguard of voting rights.
The Justice Department decision "defies rationality and stands diametrically opposed to positions they have taken at every stage of this litigation," Kristen Clarke, president of the Lawyers' Committee for Civil Rights Under Law, said in a statement. "This reversal of position was taken despite years of work and effort that the government has invested in fighting the Texas Voter ID law, one of the most discriminatory voting restriction of its kind."
House Intelligence Chair Devin Nunes warns against 'witch hunt' over Trump-Russia ties
House Intelligence Committee Chairman Rep. Devin Nunes said on Monday he has seen no evidence from the intelligence community that there was contact between Russia and the Trump campaign.
"I want to be very careful, we can't just go on a witch hunt against Americans because they appear in a news story," said Nunes (R-Tulare). "We still don't have any evidence of them talking to Russia."
He said the committee has been briefed on the "highlights" of what the intelligence community has found, but is still collecting evidence.
The committee's ranking Democrat, Adam B. Schiff (D-Burbank), quickly responded, saying the committee's investigation is in its "infancy" and it's too soon to reach conclusions about the evidence.
"We haven't obtained any of the evidence yet, so it's premature for us to be saying we've reached any conclusion about the issue of collusion," Schiff said. "The most that we've had are private conversations, the chair and I with intelligence officials. That's not a substitute for an investigation."
The House and Senate Select Intelligence Committees are conducting separate investigations into Russia's reported attempts to influence voters in 2016 in an effort to curtail Hillary Clinton's chances and boost Donald Trump's. A leaked U.S. intelligence report on the attempts did not look at whether the effort succeeded.
The House committee has expanded a previous ongoing investigation of Russia cyberhacking to include a look at efforts to interfere in the 2016 election, Nunes told reporters Monday. Though it is still in its early stages — the leaders of the committee are still discussing the investigation's scope — Nunes said he expects the findings to be made public.
Schiff and Nunes spoke separately to reporters Monday. Schiff said the two agreed privately that they would jointly address reporters about the investigation going forward.
Nunes, who served as a member of Trump's transition team, said he continues to be concerned about leaks of classified and sensitive information from the White House and intelligence communities. The leaks — one of which resulted in a report about the FBI investigating Trump campaign officials — will be part of the committee's investigation.
"A government can't function with massive leaks at the highest level," Nunes said.
Appeals court denies Justice Department request to put appeal of travel ban on hold
The 9th U.S. Circuit Court of Appeals has denied the
Justice Department's request to pause proceedings in an appeal of President Trump's travel ban.
The court in a filing Monday said its schedule for the government's appeal of a lower court's halt on the travel ban will proceed, with the first brief due to the appeals court on March 10.
In early February, the Justice Department appealed a Seattle-based federal district judge's order blocking enforcement of Trump's executive action. which established a series of immigration and refugee restrictions aimed at preventing potential terrorists from entering the country.
Last week, government lawyers asked the appeals court to stop proceedings in the case because the president planned to issue a new executive order and rescind the original one.
A three-judge panel of the court previously denied a request from the government to reverse a nationwide stay on the travel ban. The same panel on Monday ruled that the appeal will proceed.
Trump has said he will sign a new executive order "tailored" to deal with court decisions that have largely gone against him. On Monday, White House Press Secretary Sean Spicer said he expected the order to be issued mid-week.
Spicer has said Trump wants to fight for the current order while also issuing a new one, but the Justice Department has said in multiple court filings that the the current order will be undone after a new one is issued.
The states of Washington and Minnesota, which brought the case in Seattle now under review, have pushed for courts to move forward on a review of the constitutional issues.
'No random ICE stops on streets of America,' Homeland Security chief tells governor
President Trump received some unsolicited advice at dinner with the nation's governors when Virginia Gov. Terry McAuliffe told him he needs to do a better job explaining his policies regarding deportations.
McAuliffe, a Democrat and chairman of the National Governor's Assn., told the president that there has been a "chilling effect going on" as businesses stay away from his state and as immigrants fear being rounded up.
"If they're not going to be deported, we need to hear that from the president," McAuliffe said, recounting his conversation from the governors' Sunday night dinner with Trump.
"What I told the president is these actions are hurting us."
McAuliffe, a longtime ally of Hillary Clinton, said Trump agreed in large part.
McAuliffe also met privately with Homeland Security Secretary John F. Kelly, and said the secretary assured him during an hourlong talk that Trump's enforcement actions were only targeting criminals -- despite widespread reports of otherwise law-abiding immigrants being detained for being in the U.S. illegally.
"He assured me there will be no random ICE stops on the streets of the United States of America," McAuliffe said, referring to the raids being conducted by Immigration and Customs Enforcement officers.
If that's the case, McAuliffe said, Trump's policy does not sound much different than the operations under former President Obama, whose administration deported more immigrants than its predecessors.
Obama, however, explicitly put a priority on deportations of criminals, a distinction the Trump administration has done away with as part of the president's executive action.
"My advice to him was he needs to let the American public know what they're doing," McAuliffe said.
Trump: 'I haven't called Russia in 10 years'
President Trump rejected calls for an independent investigation of his ties to Russia, telling a group of business leaders Monday that he hasn't called Russia in a decade.
At the start of a White House meeting with healthcare executives, a reporter asked Trump whether a special prosecutor should be assigned to investigate allegations of Russian meddling during the election.
In response, Trump mouthed the word "no" to the executives. As reporters were led out of the room, Trump said: "I haven't called Russia in 10 years."
Democratic lawmakers have ramped up their calls for additional investigations into allegations that Trump allies had been in contact with Russian officials during the election and inappropriately discussed U.S. sanctions against the Moscow regime during the transition.
White House officials have denied reports that Trump associates were frequently in touch with senior Russian intelligence officials during the election.
U.S. intelligence agencies concluded last year that Russian leader Vladimir Putin had authorized an operation to damage Hillary Clinton's campaign and tilt the 2016 election in Trump's favor.
Trump: 'Nobody knew that healthcare could be so complicated'
President Trump promised the nation's governors Monday that his yet-to-be-revealed replacement plan for the Affordable Care Act would give states greater flexibility and thanked some Republicans in the room who advised him on healthcare.
"It's an unbelievably complex subject," he said. "Nobody knew that healthcare could be so complicated."
The remark likely surprised state leaders; spending on Medicaid alone was the second-biggest driver of increased state general fund spending, according to the 2016 Fiscal Survey of States conducted by the National Assn. of State Budget Officers.
And it was just eight years ago that Washington dove head-first into a raging debate over healthcare reform under President Obama, which simmered long after his signature health law was enacted.
But the finer points of healthcare policy are likely new to Trump, who is immersed in discussions with Republican leaders and his senior staff on that and other subjects ahead of his high-profile address Tuesday to a joint session of Congress.
Trump offered no hint as to the details. Republicans have vowed to repeal and replace Obamacare, but their effort has stalled as they debate how to do so and await word from the White House on what Trump wants to do.
The president seemed keenly aware of the political ramifications of whatever steps he takes.
"As soon as we touch it, if we do the most minute thing, just a tiny little change, what's going to happen? They're going to say it's the Republicans' problem," Trump said after telling the governors the easiest thing for him to do would be nothing, and, in his view, watch Obamacare collapse.
"But we have to do what's right because Obamacare is a failed disaster."
Trump wants to add $54 billion to defense budget while slashing domestic spending and foreign aid
President Trump is proposing a massive increase in defense spending of $54 billion while cutting domestic spending and foreign aid by the same amount, the White House said Monday.
Trump's spending blueprint previewed a major address that he will give Tuesday night to a joint session of Congress, laying out his vision for what he called a "public safety and national security budget" with a nearly 10% increase in defense spending.
"We never win a war. We never win. And we don't fight to win. We don't fight to win," Trump said Monday in remarks to the nation's governors. "So we either got to win or don't fight it at all."
Trump noted that the U.S. has spent nearly $6 trillion on fighting wars since the Sept. 11 attacks but said that cutting military spending was not the answer.
Instead, the increase he is proposing would be offset by cuts to unspecified domestic programs and to foreign aid, which would in turn be made up for in part by demanding that other countries pay more for security alliances that have historically been underwritten by the U.S.
"This budget expects the rest of the world to step up in some of the programs that this country has been so generous in funding in the past," an official from the Office of Management and Budget said, demanding anonymity to discuss the president's spending plans.
Foreign aid makes up about 1% of the budget.
"This budget speaks for itself," the official said. "I don't think this budget has anything to do other than putting Americans first."
Trump's call for deep cuts to spending at home is likely to set up major battles on Capitol Hill, where Democrats and even House Republicans will likely be reluctant to pass a spending bill that includes such major reductions in programs for their cons