As Trump immigration crackdown comes into focus, anxiety grows along with anger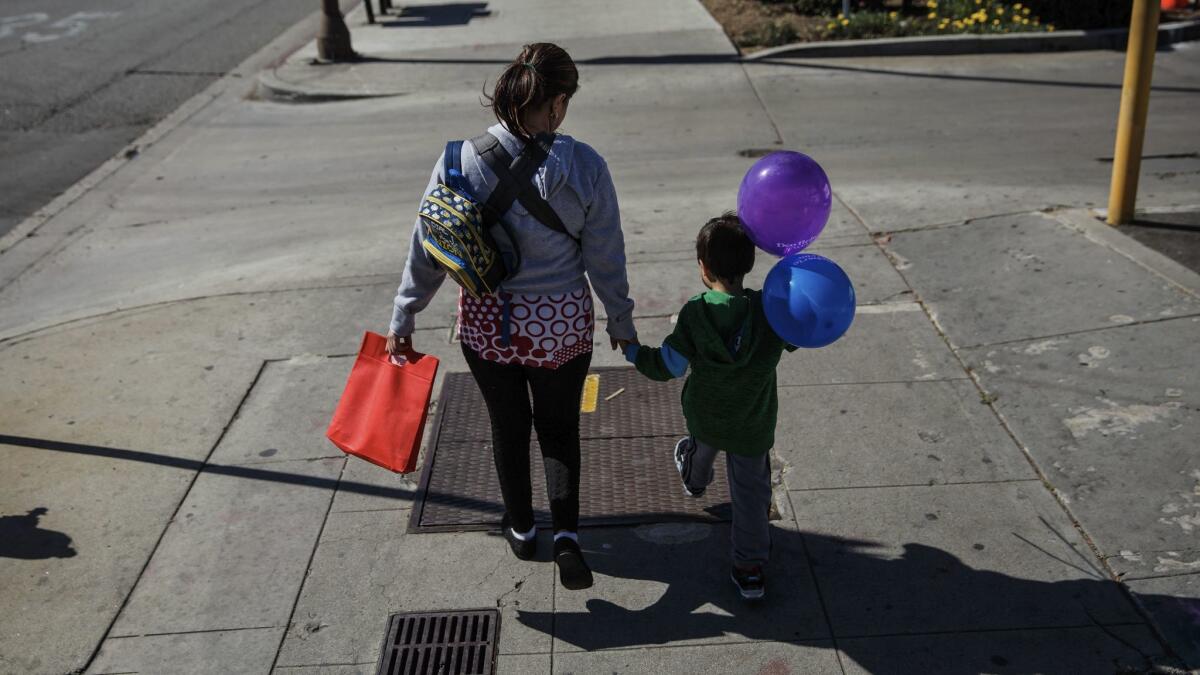 Cristina Reyes eyed her daughter toddling about on a patch of grass while waiting for the trolley that would take them to their Lynwood home. The 33-year-old has stuck to public transportation ever since someone stole her car last year. She and her husband contemplated buying a new one, but worried it would go to waste.
"I told my husband, 'Let's be prepared. Let's just save our money in case they end up sending us back. We can at least have something to start with.' "
The two have been in the United States illegally since leaving Puebla, Mexico, more than a decade ago. They raised three children in a predominantly Latino community and shared little anxiety about their legal status.
But they, along with millions of others now at risk of deportation, have had their sense of stability shaken by President Trump's executive orders on illegal immigration. Fueled by fear, they are a population afloat in precarious waters, forced to rethink their daily routines and rewrite their futures.
"There's no salvation for anyone," said Juan Rosas of Huntington Park. The 62-year-old is in the country illegally but said he felt safe because he has no criminal history.
"And now I'm being lumped in with them?" he asked. "I wanted to get my immigration documents in order, but now it's not even worth it. It's too late for me."
After Trump was elected in November, an unease settled into immigrant communities around California and the United States as those here illegally awaited word on the president's promise of a deportation crackdown.
This week, his administration offered the clearest road map yet. Officials on Tuesday swept aside nearly all restrictions on the removal of 11 million people in the U.S. illegally, a vast expansion of the federal government's deportation priorities.
Trump supporters and others applaud his administration's measures, arguing that immigrants here illegally are a drain on the economy and take jobs away from citizens.
But for immigrants across the nation, the fear of being arrested or deported at any moment has drawn up a new reality for how they go about their day-to-day lives.
In Phoenix, families share advice with one another: Stay indoors. Don't look at a police officer for too long. Ask your legal children to do the grocery shopping.
"The undocumented are not venturing out as much," said James Garcia of Promise Arizona, a nonprofit that works directly with immigrants who are in the country illegally. "They don't want a broken taillight to get them pulled over."
Families made up of both legal and illegal residents have begun talking about having a plan of action if some members of the family are deported.
"They're obviously just frightened and scared of the unknowns," Garcia said. "They know that people are being detained and picked up in different places in the country."
New York officials complain that immigration agents are staking out the courts, looking for those who can be detained.
One legal permanent resident who showed up in court Tuesday in a misdemeanor assault case was nabbed by four waiting agents, said Stan Germán, executive director of New York County Defender Service. The man had a prior 2006 felony conviction for a nonviolent offense, he said.
"This is reverberating in many different forms. People are afraid to go to parent-teacher meetings or to the emergency room," Germán said. "And talk about national security. How are we going to get witnesses? Nobody is going to go near a police office or a courtroom where they have to give their name and identify themselves."
The son of immigrants from the Dominican Republic, Germán said he advised his own 73-year-old mother, a naturalized U.S. citizen who lives in Florida, not to go out in public without her documents.
"My mother has been here 40 years paying taxes, and she is walking around with multiple forms of identification for the first time in her life,'' Germán said.
Those who are in the country legally have found acquaintances relying on them.
Michael Clara of Salt Lake City was walking to church Sunday morning when his neighbor flagged him down. He knew her well enough to know that hers was the house with the great-smelling food, but not well enough to have her phone number.
Appearing troubled, she asked for a favor. She needed milk, produce, a few other staples. Would he mind going to the grocery store for her? She worried that the three-mile trip to the store could end in deportation. She started to cry. He did too.
"I knew I couldn't sit in church knowing she needed groceries," Clara said. "So I just told her we could go then."
Ricardo Cortez, who owns a travel agency and clothing store in Santa Ana, said he carries around a low-simmering anxiety inside.
"We all had this false notion that we would always be embraced by the United States," said Cortez, who left Mexico City three decades ago and does not have legal status. "Most of us don't have a Plan B. We only thought of the American Dream."
Last Wednesday, 57-year-old Margarita Xochitecatl was selling her usual fare of jewelry and crocheted hats on Alvarado Street, just as she had done in Mexico. She had arrived in Los Angeles two years ago when her daughter died and left behind a son. Her visa expired after six months, but Xochitecatl remained with the boy, who didn't want to move back with her to an unfamiliar country.
When the grandmother heard that immigration agents were patrolling the area in Westlake where she was peddling her wares, Xochitecatl quickly packed up her merchandise. The need to stick around for her grandson outweighs that of income. Although not for long.
"I can't hide — I have to eat," she said. "Rent doesn't wait."
Lately, she and other vendors have heard increasing reports of raids. Still, no one she knows has been deported.
She recognizes that much of what goes around has been rumors. But she asks herself every time: What if one ends up being true?
ruben.vives@latimes.com | Twitter: @LATvives
andrea.castillo@latimes.com | Twitter: @andreamcastillo
cindy.carcamo@latimes.com | Twitter: @thecindycarcamo
corina.knoll@latimes.com | Twitter: @corinaknoll
Staff Writers Nigel Duara, David Montero, Barbara Demick and Laura King contributed to this story.
ALSO
Trump's promise to ramp up deportations spreads fear — among California businesses
Fewer high school students are applying for college aid under the California Dream Act
300 protest in Anaheim after videos show off-duty LAPD officer firing gun in dispute with teens
Sign up for Essential California for news, features and recommendations from the L.A. Times and beyond in your inbox six days a week.
You may occasionally receive promotional content from the Los Angeles Times.