FCC Chairman Pai wants to halt Internet privacy rules before they begin taking effect this week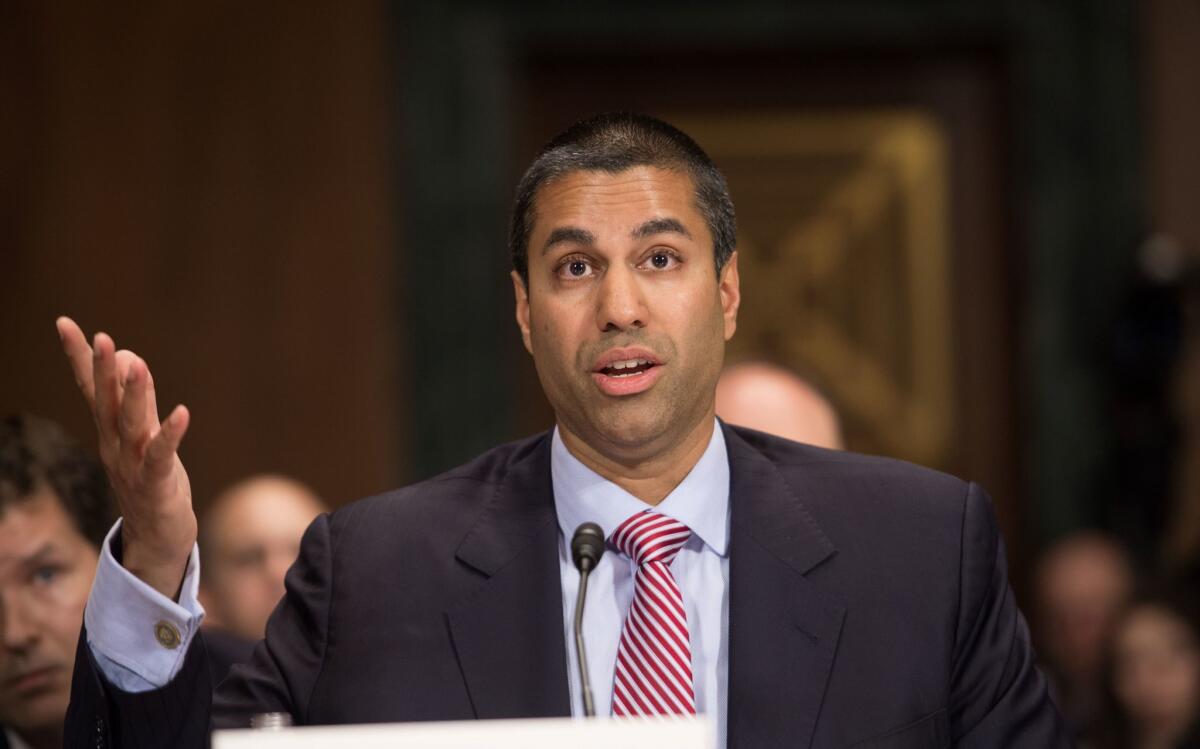 Reporting from Washington —
The nation's new top telecommunications regulator wants to halt tough Internet privacy rules before they begin taking effect this week, arguing they would unfairly impose tougher requirements on broadband providers than on websites and social networks.
Privacy advocates and a key Senate Democrat vowed Monday to fight the move as well as a separate effort in Congress to overturn the regulations, which were approved in October on a party-line vote by the Federal Communications Commission when it was controlled by Democrats under President Obama.
Following President Trump's inauguration, control of the commission passed to Republicans and Ajit Pai took over as chairman.
"All actors in the online space should be subject to the same rules, and the federal government shouldn't favor one set of companies over another," a spokesman for Pai said Friday.
Democrats and privacy advocates argue that Internet service providers should be subject to tighter privacy restrictions because they act as "gatekeepers" for online access and many consumers have limited choices for broadband access.
"We cannot allow Republicans in Congress and at the FCC to put big broadband before competition… to put corporate interest before consumers," said Sen. Edward Markey (D-Mass.).
The rules require broadband providers such as AT&T Inc., Charter Communications Inc. and Comcast Corp. to get customer permission before using or sharing sensitive personal data. They also require companies to take new steps to secure customer data and notify them of breaches.
Under the FCC's definitions, most customer data would be considered sensitive, including information on Web browsing, app usage and the geographic trail of mobile devices.
Broadband providers complained the FCC imposed tougher restrictions on them than on search engines, such as Google, and social networks, such as Facebook, which are overseen by the Federal Trade Commission.
The FCC's definition of sensitive data is broader than the FTC's. Companies don't need consent before using or sharing non-sensitive data, although customers can opt out.
Trade groups representing Internet service providers asked the FCC in January to stay implementation of the privacy rules and reconsider them.
Pai voted against the rules when they were approved on a 3-2 vote in October.
With Republicans now holding the FCC majority, Pai is pushing to stay the rules before the first provisions, regarding data security, take effect on Thursday.
Pai is asking the other two FCC commissioners, Republican Michael O'Rielly and Democrat Mignon Clyburn, to vote on the stay before Thursday. O'Rielly, who also voted against the rules in October and called them "fatally flawed," said he supports Pai.
But because there are two vacancies on the FCC, Clyburn could block a vote by denying the agency a quorum.
In October, she voted for the rules that were pushed by former FCC Chairman Tom Wheeler. If she doesn't allow a vote, Pai would direct the FCC's staff to stay the data security provisions by Thursday and then push for a vote on a broader halt and reconsideration of the rules, his spokesman said.
Clyburn said Friday that Pai had "created an unfortunate dilemma" in which she would have to accept the staff move "that indefinitely unwinds consumer privacy protections" or take a rushed vote on "a decision that has massive ramifications for security of private information held by broadband providers."
Sen. Jeff Flake (R-Ariz.) has said he planned to push for rarely used legislation to stop the privacy rules and prevent the FCC from issuing new ones that are substantially the same.
The U.S. labor force's guy problem: Lots of men don't have a job and aren't looking for one »
How Trump could use the presidency to help his own business interests »
Follow @JimPuzzanghera on Twitter