Nordstrom to drop Ivanka Trump's clothing and accessories line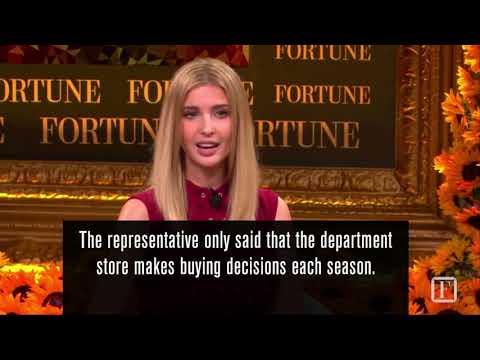 The "Grab Your Wallet" campaign is celebrating after Nordstrom said it will stop selling Ivanka Trump clothing and accessories. (Feb. 3, 2017)
Nordstrom said Thursday it will stop selling Ivanka Trump clothing and accessories.
The Seattle-based department store chain said the decision was based on the sales performance of the first daughter's brand, the Seattle Times reported.
The move comes amid a weekslong campaign known as "Grab Your Wallet," which has been calling for a boycott of retailers that carry Ivanka Trump or Donald Trump merchandise. In November, Nordstrom posted a response on Twitter to a shopper's letter calling for the company to stop selling the brand, saying, "We hope that offering a vendor's products isn't misunderstood as us taking a political position; we're not."
A Nordstrom representative didn't say whether the decision to stop buying the brand was permanent, only that it makes buying decisions each season. Nordstrom also said it offers thousands of brands and cuts about 10% each year based on performance.
The Ivanka Trump brand was no longer listed on the company's website Thursday evening, and a search of her products on the site turned up just a few pairs of shoes, all of which had been marked down in price.
"I am absolutely thrilled, and I know the vast majority of Grab Your Wallet participants will be as well," said Shannon Coulter, a co-founder of Grab Your Wallet.
Ivanka Trump's independent lifestyle brand promotes her image as a successful working mother and partners with companies to make the branded blush pink dresses and trendy booties offered in multiple department stores.
Her business has also come under fire after she appeared on CBS' "60 Minutes" wearing a nearly $11,000 gold bracelet from her jewelry line and someone from the company sent photos from the interview, seeking free publicity.
She said on Facebook in January she would take a formal leave of absence from her brand and from the Trump Organization but said she was confident both businesses would continue to thrive.
ALSO
Ivanka Trump's book on women and work is running late
Ivanka Trump goes public about exiting fashion label and Trump Organization
Ivanka Trump's jewelry brand goes silent after mixing promotional and political messaging