Trump reverts to campaigning a month into his term. This time, his opponent is the media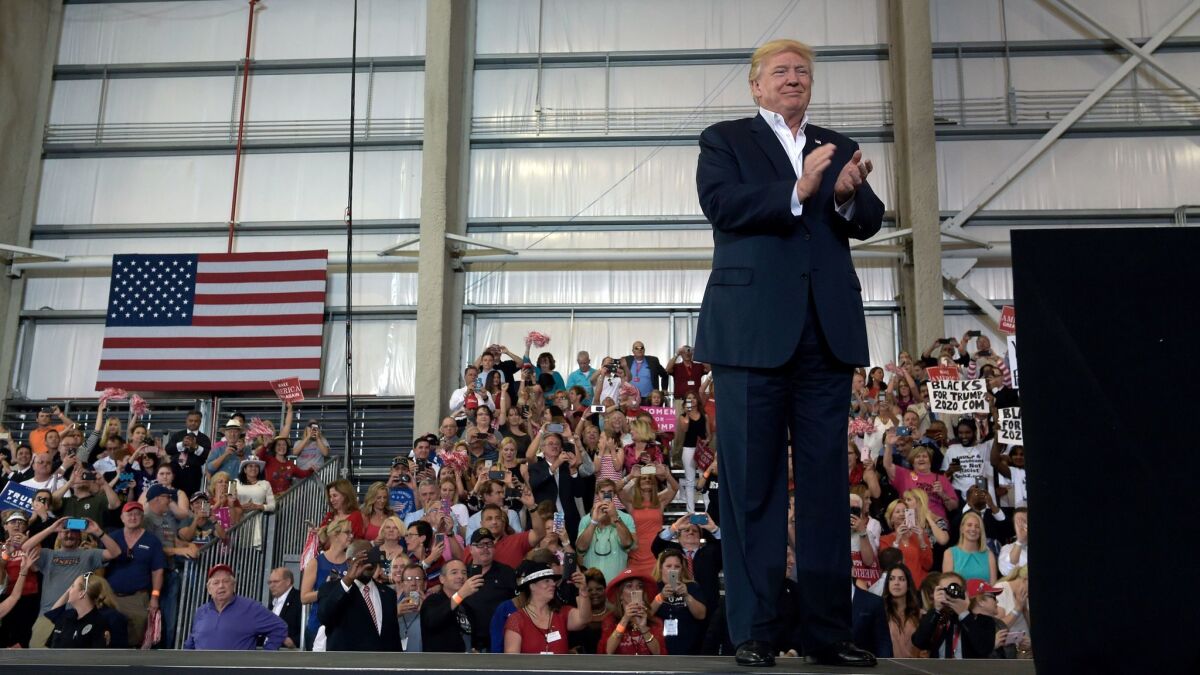 Reporting from Melbourne, Fla. —
President Trump returned to campaign mode Saturday with a clear opponent in mind — the media — declaring before thousands of cheering supporters that "fake news" was undermining his nascent administration's accomplishments.
The White House was running "so smoothly," Trump said in an airport hangar here. He said the rally was about sharing "our incredible progress in making America great again."
"I also want to speak to you without the filter of the fake news," he said. "They've become a big part of the problem. They are part of the corrupt system."
In its first four weeks, Trump's administration has faced setbacks with little precedent, chief among them the resignation of his national security advisor after just three weeks amid a deepening controversy over Russian interference in the U.S. government.
Trump's approval ratings are historically low for a new president; one of his Cabinet nominees withdrew despite a new lower threshold for confirmation; and the courts stalled a major early initiative, Trump's temporary ban on travel to the U.S. from seven majority-Muslim nations.
Trump painted a far different picture.
"A great spirit of optimism is sweeping — and you see it — is sweeping across the country," he said, citing recent stock market highs as his chief evidence.
The president has shown frustration with what he considers successes being drowned out by high-profile missteps. That was part of the calculation behind the decision in the West Wing to hold a campaign-style rally so early in Trump's term.
Trump has often found comfort in crowds of his passionate supporters, and the 9,000 in Melbourne erupted in cheers throughout his remarks, which lasted about three-quarters of an hour. Their adoration, in the White House's view, is an important public signal to congressional Republicans who have appeared increasingly wary of Trump's stumbles.
Lawmakers are beginning a weeklong recess in which many will head to their districts to confront tough questions from constituents about Trump and the GOP agenda. Many Republicans represent solidly conservative districts where Trump is more popular than he is in the nation as a whole.
But gratified as the White House may be from Saturday's performance, a crucial test looms in just over a week, when Trump will appear for the first time before a joint session of Congress. He'll give what is typically a speech outlining specific policy priorities.
Trump campaigned at the same venue in Florida nearly five months ago, on the day after the first of three election debates against Hillary Clinton.
Then, he touted nonscientific online surveys that credited him for a dominating performance over Clinton, his Democratic rival, when in fact more reliable data showed the public deemed Clinton the clear victor. He described her as "crooked" 20 times. This time, it was the "fake" press.
He portrayed his media criticism as, well, presidential.
"Thomas Jefferson, Andrew Jackson and Abraham Lincoln and many of our greatest presidents fought with the media and called them out oftentimes on their lies," Trump said. "When the media lies to people, I will never, ever let them get away with it."
Saturday's rally bore a striking resemblance to the last, with one key difference: the plane.
Instead of the Boeing 757 private jet bearing his name that was a staple of his campaign, Trump arrived on Air Force One. In September he spoke with his prized jet behind him, but Air Force One was not a backdrop at Saturday's rally — that would have risked flouting restrictions on mixing political activity with the trappings of the presidency.
It's an unprecedented discussion to be having this early in a presidential term. Trump filed paperwork with the Federal Election Commission to set up a 2020 campaign committee on the day he was sworn in as president (a cover letter indicated that doing so "does not constitute a formal announcement of my candidacy," however).
President Obama waited until 2011 to file paperwork to seek a second term in the 2012 election. Three incumbent congressmen who are seeking reelection two years earlier than Trump just filed their paperwork on Friday.
But, asked by The Times about criticism he has faced for resuming a campaign posture so early, Trump answered bluntly: "Life is a campaign."
"To make America great again is absolutely a campaign," he said on Air Force One just before the rally. "It's not easy, especially when we're also fighting the press."
White House officials, while emphasizing that the rally was a political event and therefore one they were not involved in, also stated emphatically that the rally was not for any campaign, but rather "for America."
Trump's political organization funded the event, the White House said.
But some of the costs associated with the president's travel for the event here are borne by taxpayers. While the president and his assistants are required to reimburse the government for airfare, according to a 2012 report from the Congressional Research Service, the costs of Secret Service and staff who are always considered to be on official duty are paid by the government.
Trump himself frequently attacked Obama for using Air Force One during campaign travels.
Days before the 2016 election, as Obama campaigned for Clinton, Trump tweeted after seeing Air Force One in Miami. "Why is he campaigning instead of creating jobs & fixing Obamacare?" he asked. "Get back to work for the American people!"
"Why is President Obama allowed to use Air Force One on the campaign trail," he asked in July, as Obama was set to travel with Clinton for a joint campaign event. "Who pays?"
Trump owes his victory to the kind of unexpected surge in Republican turnout in counties like Brevard, where he campaigned Saturday. While Clinton improved upon Obama's performance in key Democratic strongholds in the state, Trump overcame that by driving up turnout in conservative and Republican-leaning areas.
He earned nearly 182,000 votes in the county in November, an increase of more than 22,000 from Mitt Romney's total four years earlier. His 62,169-vote margin of victory here marked a 71% increase from Romney's lead over Obama.
Palm Beach County, where Trump began and ended the day at his Mar-a-Lago resort, went solidly for Clinton.
Twitter: @mikememoli
ALSO
Trump leaves the White House bubble and shifts to campaign mode, hoping for momentum
Trump says he will issue a new order after a 'very bad decision' blocked his initial travel ban
Trump promised a coal renaissance — but keeping open this Arizona plant will test his resolve
Get our Essential Politics newsletter
The latest news, analysis and insights from our politics team.
You may occasionally receive promotional content from the Los Angeles Times.