Other presidents have battled the press. But never like Trump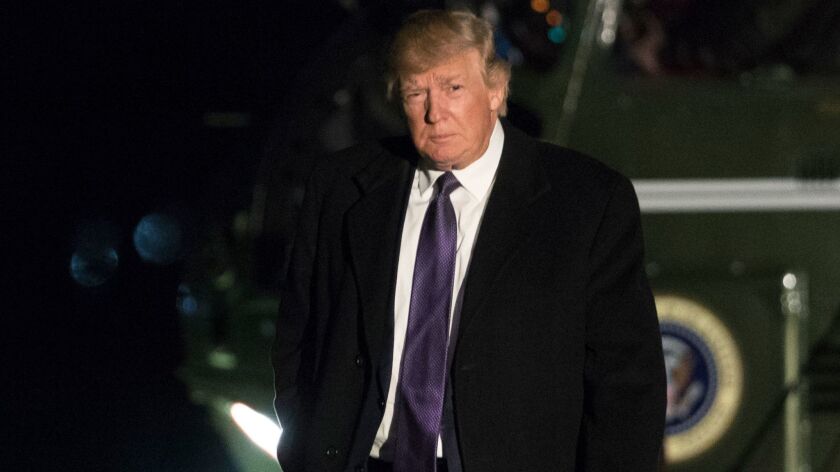 He's not the first president to have issues with the press — Thomas Jefferson and Abraham Lincoln had complaints too — but President Trump has taken his battle with the media to new heights and made his complaints unusually public and caustic.
How that will play out is anybody's guess, though there's an adage about the power of journalism: Never pick fights with someone who buys ink by the barrel. That, however, was before Twitter and video made ink unnecessary for communicating with the public.
The president continued his attacks on the media at a Florida rally Saturday, saying he wanted to speak with supporters "without the filter" of the press.
"They don't get it," Trump said through whistles and applause from attendees inside a crammed airport hangar.
A day earlier, he tweeted that the media was not his enemy, but the "enemy of the American People!"
Though presidents have long complained about the media, none have gone as far as Trump in their public derision. Often he repeats the same words to describe the media — "dishonest," "disgusting," "fake." To many, his words are nonsense, but to supporters, like those in Florida, they resonate.
"All administrations are critical of the press," said Timothy Naftali, a professor of history at New York University and former director of the Richard Nixon Presidential Library. "What's unprecedented about Trump is the level of public animosity, which is a continuous drumbeat."
Critical assessments of the news media date to the early days of the presidency.
"Nothing can now be believed which is seen in a newspaper. Truth itself becomes suspicious by being put into that polluted vehicle," Jefferson opined in 1807. (Trump, between hoots from the crowd, referenced this quote during his speech Saturday.)
Jefferson's comments came in a reply to John Norvell, who would soon become editor of the Baltimore Whig and had written Jefferson to ask how he thought a newspaper should be run. Jefferson wrote:
"The man who never looks into a newspaper is better informed than he who reads them, in as much as he who knows nothing is nearer to truth than he whose mind is filled with falsehoods and errors."
Still, years prior, Jefferson said that if he had to choose between "a government without newspapers or newspapers without a government, [he] should not hesitate a moment to prefer the latter." Trump didn't mention that quote.
Though some of Jefferson's assessments were critical, Naftali said that until now, the Nixon administration had been most vocal in its disdain of the news media.
The press is the enemy. The press is the enemy.
— President Nixon, in a 1972 phone call with Henry Kissinger
Vice President Spiro Agnew, who served alongside Nixon, had a penchant for assailing adversaries, especially reporters.
"In the United States today, we have more than our share of the nattering nabobs of negativism," he said in September 1970. "They have formed their own 4-H Club — the 'hopeless, hysterical hypochondriacs of history.'"
(Agnew made headlines with that jab. He made more headlines three years later when he resigned from office as he faced criminal charges related to his service as an elected official in Maryland in the 1960s. He was eventually fined $10,000 for tax evasion and received three years of probation.)
Trump's complaints about the media have been public — his senior advisor Stephen K. Bannon labeled the press the "opposition party" — but Nixon's bitterest complaints often were uttered behind closed doors. In a recorded 1972 phone call with Henry Kissinger, his national security advisor, Nixon was blunt.
"The press is the enemy. The press is the enemy," he said.
"I'm in agreement with you," Kissinger replied.
"It's the enemy," Nixon said again, forcefully.
Bill Burton, who served as deputy press secretary in the Obama administration, said that while social media now allows politicians to communicate differently than in the 1970s and 1980s, when television was the best way for an administration to relay a message, hammering the media was never considered in the White House where he worked.
"Sure, the president disagreed with coverage," said Burton, noting a certain contempt for Fox News, and then-host Glenn Beck in particular. "But this president has shown an overt, vocal discontent with a sacred institution vital to this democracy."
As for the impact of such criticism, Burton said the public judges presidents by results and that, in time, the electorate will look past Trump's criticism of the press. "People will see through the words," he said.
In a recent Gallup poll, Trump's approval rating sits at 40% — 21 points lower than the historical average for presidents in the February of their first term.
Still, as the president spoke Saturday, members of the buoyant and enthusiastic crowd carried signs excoriating the media, including one reading, "CNN sux."
For Trump, his public proclamations attacking the press fit into his reality-TV persona. While campaigning last year, he created a blacklist of nearly a half a dozen news organizations that were banned from receiving media credentials. He recently sent an email blast to supporters, saying they're the "last line of defense against the media's hit jobs."
"I love this. I'm having a good time doing it," he said Thursday at a White House news conference, where he relentlessly bashed the press.
Often grinning, he called the media "fake" nearly 20 times in roughly 70 minutes.
President Reagan noted the adversarial relationship between the press and White House and suggested that it ultimately was a good thing.
"Every president will try to use the press to his best advantage and to avoid those situations that aren't to his advantage," Reagan said during the 1988 White House Correspondents Dinner. "The press can take care of itself quite nicely, and a president should be able to take care of himself as well."
He added: "What I hope my epitaph will be with the White House correspondents — what every president's epitaph should be with the press — is this: 'He gave as good as he got.' And that I think will make for a healthy press and a healthy presidency."
Tracking Trump's first 100 days in office »
Twitter: @kurtisalee
ALSO:
California's Democrats are trying to harness a new wave of progressive energy
Bill Maher's 'Real Time' interview with Milo Yiannopoulos fuels new criticism
Trump reverts to campaigning a month into his term. This time, his opponent is the media
---
Life is stressful. Our weekly mental wellness newsletter can help.
You may occasionally receive promotional content from the Los Angeles Times.