Supreme Court may look for a middle ground on Trump's travel ban by shielding only certain travelers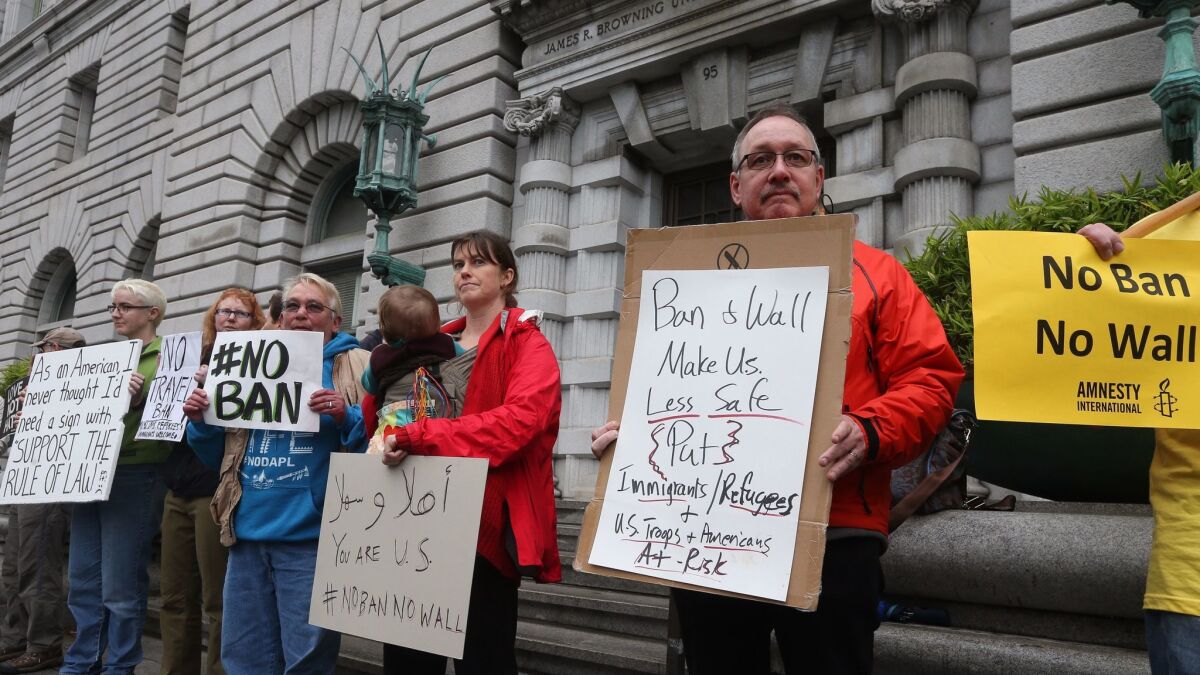 Reporting from Washington —
If President Trump's travel ban reaches the Supreme Court, some predict that justices may look for a middle-ground ruling rather than an all-or-nothing decision.
Such a move could allow the high court – currently split, 4 to 4, between Republican and Democratic appointees – to avoid a tie and put off a broader debate on the constitutionality of the ban.
It would also allow the Trump administration to claim at least a partial victory.
Under such an approach, justices might decide that Trump's ban could take effect for some travelers, but not others.
Specifically the court could allow the ban to apply to thousands of foreigners who have obtained U.S. visas but have not yet used them, but not to green card holders, foreign students, doctors, technology company executives and tourists who were already living in the U.S. when the travel restrictions were announced.
Some immigration lawyers say a middle-ground ruling makes sense legally and practically.
"This would provide a balanced remedy that would relieve the chaos," said Peter Margulies, who teaches immigration law at Roger Williams Law School in Rhode Island. "It would protect the visa holders who are here and want to travel outside the country. It's unfair to change the rules on them. But it would not apply to people who have never been admitted to this country."
Justice Department attorney August Flentje advocated for such an approach in the final minutes of his argument Tuesday before the U.S. 9th Circuit Court of Appeals panel.
He called the temporary restraining order against the ban "vastly over-broad."
But in its decision Thursday night, the three-judge panel unanimously rejected the government's arguments, including the plea to partially reinstate the ban.
The judges said courts were ill-equipped to make such distinctions.
"[E]ven if the [temporary restraining order] might be overbroad in some respects, it is not our role to try, in effect, to rewrite the executive order,'' the panel ruled.
It remains to be seen whether the high court justices take a similar approach.
The eight Supreme Court justices split 4 to 4 last year in the challenge to President Obama's immigration order deferring deportation of millions in the country illegally, and they could split again if forced to decide the broad question.
Generally the court prefers to avoid such outcomes, since it means the lower court ruling — in this case, the 9th Circuit decision — remains in effect.
The court's conservative justices are likely to see merit in the government's claim that the law calls for deferring to the president on matters of immigration and national security.
The liberal justices are also likely to agree that Trump's order was rash, disruptive and unfair to foreign travelers who were traveling legally into and out of this country.
Margulies said justices from both sides may favor a middle-ground approach.
"I think it's possible Justices [Stephen G.] Breyer or [Elena] Kagan might think a modified restraining order makes more sense," he said.
Temple University law professor Peter Spiro agreed the justices may move toward narrowing the order, noting U.S. law gives more protection to people who are in this country, even if they were foreign citizens.
"The courts have been generally deferential to the political branches when it comes to immigration, but they have been less deferential when it comes to noncitizens already present in the U.S.," he said. "So this makes sense, both politically and legally. Students in the U.S. with visas, for example, could go back to their home countries for vacation and then return to their studies here. From the administration's perspective, a limited reinstatement would get them much of what it's looking for: No new visas would be issued to nationals of the listed countries or to refugees."
On Twitter: DavidGSavage
ALSO
Trump attacks senator as debate over judiciary ensnares Supreme Court nominee
Trump says walls work: 'Just ask Israel'
Here's how Trump's gift for coining catchphrases could backfire
---
UPDATES:
4:00 p.m.: This story was updated with a quote from the ruling.
3:45 p.m.: This story was updated after the 9th Circuit Court decision.
This story was originally published at 2 p.m.
---
Life is stressful. Our weekly mental wellness newsletter can help.
You may occasionally receive promotional content from the Los Angeles Times.