Mexican government says Trump never threatened to send troops to Mexico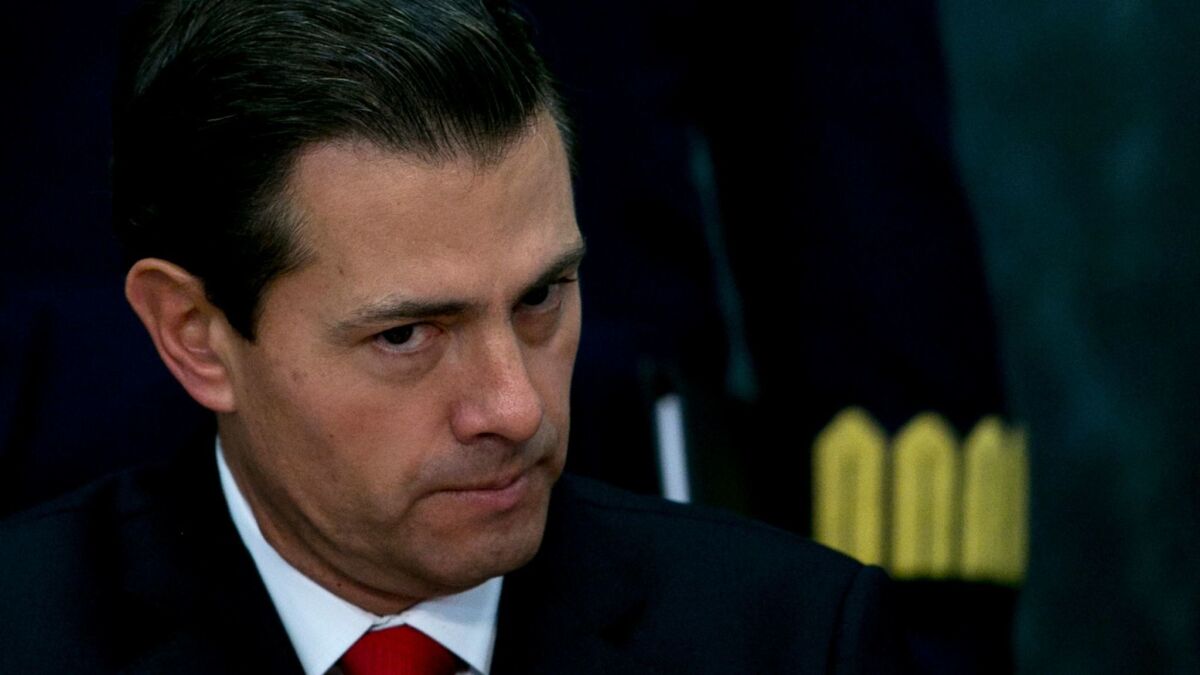 Reporting from Mexico City —
The Mexican government on Wednesday vehemently denied reports that President Trump threatened to send American soldiers into Mexico during a phone call with Mexican President Enrique Peña Nieto.
Such a threat "did not happen during that call," said a government statement released on Twitter Wednesday night.

For the record:
2:08 p.m. Aug. 18, 2019An earlier version of this story erroneously said the Mexican-American War took place during the 1880s. It lasted from 1846 to 1848.
"I know it with absolute certainty, there was no threat," Peña Nieto spokesman Eduardo Sanchez said in a radio interview. "The things that have been said are nonsense and a downright lie."
The Associated Press and a Mexican news website, Aristegui Noticias, reported earlier in the day that Trump had humiliated Peña Nieto during a phone call between the leaders on Friday.
Trump threatened to send U.S. troops into Mexico to stop "bad hombres down there" unless the Mexican military does more to control them itself, the Associated Press said, quoting an excerpt of a transcript of the conversation that it said was obtained from an unnamed source.
The White House would not comment on the purported transcript and denied that the U.S. was planning to invade Mexico. A White House official pointed to a joint statement issued by the two leaders Friday noting they had discussed the need to "work together to stop drug cartels, drug trafficking and illegal guns and arms sales."
Tensions between the U.S. and Mexico, longtime allies, have been dramatically heightened since Trump's inauguration less than two weeks ago.
In one of his first presidential acts, Trump, who as a candidate frequently accused Mexico of sending criminals and drugs to the U.S., signed an executive order calling for immediate construction of a border wall between the countries.
A few days later, he tweeted that Peña Nieto should not visit Washington for a Jan. 30 meeting with Trump unless Mexico was prepared to pay for construction of the wall — one of his signature campaign pledges.
Peña Nieto canceled the meeting, saying Mexico has no intention of paying for a border wall. But last Friday, the leaders appeared to begin mending differences, speaking on the phone in a call that both sides described as productive and cordial.
The explosive allegations Wednesday that Trump threatened to send soldiers to Mexico drew anger in Mexico, where many feel deeply insulted by Trump's repeated attacks.
There were widespread calls for the Mexican government to release the transcript of the call.
Alejandro Hope, a security analyst in Mexico City, said he did not know what to make of the allegations.
"I know it sounds crazy, but it doesn't sound completely out of character," Hope said, noting Trump's provocations of other world leaders and his frequent attacks on Mexico.
If Trump did indeed threaten to send soldiers to Mexico "that's tantamount to invasion," Hope said.
While U.S. and Mexican law enforcement authorities collaborate on a range of fronts, from immigration enforcement to combating drug cartels, "not having U.S. troops in Mexico has always been one line in the sand," he said, citing a history of distrust that dates back to the Mexican-American War of 1846 to 1848.
Sanchez is a reporter in the Times' Mexico City bureau. Staff Writer Michael Memoli in Washington and Special Correspondent Laura Tillman in Mexico City contributed to this report.
Twitter: @katelinthicum
ALSO
Trump's threats to booming Mexico auto industry have executives' heads spinning
Democrats and liberal activists face uphill battle against Supreme Court nominee Neil Gorsuch
How a top conservative radio host took on Trump, lost his audience and faith, but gained a new perspective
Must-read stories from the L.A. Times
Get the day's top news with our Today's Headlines newsletter, sent every weekday morning.
You may occasionally receive promotional content from the Los Angeles Times.