Newsletter: Clippers! Does Doc Rivers stay or does he go?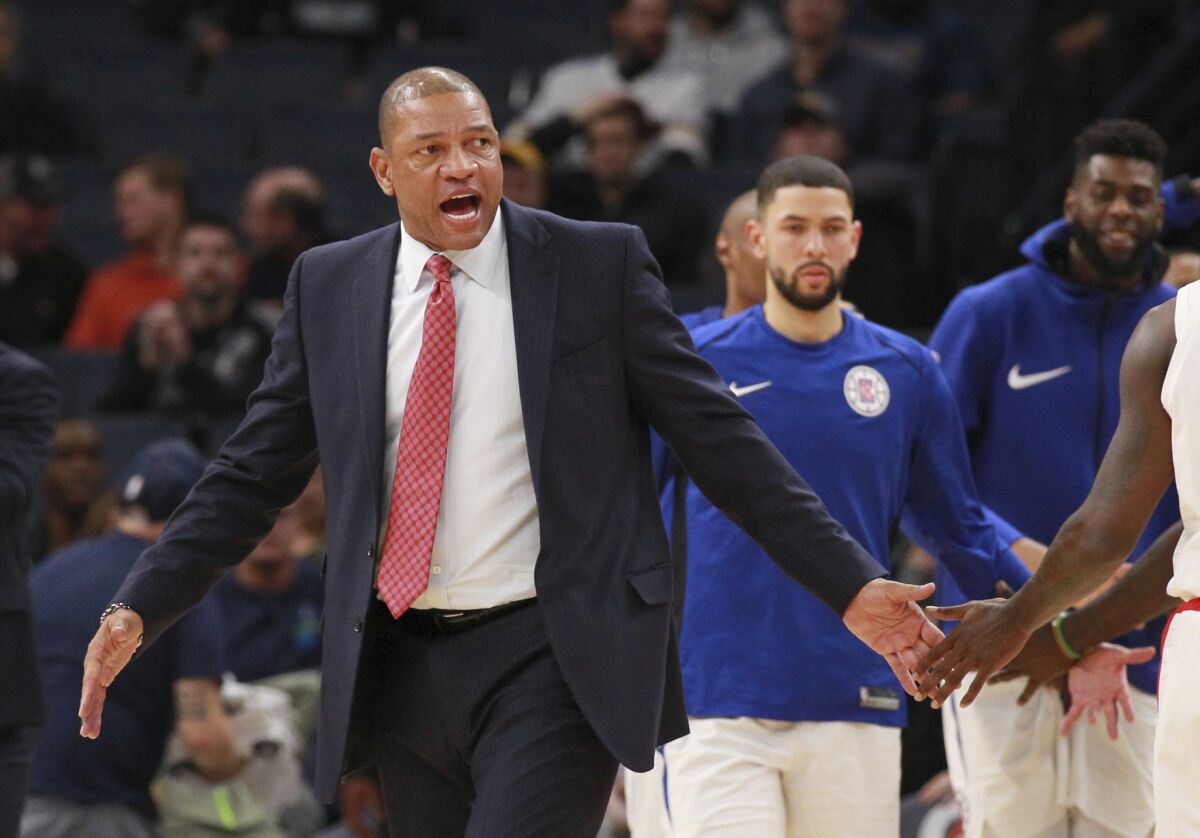 Hi, my name is Broderick Turner, and welcome back to the Los Angeles Times' Clippers newsletter.
Doc Rivers is all about competing for NBA championships and not about rebuilds.
Clearly, the Clippers are not challengers for the crown and are closer to a start-over than they ever have been since Rivers took over as coach just about five years ago.
Does Rivers want to remain with the Clippers while they're in the midst of a rebuild or does he want bolt to a better situation?
Do the Clippers want Rivers to stay on as they try and pick up the pieces or would they rather have a fresh face and new voice as their coach?
Those are questions that have to be answered by Rivers and the Clippers' hierarchy.
Rivers has one year left on his contract for the 2018-19 season that pays just over $10 million.
The Clippers just traded away one of his best players, power forward Blake Griffin, to the Detroit Pistons for Avery Bradley, Tobias Harris, Boban Marjanovic and a first- and second-round draft pick.
Rivers won an NBA championship as coach of the Boston Celtics in 2008, but he was adverse to a rebuild when their championship run reached an apex and began a downward trend with aging stars Paul Pierce and Kevin Garnett being traded to the Brooklyn Nets in 2013.
The Celtics were basically starting over after that move, something Rivers didn't stick around to see, instead leading to him to join the Clippers in 2013.
So the prevailing thought is that Rivers might be opposed to staying with the Clippers while they are in their start-over mode.
"As long as I look around this place, I don't see any [championship] banners around here," Rivers said recently while at the Clippers' practice facility in Playa Vista. "So, we're still searching for that. That's the difference [between Boston and the Clippers]. And until we do that, we got to keep mixing it up."
And the Clippers have, sending Griffin, Brice Johnson and Willie Reed to the Pistons.
The Clippers had a lot of regular-season success during Rivers' first four seasons here, winning at least 50 games each season.
But the big three of Griffin, Chris Paul and DeAndre Jordan never got past the second round of the playoffs.
The first step in the tear-down began last summer when Paul demanded a trade to the Houston Rockets. The Griffin trade was the next domino to fall. The next course of action could be the trade of Jordan.
"We had a great run. We got close," Rivers said. "Like I said a couple of weeks ago when CP [Chris Paul] was in town: That was a good group. We had our chances. But when you blow your chances and don't get them, you usually don't stick around and get them back. I can name a thousand teams that's happened to. And for us, unfortunately, we had a shot…
"It's tough to win. I don't think anybody understands how hard it is to actually win a title. Until you do that, if you're really in it seriously, you're going to be frustrated a lot. You're going to have to make tough decisions and this one was a tough decision."
There are a lot of challenges ahead for the Clippers this season.
They still are in the playoff chase, holding on to the ninth spot in the Western Conference.
But the Clippers also could have two lottery picks in the 2018 NBA draft.
Unquestionably, Rivers is all about winning even in the face of big challenges.
"No. 1, you got to make sure the guys you have you're trying to win," he said. "As crazy as that sounds, that's the first one. You have to coach the guys that you have. You have to get them to see losing Blake is a big deal, all right, and everybody else has to step up. That's No. 1.
"The second part of it is the guys that we do bring in you have to welcome them in. The third part of that is you want them to understand that losing a Blake is hard. That doesn't mean he's not your friend anymore….That part of your life doesn't end. He's just no longer your teammate, and that's probably the toughest part."
In case you missed it
Austin Rivers is ready to return from injury.
Blake Griffin says goodbye to Clippers fans.
Trading Blake Griffin was stunning and smart.
Up next
(All times Pacific)
Saturday vs. Chicago, 12:30 p.m.
Monday vs. Dallas, 7:30 p.m.
And finally
We'd love for you to subscribe or to spread the word and ask your friends to subscribe. It's free! Click here to subscribe.
Have a comment or something you'd like to see in a future Clippers newsletter? Email me and follow me on Twitter: @BA_Turner.
Twitter: @BA_Turner
---
Get our high school sports newsletter
Prep Rally is devoted to the SoCal high school sports experience, bringing you scores, stories and a behind-the-scenes look at what makes prep sports so popular.
You may occasionally receive promotional content from the Los Angeles Times.