Austin Rivers, still shocked by Blake Griffin trade, is ready to return from injury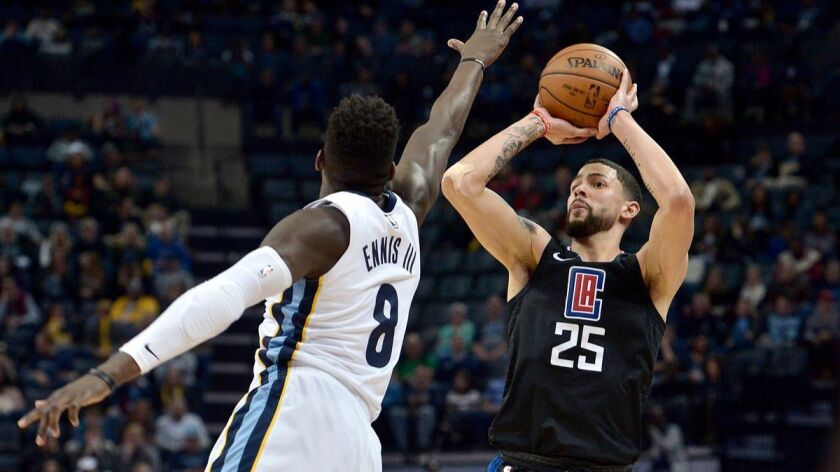 As the night began to fade and the reality of Blake Griffin having been traded to the Detroit Pistons by the Clippers set in and the uncertainty about the future of DeAndre Jordan and Lou Williams continued to swirl, Austin Rivers at least was able to provide some insight on his health.
Rivers has missed the last 16 games with a right ankle injury, but he said late Tuesday night that his goal is to play Feb. 9 when the Clippers travel to Detroit for a game against Griffin and the Pistons.
Over the course of the five weeks Rivers has been out, he has increasingly ramped up his workouts.
"I'm close now," Rivers said. "I'm right there. I'm about a week and a half away."
Like all his teammates, Rivers said he was surprised to learn that Griffin had been traded to the Pistons along with Willie Reed and Brice Johnson.
The Clippers got Avery Bradley, Tobias Harris, Boban Marjanovic and a first- and second-round draft pick for Griffin.
"I don't think anybody saw it coming," Rivers said. "As far as we go, nobody saw that. We were all surprised by it. We all love Blake. It's just one of those tough situations."
Rivers said he eventually spoke with Griffin on Tuesday, hours after the trade had taken place on Monday.
"Sometimes you can only control what you can control," Rivers said. "So it's like what can you say that really matters at this point? It is what it is, and that's what he was saying to me. He's excited, obviously, just because it is a new chapter, and that's the way you have to think in this league. You have to be positive. He's in a situation where obviously teams are going to play behind Blake.
"It's one of those situations where it was just crazy. I didn't even believe it when I heard it. Wesley Johnson called me and he was like, 'You heard.' I was like, 'That's fake news. That's not true.' And then I saw it. Because you hear a lot of rumors, you don't know what's true or not. Then I saw it. I was just surprised by it."
Conversely, Rivers said he grew up playing against Harris on the summer AAU circuit across the country and that Bradley gives the Clippers another two-way player at guard.
Bradley, Tobias and Marjanovic were at Staples Center on Tuesday night and will practice with the Clippers on Thursday and Friday, with the hopes of playing Saturday afternoon against Chicago in L.A.
"Avery is a dynamic two-way player, especially on defense," Rivers said. "And then Tobias is just a certified bucket-getter, a guy who can really face-up and score. There could be a lot of up and down even more now. We can continue to shoot threes and attack the basket."
Twitter: @BA_Turner
---
Get the latest on L.A.'s teams in the daily Sports Report newsletter.
You may occasionally receive promotional content from the Los Angeles Times.