Dodgers to promote Alex Verdugo, leave Joc Pederson in the minors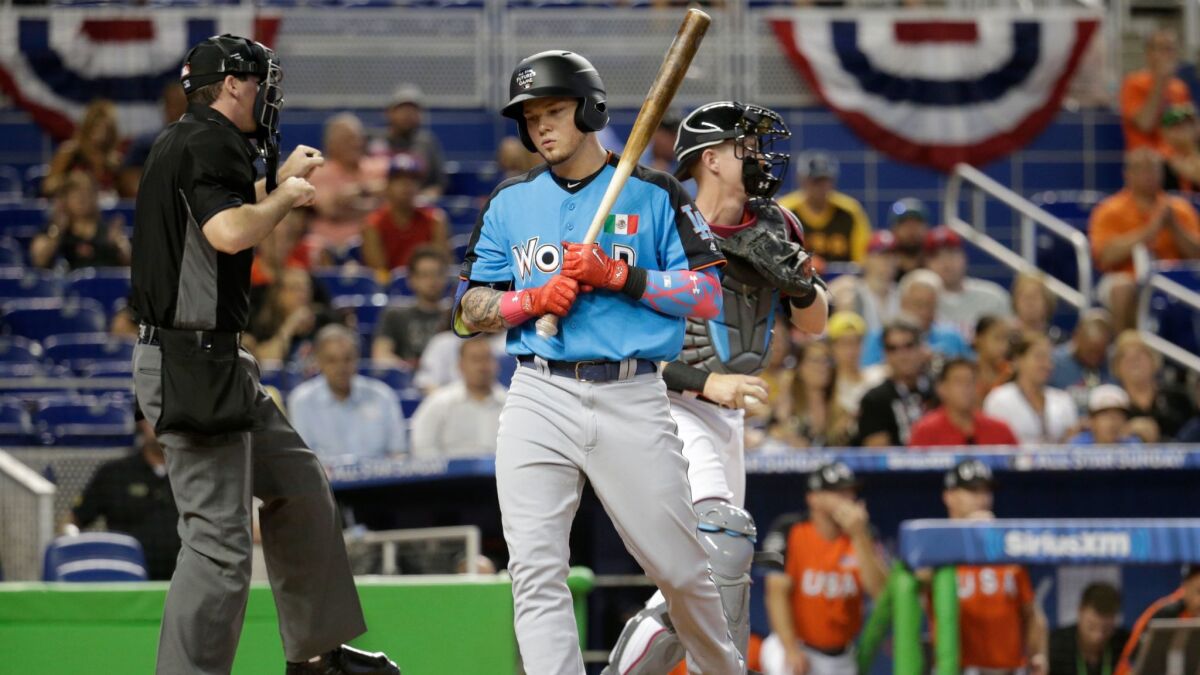 The expansion of rosters across the major leagues on Friday will afford the Dodgers an opportunity to display the hierarchy of its young outfielders.
Alex Verdugo, the organization's top position prospect, will be promoted. Joc Pederson, a former All-Star trying to fix his swing in the minors, will not.
Pederson is expected to remain with triple-A Oklahoma City for the rest of the minor league season, Dodgers manager Dave Roberts said before Thursday's series finale against the Arizona Diamondbacks.
The team demoted Pederson, who had hit .191 in the second half, after acquiring Curtis Granderson on Sept. 18. In his first nine games with Oklahoma City, Pederson hit .167.
The Dodgers placed a high value on Verdugo, a 21-year-old center fielder, during trade discussions in July, as rival clubs pressed to acquire him. Verdugo has hit .314 with an .825 on-base-plus-slugging percentage. He will contend for a spot on the postseason roster.
"We're going to play him," Roberts said.
Verdugo will join a group of September call-ups that includes Andre Ethier and Brock Stewart. Catcher Kyle Farmer and utility man Rob Segedin also are likely to get promoted. The team may bring up former first-round pick Walker Buehler to pitch as a reliever.
Verdugo, a left-handed batter, has an .810 on-base-plus-slugging percentage against left-handed hitters this season, which could help him crack the lineup. He will join an outfield that already includes Granderson, Chris Taylor, Yasiel Puig, Enrique Hernandez and, on occasion, Cody Bellinger.
The Dodgers did not deem Pederson ready to rejoin that group. The Oklahoma City seasons ends Sept. 4.
Seager can hit, not field
Nursing an injured right elbow, Corey Seager took ground balls Thursday afternoon but did not throw the baseball.
He is unlikely to play shortstop this weekend in San Diego or in next week's series against Arizona, Roberts said. The team hopes Seager can start a throwing program on Monday.
Asked about his injury earlier this week, Seager insisted he was "100% fine." Roberts disputed that assessment.
"That's his opinion," Roberts said. "I think the medical staff feels differently."
The concern for the Dodgers, Roberts explained, is that Seager would aggravate his condition by altering his throwing mechanics to compensate for his discomfort.
"That's what we're trying to guard against," Roberts said. "Any time there's acute pain, subconsciously you try to manipulate your arm so you don't hurt it more. To try to get ahead of it, that's what we're trying to do. That's the whole point of this.
"Could Corey play right now? Absolutely. But to not compromise it, put him in harm's way, that's what we're trying to do."
Kershaw set for return
After missing five weeks with a back strain, Clayton Kershaw will return to the mound Friday against San Diego.
Kershaw is slated to throw a five-inning, 75-pitch outing, Roberts said. Kershaw struck out eight and allowed a solo homer in a five-inning rehab outing for triple-A Oklahoma City last week.
Even after his stint on the disabled list, Kershaw started Thursday leading major league starters in earned-run average (2.04) and was tied for the lead in wins (15).
Twitter: @McCulloughTimes
Get our Dodgers Dugout newsletter for insights, news and much more.
You may occasionally receive promotional content from the Los Angeles Times.