Column: Yu Darvish makes a big impression on first day with Dodgers
The Dodgers had identified Darvish as their top target even before Clayton Kershaw went on the disabled list with a back injury. The team now can envision a playoff rotation of Kershaw, Darvish, Alex Wood and Rich Hill. (July 31, 2017) (Sign up for
Reporting from Atlanta —
What immediately stands out about Yu Darvish is his size.
He's huge. Like, really, really huge.
The measurements of 6 feet 5 and 220 pounds don't adequately describe the physical stature of the Dodgers' recently acquired flamethrower. His shoulders are massive. His chest is expansive.
"He's an imposing figure," pitcher Alex Wood said.
Watching Darvish play catch in the SunTrust Park outfield Wednesday was similar to seeing Yasiel Puig in spring training for the first time. Even in the company of other major league players, the newcomer looked bigger and stronger than everyone else.
"You see him on TV, you see the No. 11, but when you get in front of him, he's very physical," manager Dave Roberts said.
With No. 11 already claimed by second baseman Logan Forsythe, Darvish is wearing the less-slimming No. 21.
"I think the 21 is going to look great on him as well," Roberts said.
So, if anything, Darvish passed the eye test in his first day with the Dodgers. He threw a bullpen session that attracted a small crowd of coaches and teammates. Austin Barnes, who caught the 23-pitch workout, was amazed by the movement of Darvish's slider. Roberts said he was impressed by the Japanse right-hander's English.
His first start for the Dodgers will be Friday against the Mets at Citi Field in New York.
Speaking in a 12-minute news conference, Darvish was measured with his words, but nonetheless managed to come across as earnest. He was seated alongside his personal interpreter, Hideaki Sato, who is nicknamed "Sugar." (Sato is a homonym for the Japanese word for sugar.)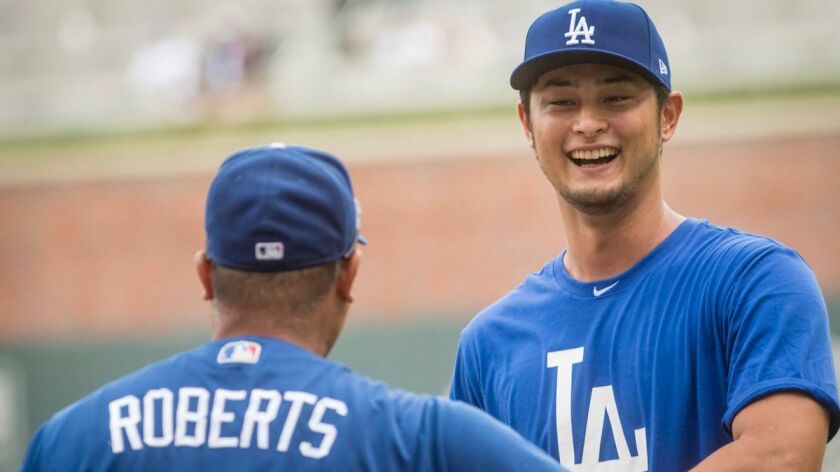 I think the 21 is going to look great on him as well
— Dodgers manager Dave Roberts
He acknowledged that the thought of switching teams in the middle of the season was a source of anxiety. The previous 4 ½ years were spent with the Texas Rangers.
"I felt a little uneasy joining a new team in the middle of the season, but there are a lot of good people here and I feel I'm starting to blend in," Darvish said in Japanese.
He promised to be low maintenance.
"If I came to a new team in the middle of the season and started disrupting the team's harmony, I think it would be really bad," he said. "That's one thing I won't do."
Most of his concerns were related to performance.
"I've moved to the strongest team in the middle of the season," he said. "I've thought, 'What should I do if I hold them back?' "
He also wondered about the physical burden of hitting. Before Darvish moved to the major leagues, he played for the Hokkaido Nippon-Ham Fighters. The team plays in Japan's Pacific League, which has designated hitters.
"I wonder if I'm going to get tired," he said. "It's fun to do every now and then. But doing it every time, I don't know how I'm going to react. I'm a little worried."
Asked about the burden of playing for a team that will be considered a failure if it doesn't win the World Series, Darvish replied, "I'm trying not to think about it."
If Darvish sounded like something of a worrier, he also revealed a dry sense of humor.
He said he looked forward to playing alongside countryman Kenta Maeda, then added with a deadpan delivery, "I'm thinking of taking my time bullying him."
The line elicited laughter from Japanese reporters. He received a similar reaction when he told a story about watching Clayton Kershaw work out before the All-Star game.
"When I work out my lower body, I wear weightlifting shoes," he said. "With the Rangers, I was always made fun of for that. But learning Kershaw did the same, it made me think, 'I wasn't wrong.' "
Well, the line was funnier in Japanese.
His admiration for Kershaw was obvious, even when he wasn't kidding around.
"He's the No. 1 pitcher," Darvish said.
He said he intended to learn as much as he could from the three-time Cy Young Award winner.
I felt a little uneasy joining a new team in the middle of the season, but there are a lot of good people here and I feel I'm starting to blend in
— Dodgers pitcher Yu Darvish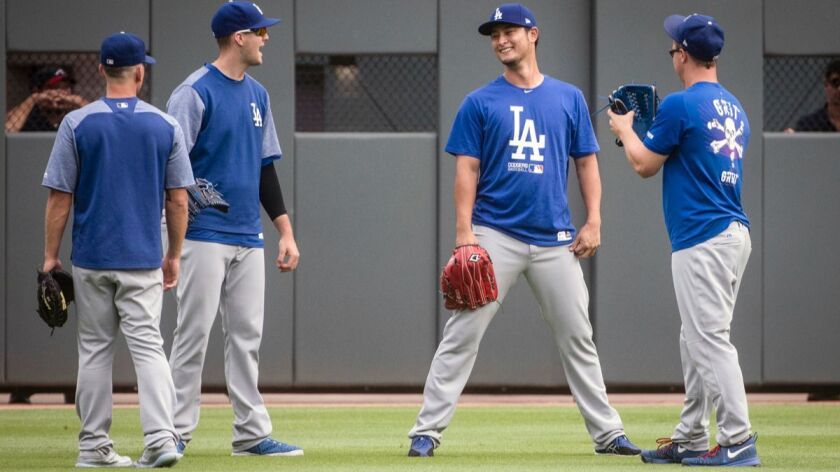 Wood could relate. Acquired from the Atlanta Braves two years ago, Wood said he has received advice from Kershaw on everything from his between-starts preparation to pitch grips.
"Kersh, he's great, man," Wood said. "He's an open book. He'll talk all day if you ask him to. I know that feeling about being excited about being in the same clubhouse as the best pitcher of my lifetime."
Darvish was particularly touched by Kershaw's recruiting pitch to him at the All-Star game.
"I'll be waiting for you in three weeks," Darvish said Kershaw told him.
The reunion won't take place until next week, as Kershaw is treating a back injury in Los Angeles. Still, Darvish was beaming.
"It became a reality," he said. "I'm really happy."
All he has to do now is pitch well.
Follow Dylan Hernandez on Twitter @dylanohernandez
MORE SPORTS NEWS
Watch Cleveland's Austin Jackson make a spectacular catch against the Boston Red Sox
USC's Jack Jones enters Year 2 of his Heisman Trophy watch as the favorite again, according to Jones
UCLA opens football training camp with a lot of enthusiasm and hope after last season's disappointing results
---
Get our high school sports newsletter
Prep Rally is devoted to the SoCal high school sports experience, bringing you scores, stories and a behind-the-scenes look at what makes prep sports so popular.
You may occasionally receive promotional content from the Los Angeles Times.