USC's Jack Jones enters Year 2 of his Heisman Trophy watch as the favorite again, according to Jones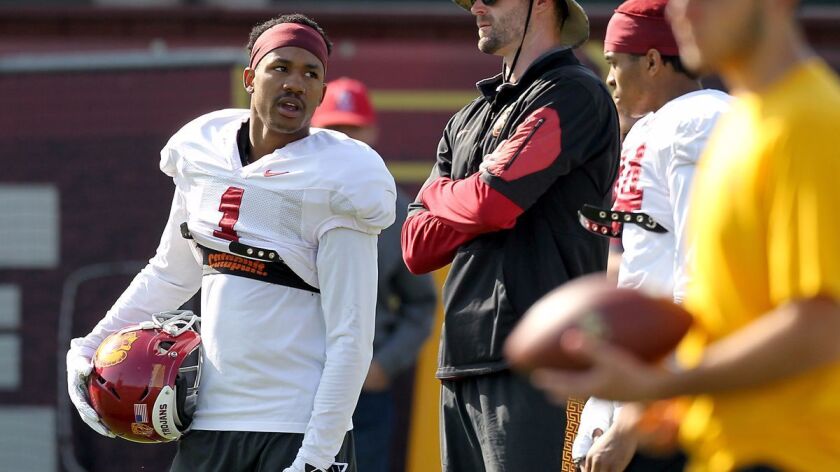 One year after USC cornerback Jack Jones set foot on USC's campus and declared that he would win the Heisman Trophy as a freshman, Jones returned humbler.
A year of learning behind Adoree' Jackson turned him mellower.
A year of playing mostly reserve duty made him … no, just kidding. Jones said Wednesday that he again expects to win the Heisman Trophy.
"Good luck, Sam," Jones said, referring to USC quarterback Sam Darnold, a legitimate Heisman candidate.
The pronouncement is something to which USC fans should get used.
"It ain't changing," Jones said. "It's every year."
USC is relying on Jones to assume the role vacated by Jackson, who won last season's Jim Thorpe Award, given to the top defensive back in the nation. As a freshman, Jones flashed his explosiveness but also his over-eagerness. Replacing Jackson after an injury during the Rose Bowl, Jones flirted with disaster while trying to get a jump on one long route late.
Secondary coach Ronnie Bradford worked with Jones in the spring on getting himself in the right position first, before he worried about big plays. In training camp, Bradford said, he wanted to see consistency out of his cornerbacks.
Jones has returned confident as ever. In USC's first three practices, he has played cornerback at a high level, if not a trophy-worthy level. But he balanced his bravado with maturity Wednesday. He said he understands that declaring himself a Heisman candidate every year grates on some people.
"It's just about bringing the best out of me," Jones said. "That's all it is. I want to push myself really. I'm going to be my biggest critic, and I'm gonna be my biggest fan. So I want to see myself win that Heisman."
Internally, though, Jones reset his own expectations. As a freshman, he wanted to play on offense, defense and special teams. Patience did not come easily. ("I mean, life is fast," Jones said.)
"Coming in, I was looking at the game as if it was high school, and that last year just helped me open my eyes and just let me know it's not high school at all," he said. "It's nothing like high school. It will never be like high school."
As for playing offense, he said, "I'm not really focused on it. If I do, great. I'm gonna kill it if I do. But I'm not pressing it."
Teammates treat Jones' annual pronouncement with amusement and some support.
"If he wants to win the Heisman, go ahead and do it," safety Chris Hawkins said Saturday after USC's first practice of training camp. "I think it's gonna be hard just based off of what position he plays for us. But I mean, if he wants to win the Heisman, I'll never shoot anybody's shot down, if he's going to do what he's gonna do. If he's playing well like he played today, I think he's got a chance. So keep dreaming."
Fellow starting cornerback Iman Marshall said he believes in Jones' chances. Probably of more relevance for USC this season, Marshall said Jones has learned to match his instincts at cornerback with more control.
"That dude's outstanding," Marshall said.
As evidence: Jones muscled Jalen Greene off of a wheel route Wednesday, redirecting him enough to manufacture a Marvell Tell III interception of Darnold's pass.
Was it the first punch thrown in the Heisman race? Coach Clay Helton declined to handicap where Jones and Darnold stood.
"I'm glad both are Trojans," Helton said. "I'll tell you what, credit to Jack, he is much more business-like and mature in this camp."
Helton was onto something. A few moments earlier, Jones even convinced himself that Darnold may have the early edge.
"I'm rooting for him," Jones said. "Sam is a great guy. I love Sam. Yeah, Sam is just right. I feel like Sam is gonna get it. Honestly, I feel like Sam is gonna get it."
Then he added: "But just know I'm coming for him."
O-line musical chairs
Nico Falah and Toa Lobendahn split repetitions at center in USC's first three practices, but that doesn't mean one won't ultimately play elsewhere.
"They're going to play a lot of ball," Helton said.
Falah has 13 career starts and Lobendahn has 21. Lobendahn has played on occasion at left tackle during training camp, but Clayton Johnston has taken a majority of the snaps at the position. Johnston, Helton said, had an impressive spring, "so we're giving him a good look."
But Helton said of Falah and Lobendahn, "I would be surprised if they're not in the top five when it's all said and done."
Quick hit
Receiver Keyshawn Young left Wednesday's practice with what Helton called a strained hamstring.
Follow Zach Helfand on Twitter @zhelfand
---
Get the latest on L.A.'s teams in the daily Sports Report newsletter.
You may occasionally receive promotional content from the Los Angeles Times.