Dirk Nowitzki continues to reward Dallas Mavericks' loyalty even as he approaches 40
On Monday night at Staples Center, Dirk Nowitzki likely will play his 50,000th minute in the NBA.
It is not purely ceremonial. Nowitzki is needed as he strides past milestones, rather than crawling to them at age 39.
The opportunity is not a token. Nowitzki will start for Dallas, just as he has in every other game this season.
Father Time still can't guard Nowitzki's fadeaway or his high-release jumper. It also can't quell his enjoyment and work ethic that keep his body and accompanying smile in the gym so much.
Nowitzki is the only player besides Kobe Bryant to have a 20-year NBA career with one franchise. And the 7-foot German might not be done, considering he is making a career-high 43% of his three-point shots.
"I'm trying to enjoy it," Nowitzki said. "You never know. I try not to take anything for granted. I try to have fun, even though it's hard. There's not a lot of joy in losing but I don't want to be miserable. It may be my last year. Maybe it's not my last year. But I don't want to be moping every day."
His string of 14 consecutive All-Star appearances ended in 2016. His streak of 12 consecutive playoff appearances ended three years earlier. But Nowitzki's run of scoring keeps going strong, putting him in position to pass Wilt Chamberlain (31,419) for fifth place on the NBA all-time list if he returns for his final contract year.
Nowitzki, Harrison Barnes and Wesley Matthews are the only Mavericks to start every game this season but Nowitizki has the team's best player efficiency rating. He wants to play every game, which would tie Karl Malone for the fourth-most NBA appearances (1,476) and make him the only player besides Michael Jordan and John Stockton to play every game of a season at age 39.
"He's one of the all-time special athletes in sports history because he's not only a great player but he's the ultimate loyal team and franchise guy," Dallas coach Rick Carlisle said. "All those accomplishments are amazing. The longevity, the productivity, the consistency, the durability. He's just a very rare athlete. As he's in his last year or two or whatever length it's going to be, he's doing it in a way that's helping nurture our young guys along on one hand. On another hand, he's filling a role we need."
Nowitzki shoots endlessly, as if the touch could slip away, and is dedicated to body maintenance with his 40th birthday coming in June.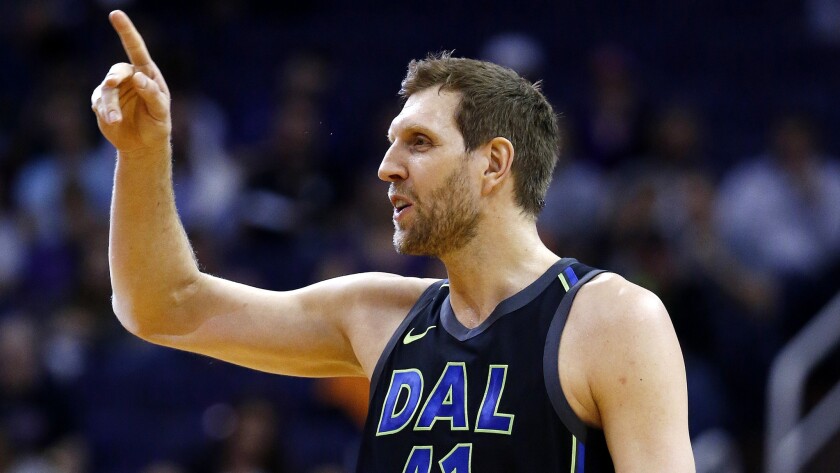 Players do not need classic footage to be reminded of how he revolutionized the power forward position, was the 2007 most valuable player or was the lone Dallas All-Star carrying the Mavericks to a 2011 championship.
Nowtizki is averaging 12 points and 5.6 rebounds despite age limiting his court time to about 25 minutes a game.
"I've seen in it in his prime years, the MVP year and now," said teammate Devin Harris, who has played nine seasons with Nowitzki. "It's still the same. He works just as hard, if not harder now that he's up there in age. But he still loves it. He doesn't play for the stats. He genuinely loves being out there and he's a joy to be around."
Nowitzki revels in helping youngsters, like a rising star who is nearly half his age in 20-year-old teammate Dennis Smith Jr. It is not just by advice and example. Put Nowitzki on the court with three guards and his pick-and-pop and spot-up abilities make the game easier for others.
"I tell Seth Curry all the time, 'I used to take your dad one-on-one on the high post and iso,'" Nowitzki told his teammate about his father, Dell. "I have fun with the young guys. Twenty years is a long, long time. I'm blessed to have played that long with the support of the city, the franchise and the owner."
Nowitzki acknowledges being frustrated at times. The losing of the past two seasons is unusual for him. The body does not respond when waking up in the morning or coming out of training camp like it once did.
That game within the game still drives him. He enjoys solving the puzzles of how to overcome personal and team obstacles.
Often, he faces players who break out his bag of tricks against him.
"It's flattering," Nowitzki said. "It's an honor that people respect and accept your craft that you worked on so much. It's always an honor when guys try to emulate the shot or like the way I play. I left it all out there for my franchise for 20 years."
The franchise has been loyal in turn, and Nowitzki gained an early appreciation for it. When the Mavericks first ascended, Nowitzki, Steve Nash and Michael Finley thought they would play their careers together in Dallas. But Nash went to Phoenix in 2004. Finley went to San Antonio in 2005. As hard as it was to see close friends leave, Nowitzki appreciates the relationship he has with owner Mark Cuban and points out that Cuban even came to his bachelor party.
"I've had numerous problems off the floor in 20 years and he was always there to support and help out," Nowitzki said. "Loyalty goes hand in hand."
Like Tom Brady, Nowitzki gets asked more frequently about when he will retire than how long he will play. Nowitzki signed a two-year, franchise-friendly, $10-million contract last summer to be free of that conjecture but many still wonder if this is his last season.
"When you talk about loyalty and the NBA, those two don't go hand in hand," Harris said. "They have been loyal to him and he's been loyal to them. It's been a great relationship back and forth. For 20 years, rain, sleet, wins, losses, Finals, lottery, he's been there. That's what a face of the franchise is supposed to be."
---
Get our high school sports newsletter
Prep Rally is devoted to the SoCal high school sports experience, bringing you scores, stories and a behind-the-scenes look at what makes prep sports so popular.
You may occasionally receive promotional content from the Los Angeles Times.