Dunbar, Barwin have two main reasons for signing with Rams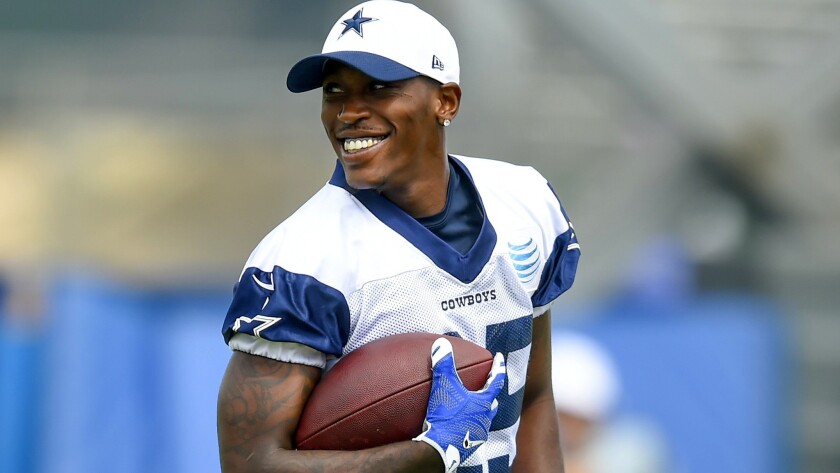 Familiarity with defensive coordinator Wade Phillips was too enticing, the opportunity to reunite too good for linebacker Connor Barwin to pass up.
For running back Lance Dunbar, it was a chance to expand his role in Coach Sean McVay's multiple-threat offense.
On Wednesday, Barwin and Dunbar said those were among the reasons they signed free-agent contracts last week with a Rams franchise coming off a 4-12 season.
Barwin, who has 50½ sacks, came of age as a pass rusher early in his eight-year NFL career playing in Phillips' 3-4 scheme with the Houston Texans.
"He taught me so much about being a pro and enjoying being around the game every single day, and really, from a football standpoint, really kind of elevated my game as a pass rusher," Barwin said Wednesday during a teleconference.
Barwin, 30, played four seasons with the Texans and four with the Philadelphia Eagles before he was released to create salary-cap space. He was due to earn $7.75 million this season.
The Rams signed Barwin to a one-year contract worth $6.5 million, according to spotrac.com.
Barwin said he chose the Rams over the Cincinnati Bengals so he could play again for Phillips as an outside linebacker in the 3-4. In 2011, Barwin's third NFL season, Phillips took over the Texans' defense. Barwin produced 11½ sacks.
In 2014, playing in a 3-4 scheme for the Eagles, Barwin recorded a career-best 14½ sacks. He moved to defensive end last season when the Eagles switched to a 4-3 and was credited with only five sacks.
So Barwin welcomes a return to the 3-4, in which Phillips can deploy him in multiple variations.
Barwin is expected to start and add a veteran presence to a defense that features tackles Aaron Donald and Michael Brockers, and rush end-linebacker Robert Quinn.
"This is as good as they get," he said of the Rams' defensive front, adding, "I'm excited to be part of that group and hopefully make the group even better."
Dunbar, 27, played five seasons with the Dallas Cowboys.
It did not take long for the 31-year-old McVay to sell him on the Rams. During Dunbar's visit last week, the energetic McVay apparently went into overdrive.
"He had me going," Dunbar said, laughing. "He had me ready to play."
Dunbar, who signed a one-year contract for $1.5 million, will serve as a complement to third-year pro Todd Gurley, the 2015 NFL offensive rookie of the year.
Dunbar described Gurley as "a great power back" who possesses exceptional speed and vision.
"I'm more of a slasher — make guys miss, catch the ball out of the backfield," Dunbar said. "We have two different styles. … It's hard for people to defend, switching up."
Dunbar was off to a strong start in 2015 before he suffered a season-ending knee injury in the fourth game while returning a kickoff. Last season, playing behind rookie Ezekiel Elliott, Dunbar carried only nine times for 31 yards and caught 16 passes.
He said McVay, the Washington Redskins' offensive coordinator the last three seasons, spoke about utilizing him in a way similar to how the Redskins deployed running back Chris Thompson last season. Thompson rushed for 68 yards and three touchdowns and caught 49 passes, two for touchdowns.
"We're very similar," Dunbar said. "I catch the ball out of the backfield. I can run routes. I can run the ball.
"I've seen [McVay] let him do those things. It gave me a little more confidence and more belief in him that he will allow me to do those things."
Follow Gary Klein on Twitter @latimesklein
---
Get the latest on L.A.'s teams in the daily Sports Report newsletter.
You may occasionally receive promotional content from the Los Angeles Times.