Rams safety Lamarcus Joyner isn't bitter about franchise tag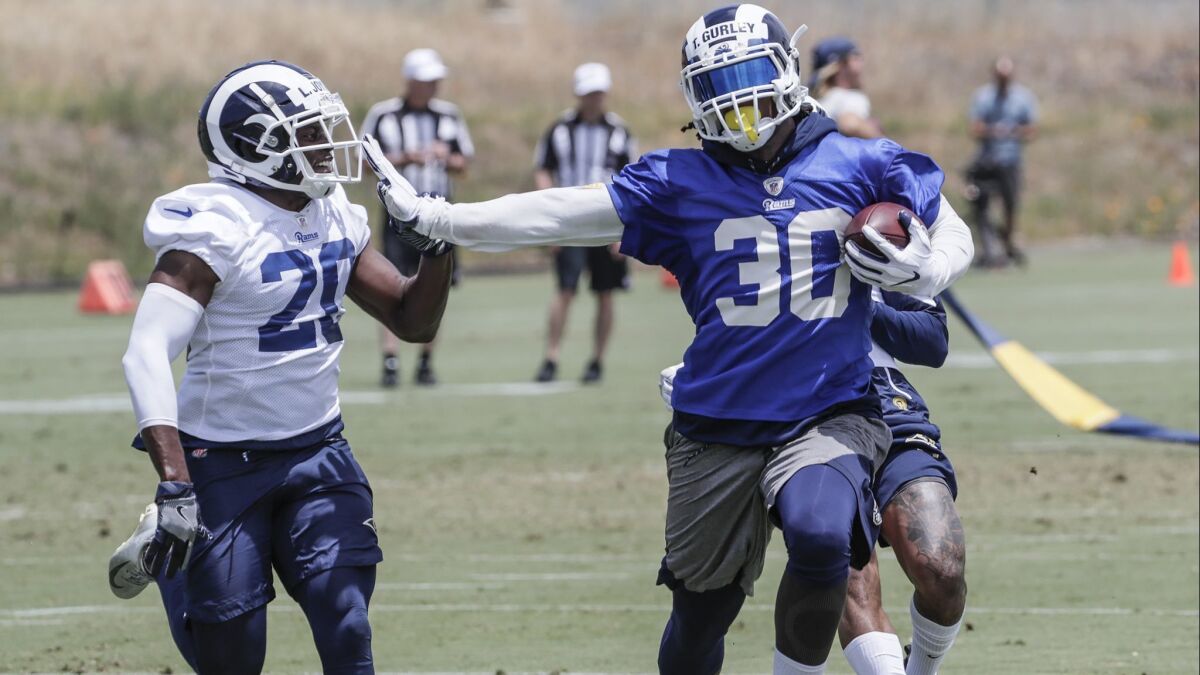 The situation never appeared to outwardly concern Lamarcus Joyner.
Throughout the 2017 season, his first playing safety full-time for the Rams but the last one of his rookie contract, he indicated that he was not worried that he and the team had not agreed to an extension. The situation would take care of itself, he said.
Joyner helped his cause by intercepting three passes while proving himself a perfect fit in Wade Phillips' hybrid 3-4 defense.
In March, the Rams put the franchise tag on Joyner, guaranteeing him a one-year salary of nearly $11.3 million but preventing him from hitting the open market.
In a year when the free-agent safety market has been depressed, the move might have worked in Joyner's favor, at least from a one-year salary perspective.
Asked this week whether he kept an eye on the safety landscape, Joyner was typically earnest.
"It's a small world," he said of the NFL, "You hear things. But I don't worry about those kinds of things.
"I wouldn't say that I keep an eye on it. I keep my ears open on what's going on in the league because it's my profession. You got to know what's going on.
"I always worry about my God first, and Lamarcus and his family. And the rest is going to take care of itself. I don't ever pay attention to other situations because I'm my own product."
Joyner, a fifth-year pro, is pivotal to a remade Rams secondary that includes cornerbacks Aqib Talib, Marcus Peters and Nickell Robey-Coleman, and strong safety John Johnson.
The group has been active of late.
Talib, Peters and Johnson intercepted passes by Baltimore Ravens quarterback Joe Flacco during a joint practice last week. Joyner intercepted a pass by Rams quarterback Jared Goff during practice Saturday and Robey-Coleman did the same Sunday.
Talib sat out Sunday's workout because of a sore ankle, coach Sean McVay said.
Starters were held out of the preseason opener against the Ravens, and they are not expected to play Saturday against the Oakland Raiders. McVay, however, declined to make it official.
"We kind of have an idea, but I'd rather be able to talk to our team and our players and make sure they kind of have an understanding of what the next few days are going to entail," he said.
McVay's goal, of course, is to get to the opener with his lineup intact and physically sound.
That includes Joyner, who overcame an Achilles issue early in camp.
Joyner has been with the Rams longer than any member of the secondary. But that seniority will not alter the way he leads, he said.
"I know my role and it's not going to change," he said. "My role is to go out there and give this organization everything I have every time I step on the field, and I'm going to continue to be that way."
Mentor matchup
McVay is looking forward to matching wits with Raiders coach Jon Gruden, who gave him his NFL coaching start with the Tampa Bay Buccaneers.
But the scenario — playing a preseason game only a few weeks before the regular-season opener against the same team — is not ideal.
The Rams play the Raiders in Oakland on Sept. 10 on "Monday Night Football."
"It's an interesting dynamic," McVay said, adding, "If you said, 'Would you prefer to not have your second preseason game against the team you open with?' The answer would be 'yes' from me."
And the matchup with Gruden?
"When it really counts will be Week 1," he said.
Etc.
Receiver Josh Reynolds remains sidelined because of an ankle injury and will be out for at least a week, McVay said. … A day after voicing displeasure with his team's practice effort Saturday, McVay felt better about Sunday's workout. "The overall energy, the ability to communicate, just the way that we came out and competed was much better," he said. ... Receivers Robert Woods, Pharoh Cooper and Mike Thomas each had impressive touchdown receptions during drills. ... Ryan Davis continues to work at outside linebacker opposite Samson Ebukam.
Follow Gary Klein on Twitter @latimesklein
Get the latest on L.A.'s teams in the daily Sports Report newsletter.
You may occasionally receive promotional content from the Los Angeles Times.