Angels put Jered Weaver on disabled list because of hip inflammation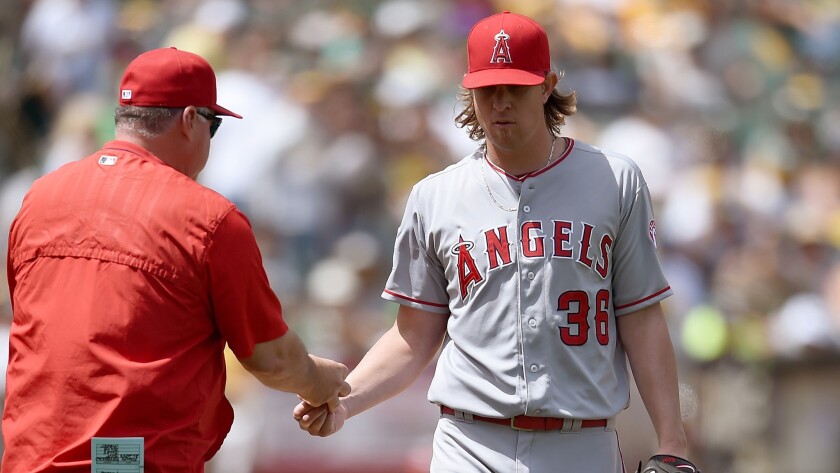 Reporting from Oakland —
Angels right-hander Jered Weaver was placed on the 15-day disabled list because of left-hip inflammation and will undergo a series of medical tests, including an MRI, on Monday to determine the severity of the injury.
Manager Mike Scioscia said Weaver, who is 4-8 with a 4.75 earned-run average on the season, has been pitching with the condition "for the last couple of starts," which might explain why Weaver is 0-4 with a 6.58 ERA in his last four games.
Weaver, who has given up 16 home runs, tied for the most in the American League, opened the season with an 0-4 record and 6.29 ERA but was superb in his next five games, going 4-0 with a 1.98 ERA.
"Pitchers are always trying to perform with little nicks, and Weav has," Scioscia said. "I think it just got to a point in his last couple of starts where you could see mechanically he's not where he wants to be. His shoulder, his arm, feels great, but we have to find out exactly what's going on."
The 6-foot-7 Weaver has always thrown with an across-the-body motion that scouts felt would leave him vulnerable to an arm injury, and Weaver, who is making his fourth trip to the DL, has been slowed by biceps tendinitis several times throughout his career.
Weaver, who allowed four runs and six hits in 5 2/3 innings of Saturday's 4-1 loss to the Oakland Athletics, has never had a hip injury, but Scioscia said it was clear this one was affecting his performance.
"He's just not leveraging the ball like he can, and I'm sure this would have to influence that in some aspect," Scioscia said. "His stuff had picked up and you could see progress, and his last couple starts it's been a little more of a labor for him. We just need to get this behind us and get him back on a path."
How long has the hip bothered Weaver?
"Probably three years," the pitcher joked. "Nah...there's always stuff lingering. Sometimes it's good, sometimes it's bad. Most of the time I can kind of get it to where it needs to be in between starts, but I just decided to [address it] instead of battling against it all the time."
Weaver said he has felt a "sharp pain" in the hip every now and then. When he loosened up, the hip felt good, "but you keep pounding on it, and it would tighten up again," Weaver said. "It wasn't anything drastic, but Scioscia and I thought it would be better to iron it out now rather than toward the end of the season."
Does Weaver think the injury impacted his performance?
"I don't think so," he said. "Very little. There's more to it than just the hip stuff."
The concern with hip inflammation is that there could be a tear in the hip joint requiring surgery. Former Angels center fielder Peter Bourjos, now with the St. Louis Cardinals, played for several seasons with hip inflammation before finally undergoing surgery after the 2014 season.
"Naturally, you're always concerned, but we'll wait and see what the tests say," Scioscia said. "Jered will grind it out and find a way. Hopefully we'll calm this down, and that's all it takes."
The Angels recalled outfielder Alfredo Marte from triple-A Salt Lake to replace Weaver on the roster. With an off day Thursday, the Angels won't need a fifth starter until June 30 against the New York Yankees.
Among the candidates to eventually replace Weaver are triple-A left-hander Andrew Heaney and right-hander Nick Tropeano, who is expected to return from a shoulder injury this week, long reliever Jose Alvarez and possibly Corey Rasmus, who is returning from abdominal surgery.
---
Get our high school sports newsletter
Prep Rally is devoted to the SoCal high school sports experience, bringing you scores, stories and a behind-the-scenes look at what makes prep sports so popular.
You may occasionally receive promotional content from the Los Angeles Times.