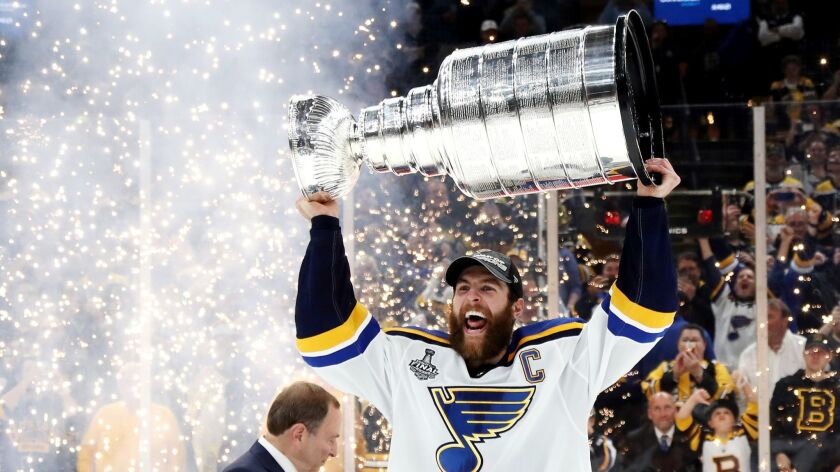 Howdy, my name is John Cherwa, and think about how you would feel if you knew the first officer were landing the plane while the captain decided to go on holiday. Well, welcome to this newsletter as Captain Houston Mitchell is seeing how many chain restaurants he can visit in the San Gabriel Valley.
(And, for the record, the first officer is 99% as qualified to land the plane as the person with the extra stripe on their shoulder. But in this case … )
Stanley Cup final
Here's a quick summary of the game from our own Curtis Zupke. If you click here, you'll get more.
"Jordan Binnington made 32 saves to lead the St. Louis Blues to their first Stanley Cup with a 4-1 win against the Boston Bruins in Game 7 on Wednesday at TD Garden.
"Ryan O'Reilly, Alex Pietrangelo, Brayden Schenn and Zach Sanford scored as St. Louis ended the longest wait for a team to win its first Cup, at 52 years. The Blues entered the NHL with the Kings in the 1967-68 expansion season and famously lost the 1970 Final to Boston on an overtime goal by Bobby Orr.
"O'Reilly was awarded the Conn Smythe trophy for the most valuable player of the playoffs.
"Binnington became the first rookie goalie in NHL history to win all 16 of his team's playoff games. He lost the shutout when Matt Grzelcyk scored with two minutes, 10 seconds remaining but he carried the Blues with 12 saves in the opening period and a big leg pad stop on Joakim Nordstrom in the third."
Stanley Cup Final results
(St. Louis wins series, 4-3)
at Boston 4, St. Louis 2
St. Louis 3, at Boston 2 (OT)
Boston 7, at St. Louis 2
at St. Louis 4, Boston 2
St. Louis 2, at Boston 1
Boston 5, at St. Louis 1
St. Louis 4, Boston, 1
Women's World Cup
Before we get to the daily winners, a colleague of mine brought up that sports should be viewed through the prism of Hanlon's razor.
Of course, I pretended to know what that was while my fingers went to a Google search. (Sorry other search engines.) Now, this conversation was done at 32,000 feet as I was flying home from the Belmont and viewing everything through the horse racing goggles. (Not Googles, c'mon.)
Here's what Hanlon's razor says, and, boy, if it doesn't explain sports decisions. We'll use today's World Book, which we now call Wikipedia:
"Hanlon's razor is an aphorism expressed in various ways, including: 'Never attribute to malice that which is adequately explained by stupidity.' An eponymous law, probably named after Robert J. Hanlon, it is a philosophical razor which suggests a way of eliminating unlikely explanations for human behavior."
Pretty smart stuff. And, well, just might apply beyond the sports prism.
Now, all I can fixate on is what bad sports the U.S. women's players were celebrating each goal after say, six or seven in Tuesday's game. The team finished with 13.
Now, I don't have a kid, but I can still conjure up this analogy. If my kid were the best at what they did, still at some point I would tell him to cool it and not humiliate their opponent.
It wasn't scoring the goals, which even if you try not to, you can't help. It was the celebrating afterward, as if each was their first-ever goal.
Yes, there is likely no malice, but remember the theory presented a few paragraphs before as a possible explanation for what happened in the game against Thailand.
We're just here trying to help.
Now, Kevin Baxter decided to write about the disparity in women's soccer. Here's the full story. Here's an excerpt:
"The U.S. national team's 13-0 shellacking of Thailand in its Women's World Cup opener earlier this week revealed several truths.
"It proved Alex Morgan, who had five goals and three assists, is not just really good but may be in the best form of her stellar career. It showed the Americans, in addition to their other talents, are really good at celebrating goals even when they come in the final minutes against an already humiliated opponent.
"Thailand, Jamaica and Argentina? Not so much.
"In many ways the rising tide of global support for women's soccer has not raised all boats. Instead it has swamped, then capsized many of the smaller ones.
"And it all comes down to money."
Wednesday's results
Nigeria 2, South Korea 0
Germany 1, Spain 0
France 2, Norway 1
Today's schedule (all times Pacific)
Group B: South Africa vs. China, Noon, Fox
Group C: Australia vs. Brazil, 9 a.m., Fox
Group A W-D-L, GD, Pts
France 2-0-0, +5, 6
Norway 1-0-1, +2, 3
Nigeria 1-0-1 -1, 3
South Korea 0-0-2, -6, 0
Group A schedule (all times Pacific)
France 4, South Korea 0
Norway 3, Nigeria 0
Nigeria 2, South Korea 0
Today, France vs. Norway, Noon, Fox
Monday, Nigeria vs. France, Noon, Fox
Monday, South Korea vs. Norway, Noon, FS1
Group B W-D-L, GD, Pts
Germany 2-0-0, +2, 6
Spain 1-0-1, +1, 3
China 0-0-1, -1, 0
South Africa 0-0-1, -2, 0
Group B TV schedule (All Times Pacific)
Germany 1, China 0
Spain 3, South Africa 1
Germany 1, Spain 0
Today, South Africa vs. China, Noon, Fox
Monday, South Africa vs. Germany, 9 a.m., Fox
Monday, China vs. Spain, 9 a.m., FS1
Group C W-D-L, GD, Pts
Brazil 1-0-0, +3, 3
Italy 1-0-0, +1, 3
Australia 0-0-1, -1, 0
Jamaica 0-0-1, -3, 0
Group C TV schedule (all times Pacific)
Italy 2, Australia 1
Brazil 3, Jamaica 0
Today, Australia vs. Brazil, 9 a.m., Fox
Friday, Jamaica vs. Italy, 9 a.m., Fox
Tuesday, Jamaica vs. Australia, Noon, FS2
Tuesday, Italy vs. Brazil, FS1
Group D W-D-L, GD, Pts
England 1-0-0, +1, 3
Argentina 0-1-0, 0, 1
Japan 0-1-0, 0, 1
Scotland 0-0-1, -1, 0
Group D TV schedule (all times Pacific)
England 2, Scotland 1
Argentina 0, Japan 0
Friday, Japan vs. Scotland, 6 a.m., FS1
Friday, England vs. Argentina, Noon, Fox
Wednesday, Japan vs. England, Noon, FS1
Wednesday, Scotland vs. Argentina, Noon, FS2
Group E W-D-L, GD, Pts
Canada 1-0-0, +1, 3
Netherlands 1-0-0, +1, 3
New Zealand 0-0-1, -1, 0
Cameroon 0-0-1, -1, 0
Group E TV schedule (all times Pacific)
Canada 1, Cameroon 0
Netherlands 1, New Zealand 0
Saturday, Netherlands vs, Cameroon, 6 a.m., FS1
Saturday, Canada vs. New Zealand, Noon, FS2
June 20, Netherlands vs. Canada, 9 a.m., Fox
June 20, Cameroon vs. New Zealand, 9 a.m., FS1
Group F W-D-L, GD, Pts
United States 1-0-0, +13, 3
Sweden 1-0-0, +2, 3
Chile 0-0-1, -2, 0
Thailand 0-0-1, -13, 0
Group F TV schedule (All Times Pacific)
Sweden 2, Chile 0
United States 13, Thailand 0
Sunday, Sweden vs. Thailand, 6 a.m., FS1
Sunday, United States vs. Chile, 9 a.m., Fox
June 20, United States vs. Sweden, Noon, Fox
June 20, Thailand vs. Chile, Noon, FS1
Rest of the schedule
Round of 16 matches takes place from June 22 to 25.
Quarterfinal matches are from June 27 to 29.
One semifinal match is on July 2 at noon on Fox.
The other semifinal is on July 3 at noon on FS1.
Third-place game is July 6 at 8 a.m. on Fox.
Championship match is July 7 at 8 a.m. on Fox.
NBA Finals (but really about the Lakers)
We interrupt our coverage of Game 6 of the NBA Finals with this breaking news.
Tania Ganguli and Brad Turner (sorry, Brad, I know your byline is Broderick but I've never called you Broderick) have incredible insight in what might happen as the Lakers try and get Anthony Davis. Full story is here, but for an excerpt, keep reading:
"Perhaps Round 2 will be more successful than Round 1 was for the Lakers, who are trying to trade for New Orleans Pelicans All-Star forward Anthony Davis again.
"Whether or not they are able to nab Davis, at 26 the league's premiere big man, could hinge on how willing they are to part with their young stars — Kyle Kuzma in particular.
"The Pelicans are interested in three of the Lakers' young players — whether that's Kuzma, Lonzo Ball, Brandon Ingram or Josh Hart — and the No. 4 draft pick in order to acquire Davis, according to people familiar with the trade discussions who were not authorized to speak publicly. It's possible New Orleans could use the No. 4 pick to acquire a player from a third team.
"Among the young Lakers, New Orleans covets Kuzma the most."
Here's all you need to know, 6 p.m. tonight.
NBA Finals schedule/results
All times Pacific
at Toronto 118, Golden State 109
Golden State 109, at Toronto 104
Toronto 123, at Golden State 109
Toronto 105, at Golden State 92
Golden State 106, Toronto 105
Today, Toronto at Golden State, 6 p.m., ABC
*Sunday, June 16, Golden State at Toronto, 5 p.m., ABC
* if necessary
Odds and ends
Santa Anita, CHRB unveil enhanced safety measures to combat horse deaths. … Rory McIlroy knows he needs a strong first round to keep his momentum in the U.S. Open. … Philip Rivers doesn't need preseason action to be ready for the Chargers' season. … You know what that Angels sweep of the Dodgers meant? Not much.
Other newsletters
We also have five other newsletters you can subscribe to for free. They are emailed to you and we don't sell your name to other companies, so no spam from us. They are:
Our Dodgers newsletter, written by Houston Mitchell. Subscribe here.
Lakers newsletter, written by Tania Ganguli. Subscribe here.
Horse racing newsletter, written by John Cherwa. Subscribe here.
Boxing/MMA newsletter. Subscribe here.
Soccer newsletter, written by Kevin Baxter. Subscribe here.
Born on this date
1897: Distance runner Paavo Nurmi
1903: Football player Red Grange
1915: Tennis player Don Budge
1951: Boxer Mike Weaver
1962: Sportscaster Hannah Storm
1964: NBA player Sarunas Marciulionis
1964: WNBA player Jennifer Gillom
1974: NHL player Valeri Bure
Died on this date
1961: Horse trainer Ben Jones (Citation, Whirlaway), 70
1982: Pro wrestler Peter Maivia, 47
2014: NFL coach Chuck Noll, 82
And finally
Relive the speech Hannah Storm gave when she won the Women of Influence Award. Just click here.
That concludes the newsletter for today. If you have any feedback, ideas for improvement or things you'd like to see, please email us here. If you want to subscribe, click here.
---