Will Lakers gamble on one-year audition for Anthony Davis? Kyle Kuzma is key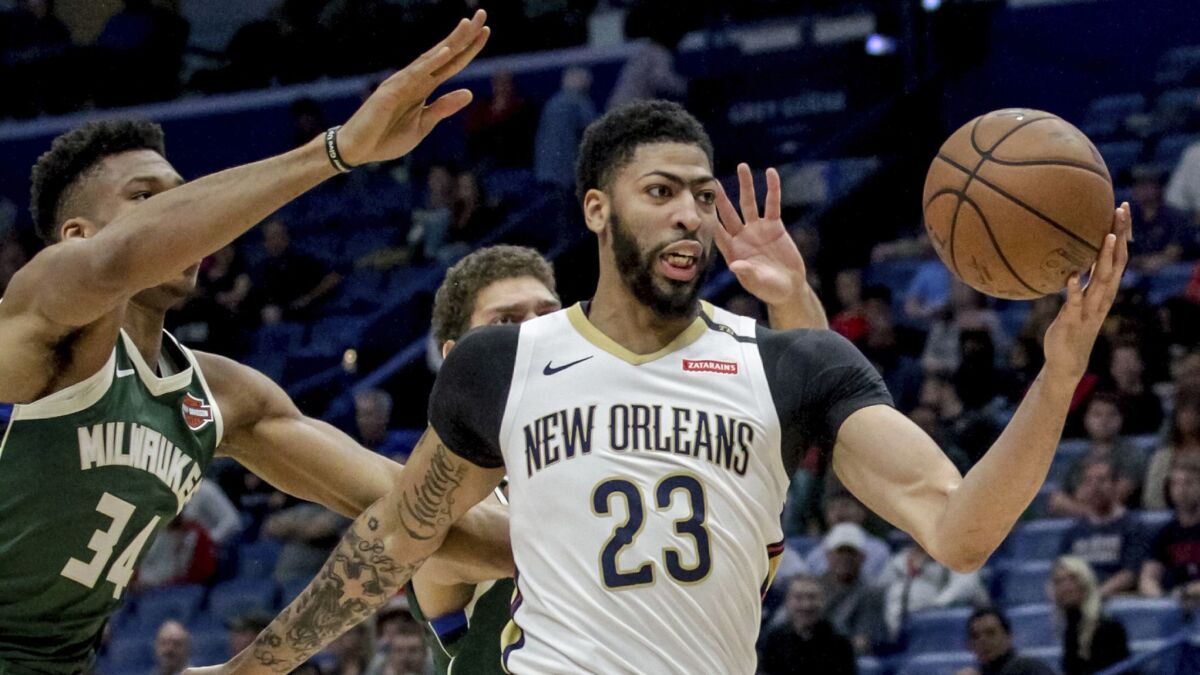 Perhaps Round 2 will be more successful than Round 1 was for the Lakers, who are trying to trade for New Orleans Pelicans All-Star forward Anthony Davis again.
Whether or not they are able to nab Davis, at 26 the league's premiere big man, could hinge on how willing they are to part with their young stars — Kyle Kuzma in particular.
The Pelicans are interested in three of the Lakers' young players — whether that's Kuzma, Lonzo Ball, Brandon Ingram or Josh Hart — and the No. 4 draft pick in order to acquire Davis, according to people familiar with the trade discussions who were not authorized to speak publicly. It's possible New Orleans could use the No. 4 pick to acquire a player from a third team.
Among the young Lakers, New Orleans covets Kuzma the most.
Kuzma's contract is less than those of Ingram and Ball. Kuzma has two years left on his contract that are worth about $5.5 million, the second of which is a team option. Ball's contract also has two years left with a club option, but it's worth $19.72 million. Ingram has a year left at $7.27 million and could then become a restricted free agent.
According to people familiar with the Lakers' thinking, Kuzma has ingratiated himself with the organization both on the court and off, and management does not want to trade the forward, who is entering his third season. The Lakers might have an opportunity to keep their No. 4 pick should they agree to part with Kuzma.
Vanderbilt point guard Darius Garland has been heavily linked to the Lakers by people familiar with their draft discussions as a likely selection with the No. 4 pick should they keep it. Garland is represented by Rich Paul, who is the agent for Davis and Lakers star LeBron James.
Though the New York Knicks and Boston Celtics have inquired about Davis, neither team is willing to gut its roster for the multiskilled, 6-foot-10 forward because both believe it would leave them without a strong enough core to contend.
In a March interview with Sports Illustrated, Paul said Davis would be hitting free agency in 2020 no matter where he goes this summer, effectively making the 2019-20 season an audition for any team. According to a person familiar with Davis' thinking, that remains the plan.
"Where he's going to land? I have no idea," Paul said. "And it don't matter. We're going into free agency. Why does it matter to me where he goes? Earth: We're going into free agency. He has a year, he has to play. But after that, I can't say it no bigger: We are going into free agency. 2020: Anthony Davis will be in free agency."
He said in the same interview that Davis would not return to Boston after one year if the Celtics trade for him.
Paul lauded the attractiveness of the Lakers' organization and its history, comparing the Lakers as a place to play to singer and actress Jennifer Lopez as a person to date.
Another factor that could work in the Lakers' favor is the regime change that occurred in New Orleans.
Sign up for our Lakers newsletter »
Their first round of discussions happened before the Feb. 7 trade deadline. Davis had requested a trade through Paul in late January. That trade request became public a few days later and the Lakers dove head-first into trying to acquire him.
Ever since Magic Johnson and Rob Pelinka took over as the Lakers' president of basketball operations and general manager, respectively, in the spring of 2017, the Lakers sold their fans on a multiyear plan. Between the summers of 2018 and 2019, they'd acquire two superstars and return the team to its former glory.
James became the first piece when he agreed to join the Lakers last July. Davis would complete that project. He was limited to 56 games this season because of injuries but averaged 25.9 points, 12.0 rebounds, 3.9 assists, 2.4 blocked shots and 1.6 steals, all at or above his career averages. The six-time All-Star has been selected All-NBA first team three times as well as All-Defensive first team once and second team twice.
But Dell Demps, who was then the Pelicans' general manager, declined to answer calls from Pelinka. Eventually he engaged in talks with Johnson. who made several offers that included in some form all of the Lakers' young players and some of their veterans as well as draft picks. Still, Demps' engagement was limited and Johnson ultimately said Demps did not negotiate in good faith.
The public nature of the negotiations had a damaging impact on the Lakers' locker room. Players felt hurt that the team was so willing to trade them.
Ball's camp actively opposed it, telling The Times that if Ball were traded he would prefer other destinations, particularly Phoenix. When the trade deadline passed without a deal, Ball posted a video on Instagram playing a song whose lyrics include the words "we ain't goin' nowhere."
The Lakers' chemistry never recovered.
Demps was fired later that month. Johnson stepped down in April. Pelinka became the Lakers' top basketball executive and the Pelicans hired former Cleveland Cavaliers general manager David Griffin as their executive vice president of basketball operations.
Griffin has seemed less averse to working with the Lakers, according to people familiar with his communications. He would like to complete the deal before the draft. Teams typically consider draft picks much more valuable before the picks are made.
As for the Lakers' potential for re-signing Davis next summer, it is a gamble that could pay dividends. They'd do so knowing they are one of Davis' preferred destinations.
Recent NBA history has shown that the incumbent team can have a big advantage in retaining a player.
The Lakers didn't trade for Paul George when they had the chance, expecting to acquire George without having to give up any assets during free agency the following summer.
George spent a season with the Oklahoma City Thunder and felt valued. He enjoyed it so much that when free agency opened, he immediately committed to stay, passing on a chance to meet with the Lakers.
Follow Tania Ganguli on Twitter @taniaganguli
All things Lakers, all the time.
Get all the Lakers news you need in Dan Woike's weekly newsletter.
You may occasionally receive promotional content from the Los Angeles Times.