Women's World Cup: Alex Morgan is happy and healthy and ready to lead the U.S. to another title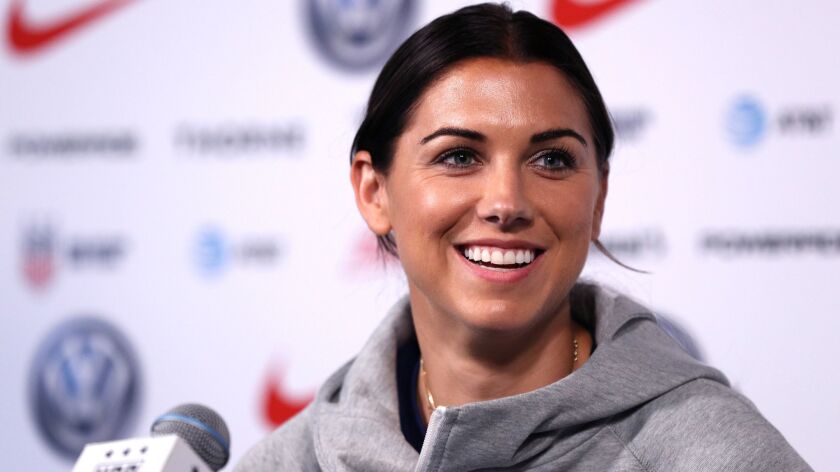 Reporting from REIMS, France —
She's been on the cover of Sports Illustrated in a bikini, on the cover of Time in heavy makeup and on stage with Taylor Swift.
Her face is on giant billboards and in commercials hawking such diverse wares as soft drinks and deodorant and her name is on a series of books for middle-schoolers and a lawsuit against the U.S. Soccer Federation.
But on Tuesday all that fades into the background when Alex Morgan arrives at the only place she's ever really wanted to be: on a soccer field at the Women's World Cup wearing a U.S. national team shirt.
And the pressure will be suffocating because if Morgan and the U.S., ranked No. 1 in the world the last five years running, don't leave France with a second straight World Cup trophy, the photographers, the singers and the sponsors will move on to the next big thing.
Morgan may be the face of American soccer, but anything short of victory here — or at least a berth in the final — will have people focusing on the negatives.
RELATED: 2019 Women's World Cup Guide »
"The pressure is always there," Morgan said. "It's evident and it's kind of in our lives all the time.
"We do hold that No. 1 ranking. We are the reigning World Cup champions. But at the end of the day we still need to do our job on the field and we need to play our best every single game or else it's possible we won't be on the top of the podium."
Morgan went into her first World Cup in 2011 at just 21 years old and with only two career starts for the national team. But she came off the bench to score twice, including once in the final to give the U.S. a short-lived lead in a game it would lose on penalty kicks.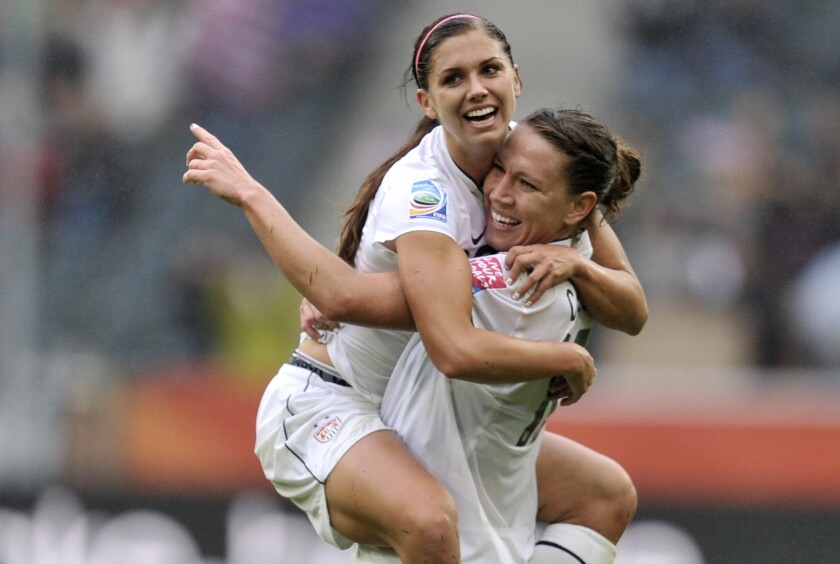 Four years ago she entered the World Cup in Canada limping and unable to start the first two games. But she still finished with the most minutes of any forward and the U.S. won the title.
If that first tournament belonged to Abby Wambach and the second to Carli Lloyd, this one is Morgan's. She arrived in France healthy and coming off the second-best year of her career, one in which she scored 18 goals in 19 games for a team that never lost. No other American had more than seven goals.
She scored her 100th career goal in April in her 159th game; among Americans, only Mia Hamm got there faster. With 28 goals in her last 36 games it's clear the U.S. attack runs through her at center forward, with Tobin Heath and Megan Rapinoe aiming crosses at her from either wing.
Sign up for our weekly soccer newsletter »
"To penetrate behind lines, to get goals with her head, feet -- doesn't matter. She's embraced that role," said U.S. coach Jill Ellis. "This system suits her. The players around her recognize her strengths."
And if the U.S. makes it to the final four, something it has never failed to do, the day the semifinals begin Morgan will turn 30, middle-aged in soccer terms. No longer is she "Baby Horse," the young, wildly talented rookie. Now she is an unquestioned leader and the player Ellis asked to represent the U.S. at the team's first formal World Cup press conference Monday.
"I just in general have a greater role on this team," she said. "And Jill has given me that confidence to be able to embrace a larger role. For me it's just trying to continue to unite the group and make sure everyone feels as comfortable as they can going into the World Cup."
Morgan hasn't just been a leader on the field though. When she learned the 1999 World Cup champion U.S. team would be honored ahead of an April friendly in Los Angeles, she organized an alumni committee to invite and welcome players from other teams. A month before that, when 28 players in the current national team pool sued U.S. Soccer claiming gender discrimination, Morgan's name appeared first in the court documents.
That's not a fight Morgan, the squeaky clean girl next door — and, given her sponsorship deals, the best-compensated U.S. player — had to muddy herself with. But it's one she insisted on leading just the same.
"This country and this team has always been looked at as a leader in what we're doing for women and for girls. And it will continue to be that way," she said. "The lawsuit is very simple. It's fighting for equal pay and the treatment that we deserve under the law."
Morgan has also said the U.S. team, if invited, won't accept an invitation from President Trump to visit the White House citing, in part, the administration's policies at the border. Morgan's husband, Galaxy midfielder Servando Carrasco, grew up in Tijuana.
Don't expect her to back down from any of that any time soon because, for Morgan, the competition has always been as important as the result. She played a number of sports growing up in Diamond Bar and didn't focus on soccer until she was 14 — although as a third-grader she left her mom, Pam, a note on a yellow Post-It informing her that she was "going to be a professional athlete in soccer!"
RELATED: U.S. prepares for another deep run in the World Cup, thanks to experience »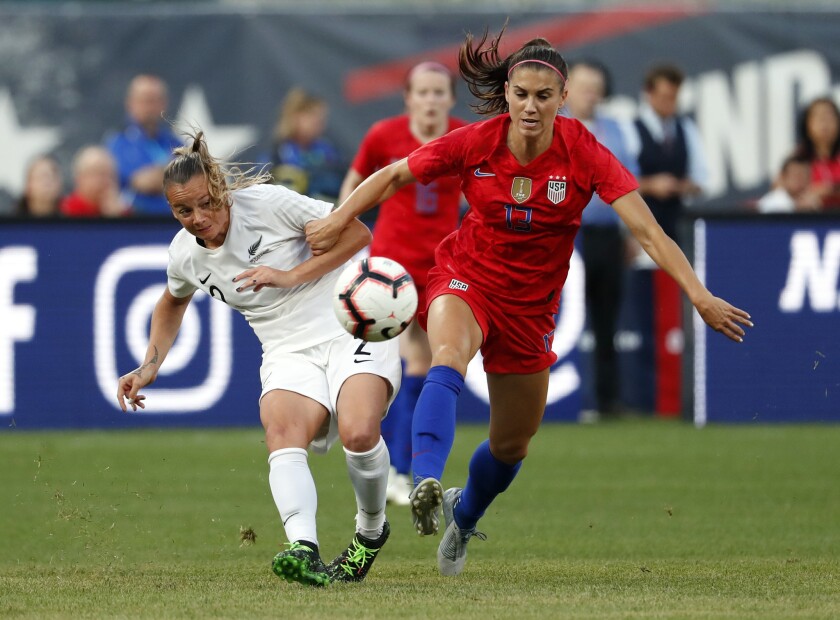 And when Alex would play board games with her parents and older sisters Jeni and Jeri, her father, Michael, her first soccer coach, said Morgan simply refused to accepting losing.
She still does. After the U.S. was upset by Sweden in the quarterfinals of the last Olympics in 2016, Morgan wept openly as she walked to the team bus. She and her teammates have too much at stake in France to let that happen again.
One pillar of the gender equality fight is the fact the women's team is a three-time world champion, one that drew a U.S.-record 27 million TV viewers for the 2015 final. The men's team didn't even qualify for its last World Cup.
Christine Sinclair has one goal in mind: Winning the Women's World Cup »
If Morgan fails to get her team deep into this tournament, it could cost them substantial leverage in their effort to win public support for their cause and to continue selling the women's game. For the next month, she has a chance to draw the world's attention and focus it on the things she thinks are important.
And she's ready for the challenge.
"I believe we all are ambassadors for the game globally. Or at least we have to think that way," she said Monday. "Whatever we do or say or the way that we play, especially in a World Cup, is going to be magnified.
"We have the microphone and we have the platform here. The World Cup at this moment… it's breaking barriers. And I'm doing my part to help that."
RELATED: TV schedule for 2019 Women's World Cup »
kevin.baxter@latimes.com | Twitter: @kbaxter11
---
All about the beautiful game
Go inside the L.A. pro soccer scene and beyond in Kevin Baxter's weekly newsletter.
You may occasionally receive promotional content from the Los Angeles Times.