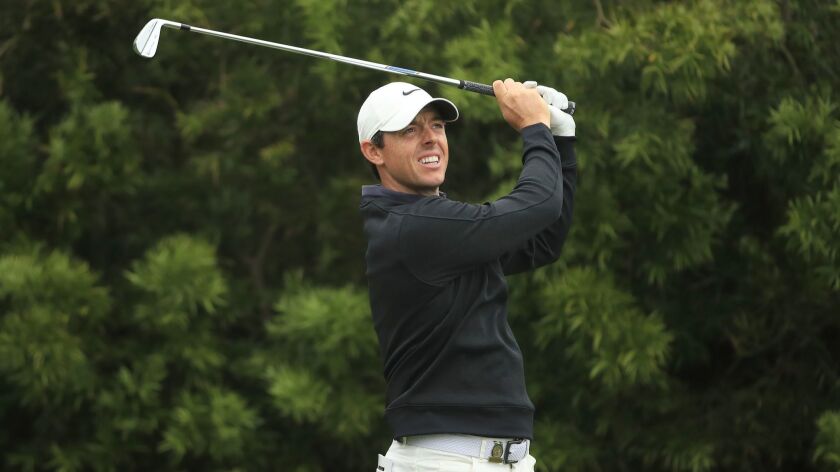 Reporting from pebble beach —
You can't win the U.S. Open on Thursday, but you can sure lose it.
That's Rory McIlroy's disposition heading into the opening round at Pebble Beach, where he will look to maintain his momentum from last weekend's seven-shot victory at the Canadian Open.
"My first rounds at Augusta and Bethpage this year just sort of put me a little bit behind the eight-ball," McIlroy said Wednesday, referring to this year's Masters and PGA Championship. "And it's hard to catch up. Especially, you know, major championships are played on the toughest courses, and you start to chase on those really tough courses, it's hard to do that."
In the four major championships he has won — the most recent being the PGA Championship in 2014 — he opened with rounds of 65, 67, 66 and 66.
Conversely, he's missed the cut in his last three U.S. Opens, a peculiar slump for the world's third-ranked player. The two golfers ahead of him in the rankings wound up winning those U.S. Opens — No. 2 Dustin Johnson in 2016, and No. 1 Brooks Koepka in 2017 and '18.
If there's anyone who understands golf's fickle winds of fortune it's McIlroy, whose runaway win in Canada came a week after he missed the cut at the Memorial.
"I've never seen somebody get so unlucky in two rounds of golf," said Jordan Spieth, who played with McIlroy at the Memorial. "I'm talking like hitting rocks that go out of bounds and like — he's such an amazing driver of the golf ball. And he had one off day, and he happened to get the worst bounces I've ever seen, and it led to him missing the cut by a shot."
Much as he appreciates that sentiment, McIlroy said he shouldn't have put himself in those spots in the first place.
"My thing is they weren't great golf shots," he said. "So my thing is they probably deserved to end up where they did. That's my attitude towards it, anyway. And it gave me an extra two days to work on some things and figure out why I hit those shots. I shouldn't be hitting branches of trees or rocks 10 yards right of the fairway."
What missing that cut did give him was time to work on his game, and "it might have been a blessing that I got to spend an extra bit of time on the range."
"Those two rounds highlighted a couple of things that I still needed to work on," he said. "And I think just from seeing good shots and making good swings on the range, to then seeing good shots, making good swings on the golf course, then you can start to play with a little bit of freedom and fire."
Graeme McDowell, a fellow Northern Irishman, has seen this before. He remembers when McIlroy, then age 16, shot a scorching 61 at the 2005 North of Ireland Championship at Royal Portrush, host of this year's British Open.
"You hear about the next great thing," said McDowell, who won the 2010 U.S. Open. " 'We've got this kid he's playing at a plus-seven [handicap], and blah, blah, blah,' Whatever, you know. Then he shot 61 in the first round of the qualifying for the North of Ireland, and I'm like, 'Really? OK. Hold on. Now I've got to pay a little more attention to this.'
"That was probably the first time that I realized that we had something pretty special on our hands from the point of view of Irish golf and Northern Irish golf. He's a special talent. Great to see him back playing the way he's playing this year.
"He looks like he's mentally in a very good place, and a runaway win at the weekend shouldn't have done his confidence any harm. I'm sure he comes in this week looking to add his name to the U.S. Open trophy again. He's a special player."
In the afterglow of victory last weekend, McIlroy incurred a big loss — but only temporarily.
Sign up for our daily sports newsletter »
He handed his putter to the tournament director, who in turn gave him a Toronto Raptors jersey so he could cheer them in the NBA Finals.
McIlroy thought the director would take it to the scorer's table, but the putter wasn't there. He had to chase it down.
There was a moment of confusion, but it wasn't like the time Russian President Vladimir Putin tried on a New England Patriots Super Bowl ring then kept it. McIlroy got his putter back.
"I definitely didn't give it away," he said. "I know I've done some stupid things in the past, but that would have been right up there."
So McIlroy's trusty putter made the trip to Pebble Beach. He's hoping his game did too.
Follow Sam Farmer on Twitter @LATimesfarmer
---